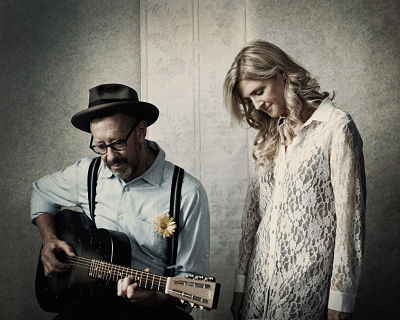 "See her dark tan...those double-d implants...the sharp tip of her high-heels...it's a drill bit! Her poppa put Penthouse parameters around what's pretty...early and often. Splay legged women, laid back laughing...lipstick thick enough to paint the town..."Minton Sparks "Gold Digger"

She refers t herself as a "speaker -songwriter." Where to begin with the genre defying Minton Sparks: poet, storyteller, singer, comedienne, educator, writer, activist, essayist, philosopher, painter, performance artist? If you are new to her artistry as I am, then I highly recommend Minton's latest album, suitably entitled Gold Digger, which is out now, coupled with any one of the numerous performance vignettes which are in circulation on the video platform of your choice, or conveniently archived on her website.
Akin to such great American muso-wordsmiths as Tom Waits, Mos Def, Gil Scott-Heron, and Henry Rollins to cite a simpatico a few, Ms. Sparks holds a curved mirror to society. "I love comparison to those artists...especially Tom Waits and Mos Def. Many wonderful songs need no words, and many wonderful poems are musical enough in and of themselves. I try to goose both genres by spending lots of time on each word, and then hoping for the music to deepen the emotion of the piece."
Sparks' looking-glass is decidedly Southern in a manner which is oft stereo-typed - yet emerges as universal. Ms. Sparks' distinctive appearance, delivery and overall aura are that of a semi-poor white middle-aged small-town Dixie chick. She is usually adorned in a budget floral dress, tatty high-heels, and an elegantly weathered purse dangling from the crook of her elbow. But don't let that fool you.

The southern fried character of Minton Sparks minces no words as her drawling, deceptively intricate libretto runs the gamut of awkward family secrets, romantic yearnings, un-neighborly gossip, spiteful ruminations on lovers and other strangers, abject jealousy, unrequited and hitherto undisclosed passion, stinging social commentary, and topics that many of the so-called The Real Housewives dare not knowingly address with such depth and clarity.
Nevertheless, the decidedly Northeast hipsters in the uber-hipster East Village venue wherein I first witnessed Minton saw themselves in her outrageously understated over-the-top character portraits as evidenced by their nervous, albeit jaw- dropping laughter. Big Apple dwellers are notorious for their superiority complex: but not so in the presence of Minton who speaks truth to power and vice versa. Sparks could be your alcoholic aunt from Brooklyn; your boorish mother-in-law from the Upper East Side; your closeted sister who lives on the North Shore of Long Island with her rich, unsuspecting dentist husband; your nymphomaniac ex-girlfriend who moved back to Staten Island; your spinster co-worker from Astoria for whom you fetishlike fantasize over... all rendered in an infectious, irritable, and irresistible twang.
"I'm not exactly sure how I use my Southern accent...how does one use a mother tongue? It's unconsciously bent by the land. One thing I am aware of however is how rich the language is in this part of the country in the face of an 'ever vanilla-ing" population. For example, I remember my grandmother saying 'if that's not true I'll walk into the Mississippi 'til my hat floats! One of the reasons I love good literature is that a well told story, say, set in South Africa, or Ireland reaches through the page and moves me from afar. I can hear where the characters live in the harmonies between the words... I think people who enjoy being challenged by a story wherever they live, will respond to this performance."
Though her new album is a full-on band project, Minton's musical foil in concert was the solo guitar of John "JJ" Jackson, who has also collaborated with Bob Dylan (1991-97), Shelby Lynne, and Lucinda Williams among others. Jackson has been at Sparks' side for over eight years and their interplay, which is given to the moment, is nothing short of astounding. Jackson punctuates Sparks' every move - from her chicken strut to her sultry saunter towards her audience, to the occasional stagger - with motifs that quote jazz, blues, folk, country, rhythm and blues, and every permutation thereof.

When Minton is not officially on public display, she hosts writing and performance workshops (she is the founder of the Nashville Writing and Performance Institute and "Create Your Story" at universities and professional organizations countrywide), she creates art-poem cards and prints, and authors books - Desperate Ransom: Setting Her Family Free (2007) and White Lightening (2008), among other endeavors. She has distinguished herself at the esteemed Jonesborough National Storytelling Festival and the American Songbook Series at Lincoln Center. Sparks' recorded canon, which spans five albums, is also quite impressive and includes contributions from Waylon Jennings, Keb Mo, and Chris Thile among others.
"I see people in tears all the time...last night in Augusta a woman came up to me and said 'did we grow up together? You have no idea how much this show meant to me and my husband...I tried to tell him about my family life, but this told him more than I've been able to..."
Perhaps Broadway will beckon for this Southern bellwether?
Calling all HuffPost superfans!
Sign up for membership to become a founding member and help shape HuffPost's next chapter