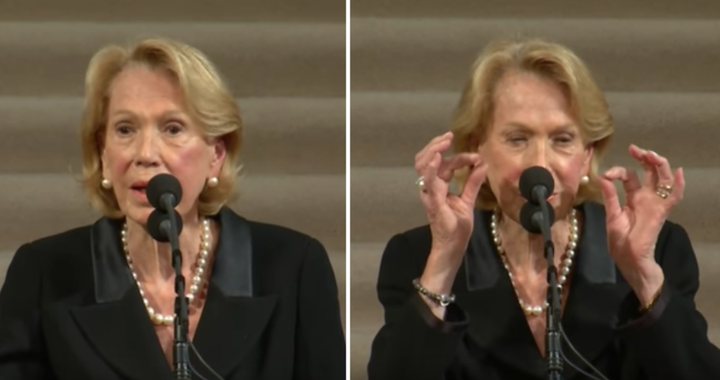 Members of San Francisco's Chinese-American community have voiced their displeasure after a public official made a racially insensitive remark during the memorial service for the city's Mayor Ed Lee held last Sunday.
Several Asian-Americans who attended the Dec. 17 service at San Francisco City Hall were shocked when they heard the city's Chief of Protocol Charlotte Shultz describe the late mayor as having "squinty eyes." Shultz had planned the memorial service, according to the San Francisco Gate.
"He had a wonderful laugh with those twinkly, well just like the picture, squinty eyes and that wonderful smile," Shultz, a colleague and longtime friend of Lee, said during the service.
Julie Tang, a retired judge for the city's Superior Court who was at the service, was disappointed with Shultz's choice of words.
"It was a bit surprising, to say the least," Tang told HuffPost on Friday. The judge pointed out that Shultz had also pointed to her eyes when she made her comment. The gesture can be seen at around 1:20 in the below video, published by ABC 7 News.
"That really struck me as someone who really felt that that was how Chinese people should be viewed," Tang said. "It's almost like an unconscious submission to the caricature of the way Chinese have been portrayed [in the media] in a negative way."
Tang wasn't the only one who found the gesture offensive. She said that other Asian-American individuals at Lee's service expressed their disappointment over the comment after the service.
Tang and Lilian Sing, a fellow retired Superior Court judge who served on the bench for 30 years, raised the issue of Shultz's "squinty eyes" comment during a second memorial service for Lee hosted by the city's Chinatown community on Thursday.
"We felt uncomfortable when one person spoke about squinty eyes," Sing said to those who attended the Chinatown service, according to the San Francisco Gate. Sing co-founded the San Francisco-based civil rights group Chinese for Affirmative Action (CAA).
Tang, who also spoke during the Chinatown service, said the two retired judges decided to call out Shultz on Thursday in order to turn the offensive moment into a teaching moment. 
"I really think people should pay attention to the soft racism that is permeating through different levels of government," Tang told HuffPost.
"All of that in spite of the fact that we even had a Chinese mayor," she said of Lee. "The Chinese community is still not immune to that way of describing Chinese people."
Tang said she didn't think Shultz was purposely trying to offend the Asian-American community, but she said it was still important to point out why the comment was unacceptable.
"We have to be more attentive to this especially in America," she told HuffPost. "In America, we have a very sophisticated society, but it's also a very racial society. It's a society where people are very much judged by race. And that separates us in more ways than one."
Cynthia Choi, co-executive director of CAA, also believes that Shultz did not intend to be "racially derogatory," but said the moment needed to be addressed.
"That 'squinty eye' reference is a racial slur and is something that is not positively associated in any community," Choi told HuffPost. Choi did not attend Lee's memorial service, but said that individuals close to CAA who were there raised the issue with her.
Shultz apologized for her insensitive comment in a statement released to the media by the Mayor's Office of Protocol on Thursday. The office also noted that Lee and Shultz had been friends for decades, adding that the remark was meant to be "heartfelt and warm":
"Chief of Protocol Charlotte Mailliard Shultz worked side by side with Mayor Lee more than seven years strengthening San Francisco's international relations.

They were not only colleagues but good friends more than 30 years. This has been a difficult time for her. Mrs. Shultz apologizes if any of her comments regarding the mayor ― which were intended to be heartfelt and warm ― offended anyone. Mrs. Shultz loved Mayor Lee very much and will miss him dearly."
In recent years, a number of prominent figures have faced backlash for mocking the eyes of Asian individuals.
In November 2016, Glamour magazine's Brazilian edition publicly apologized after posting an Instagram photo that showed staff members pulling their eyes back to celebrate a trip to Japan. Supermodel Gigi Hadid also apologized after a video appeared to show her mocking Asian people in February.
Others, like Houston Astros' first baseman Yuli Gurriel, have faced disciplinary action for mocking Asian people.
Major League Baseball officials in October suspended Gurriel for five games after he was caught during a game stretching his eyes in an attempt to mock Yu Darvish, the Los Angeles Dodgers pitcher who is of Japanese and Iranian descent. 
Calling all HuffPost superfans!
Sign up for membership to become a founding member and help shape HuffPost's next chapter
BEFORE YOU GO
PHOTO GALLERY
Old-School Asian American Actors You Should Know About