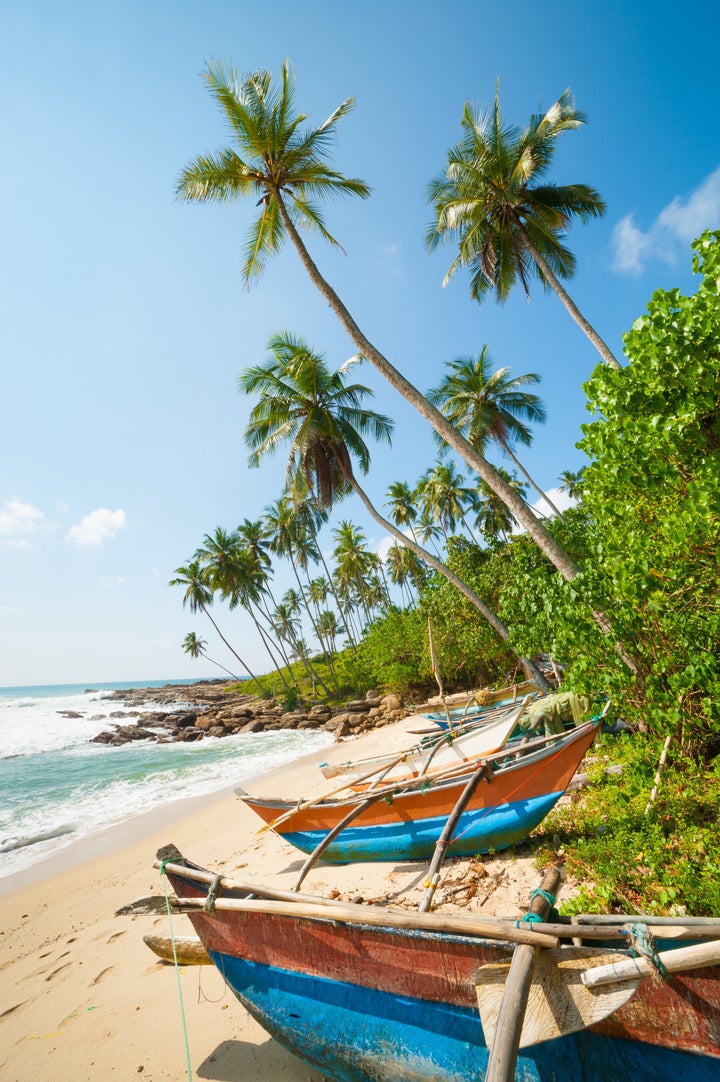 I met an incredible individual, Liz Doles, who also happens to be a talented artist last week at the Permanent Mission of Sri Lanka to the U.N. We bonded immediately. Having been off-and-on in Sri Lanka (and Indonesia) for a number of years working with orphans following the 2004 Tsunami, I had a sense of Sri Lanka and thought I should see a photographic exhibition opening in the new Mission space. It was mesmerizing.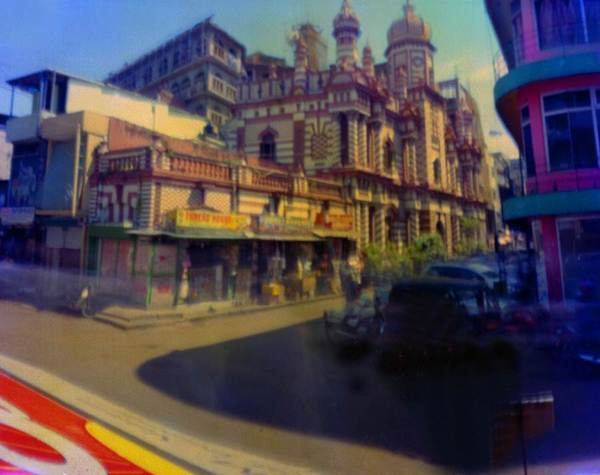 Jamil Ul-Afar Mosque, Pettah. Image courtesy of the artist.
The first notable thing is that she does not use a modern camera -- she uses an old-fashioned pinhole. The second fascinating and inspiring thing is that the reason she does is because she had an eye disease and could no longer focus an ordinary camera. Finally, having just written about an American artist on a Fulbright scholarship to Taiwan sketching 888 local villages there (story), I was surprised to learn that Liz, too, went on a Fulbright Scholarship.
The exhibition in the Mission features images of Sri Lankan buildings ranging from historic religious structures to the traditional clay hut dwellings of rural Sri Lanka. Liz delved into her excitement about the architectural heritage of Sri Lanka:
The rich architectural heritage bequeathed by religion and royalty in Sri Lanka is the focus of a portfolio of pinhole photography which I began this past year as a Fulbright artist. Lush vegetation conspired with political and natural circumstances to shield these structures from ravages of time, ruins that sit beyond time and testimony.

With the unique characteristics of my working method, I intend for these images to be imbued with an immensity of time and space congruent with the architecture's own ambition; to celebrate the beauty of Sri Lankan culture, people and environment; and serve to address the urgency of protecting the cultural inheritance and resources of Sri Lanka.

Of no less aesthetic value are the quieter vernacular buildings that create the charm of Ceylon. Cadjun huts, British bungalows, and ramshackle apartments speak of the diversity and richness of both the contemporary urban environment as well as the character of village life.
As an artist, Liz told me, she always longed to capture the 'numinous as it is manifest in our daily reality; to make that mark that sums up the enormity of our existence, to author images equal to the intensity of being alive.'
Twenty years ago, her pursuit was derailed by a diagnosis of acute ophthalmic thyroid disease -- Graves' Disease. Liz's color perception was diminished. Doctors thought she might go blind. Her compromised sight made many of her art practices problematic, including her day job as a freelance designer. She told me simply, "I needed a solution."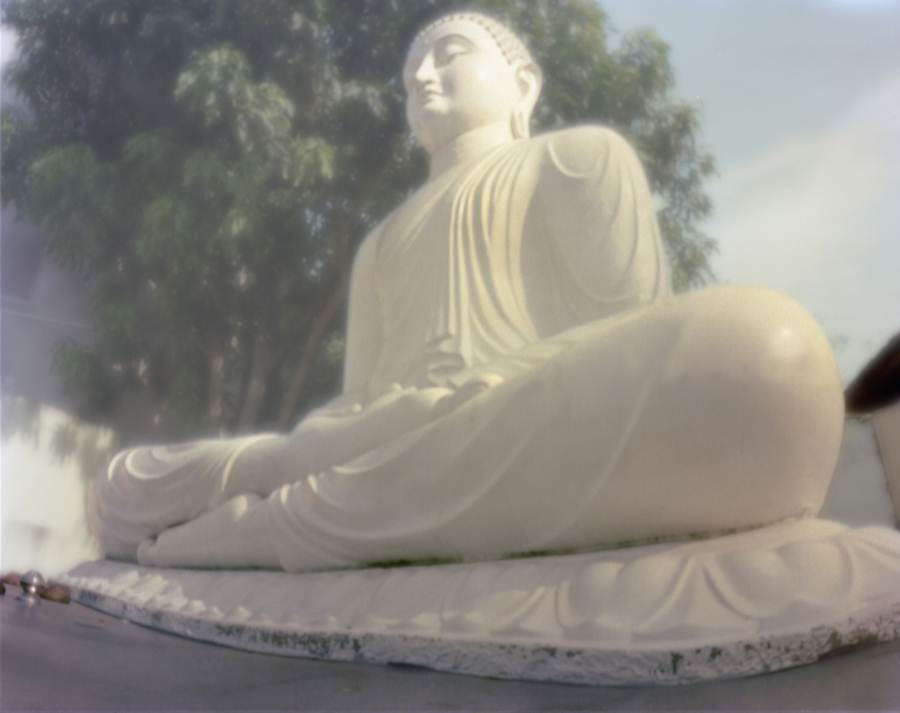 Buddha at the corner of Horton Place and Wijera Road, Colombo. Image courtesy of the artist.
A laundry detergent box, spray painted matte black, then fitted with a patch of aluminum can pricked with a pin, sanded and filed to produce a negative with even focus, became her pinhole camera.
"It provided the serendipitous solution to my dilemma and changed my artistic practice," she confided. She didn't need to read the little numbers in panels or on dials. She didn't need to struggle looking through a viewfinder or squint at a screen. She could judge exposure by time of day, longitude and season, relying here too on serendipity and a bit of unseen assistance.
Now beat up and patched up, this pinhole camera has become the vehicle of my artistic ambition. It has become the ideal tool to record my vision of this physical world wherein we are enveloped by the divine, but rendered numb by familiarity and routine, girded against the word that is unspeakable so that we can go on paying bills, fretting over the inconsequential.

Without a lens to collect light or organize depth of field, pinhole photographs have a quality of light that is neither noon nor night washing over an evenly focused picture plane, making images that are of this world and yet exist in some other time and place. Without the distraction of a viewfinder or LCD panel, composing is instinctive, allowing the subconscious to enter unhindered in the creative process.
Liz's daughter Zephyr Doles attended the exhibition and I enjoyed chatting with her as well - she is enrolled in N.Y.U. Media, Culture and Communications graduate program. She nailed it when she confided that the healing process from her mother's own disability paralleled the healing of Sri Lanka from the traumas of colonialism and conflict. The power of her mom's photography -- art -- to help heal the body and the nation.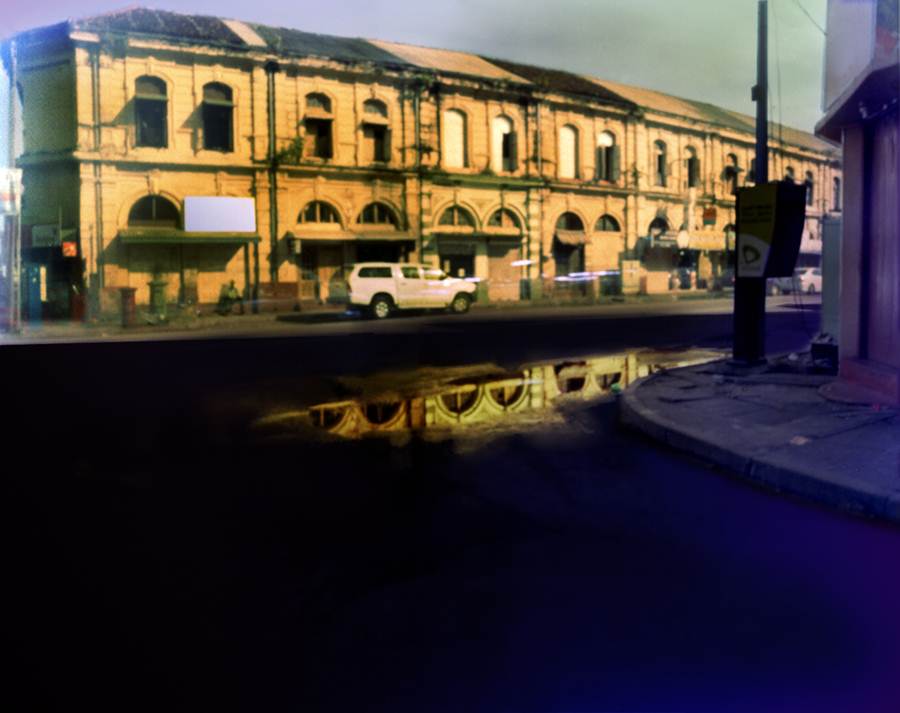 Arcade, Slave Island. Image courtesy of the artist.
Pinhole photography is minimally invasive: her tools are simply the camera, a changing bag, film, a DSLR for record keeping, and a computer loaded with Adobe Photoshop.
Liz uses natural light, eschewing the flash that can damage aging buildings.
Pinhole photography tends to be a bit "fuzzy," or out of focus and while the images may seem to be anything but site specific, the buildings -- temples, mosques, kovils, churches and shrines by the side of the road -- are all individual, idiosyncratic and filled with character and in the words of the photographer, "make space for the vitality of deeply felt faith." Liz continued:
The sunshine of Ceylon was liquid light poured over color washed buildings, and spilled onto sarees and sarongs wound around flesh that glistened with sweat; the jungle's verdure made the moisture-laden air iridescent.
I began another project, a portfolio of individual portraits of Sri Lankans from all walks of life, from every race and from every age that in the aggregate would mirror the beauty and diversity of the Sri Lankan people.
Some of these portraits were on display at the American Center in Colombo in May. Then, just as I was in a groove with a few hundred negatives and countless portraits, it was time to go.
Ambassador Palitha Kohona graciously hosted an exhibit of some of the pinhole work at the offices of the Sri Lanka Mission to the United Nations. But I'm not done in Sri Lanka and so I've stored, sold or disposed of whatever few possessions I have and am going back to pick up where I left off.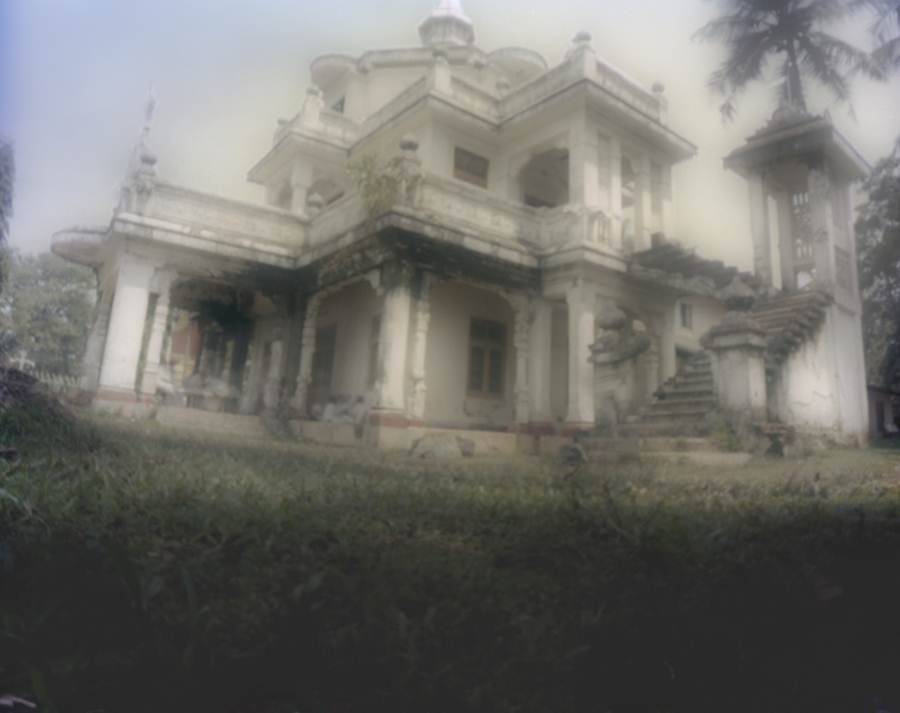 Angura Karamulla Temple, Negombo. Image courtesy of the artist.
An artist, a painter, photographer, printmaker and teacher, Liz spent a total of seven months travelling in Sri Lanka to create this portfolio. She is about to return there as a permanent resident to teach and to continue expanding this body of work. Liz described Sri Lanka as a "tiny country, suspended between tragedy and transcendence."
These images captured through pinhole photography were admired by the cultured gathering including art enthusiasts and diplomats. The evening of photographs, fine wine and traditional Sri Lankan savories concluded with brief remarks by H.E. Palitha Kohona, who touched on the significance of Sri Lanka's architectural splendor and variety. I couldn't agree more.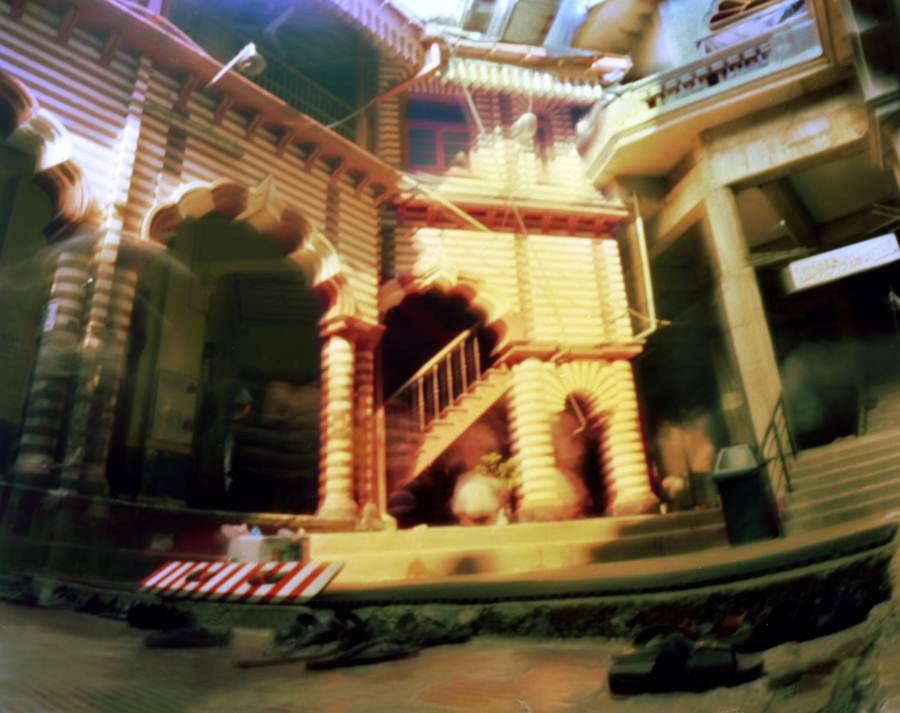 Jamil Ul-Afar Courtyard, Pettah. Image courtesy of the artist.
I met Will Marks at the exhibition, a decades-long friend of the artist, who gave me background on the artist/photographer:
Liz Doles possesses that rare quality which qualifies her for membership in an exclusive club -- she is capable of giving and receiving love. Her devotion to her subjects and work reflects the deep emotional connections she develops with the people and places she photographs.

Liz has faced and overcome many hardships -- raising a child alone, health related, difficult financial situations, and so much more. Watching Liz meet life's challenges with grace and a grateful smile told me "she knows." Seeing her transform her fascination and love of faraway places into breathtaking photographs doesn't surprise me. Liz is a force of nature.

Liz creates beautiful images with her pinhole camera. Her talent was developed despite a lifetime of facing one hardship after another. She never gave up and raised her daughter as a single mom, routinely finds time to help others, and is producing an exceptional body of work. Her photos of Sri Lanka are stunning.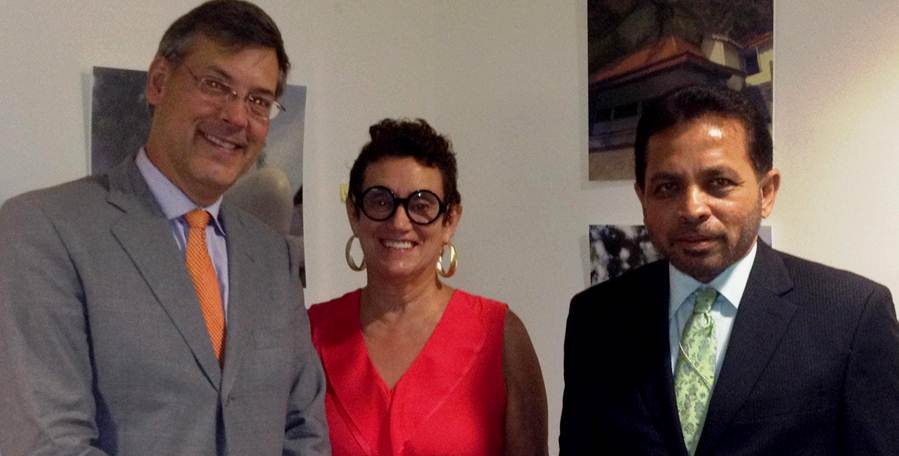 The author, the artist and the Ambassador at the exhibition. Photo: Sri Lankan Mission to U.N.
In Sri Lanka, Liz explains, temples, kovils, mosques and churches abound. "They are oases of great beauty and their joy lies in their characterful and idiosyncratic design. All are filled with the vitality of deeply felt faith. I hope my work transmits something of this to the viewer." I can think of no better ambassador for pinhole photography -- or Sri Lanka - then Liz Doles.
Calling all HuffPost superfans!
Sign up for membership to become a founding member and help shape HuffPost's next chapter