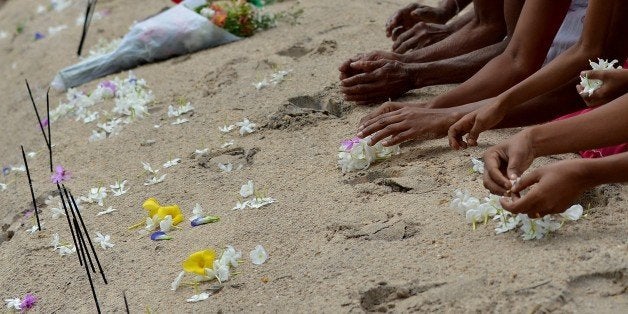 December 26, 2004, Galle, Sri Lanka: When we first saw the destruction, we could hardly believe our eyes. The wave hit three times, like a wash, rinse and tumble cycle. Houses were completely swept away, and almost everywhere we looked, all we could see was rubble piled on top of concrete foundations. People set up tents on top of the foundations to claim the spots where their homes once stood. But it was not just the devastation that was so incredible, it was immense scale -- the totality of the shoreline that had been affected. It was completely unimaginable -- miles and miles of boats strewn along the sides of the road where 80 percent of the country's trade and tourism used to stand. Here was a world turned literally upside down right across the street from completely flattened neighborhoods. Almost everywhere we looked, there was nothing left -- only people standing, staring, shocked.
On a clear December morning ten years ago, when the sky was again a deep, gorgeous blue -- just like September 11th -- one brief unexpected event became a seminal moment in history. It was the largest natural disaster of our lives. The 2004 Indian Ocean tsunami killed more than 35,000 people in Sri Lanka, injuring more than 21,000. Over 1,000 children were orphaned and more than 7,000 children lost one parent. Tens of thousands of children lost siblings and friends in the hour the waves engulfed the shoreline. In all the countries hit by the tsunami, the death toll was a staggering 227,898. The loss of human lives was 80 times more than the World Trade Center attack.
When our team first arrived in Sri Lanka, the stench of human corpses still under the rubble made us choke. We learned that before the first wave hit, the sea pulled away, extending the beach and shoreline out as far as half a mile. Curious villagers wandered out on the newly exposed rocks to pick up fish trapped in newly formed tide pools. Laughing children came racing from their homes to see the strange new edge of the shore or to collect the many shells ready for the taking. Before 10 minutes passed, a 30 foot brown wall of water appeared out of nowhere, roaring so loud and coming so fast that few could escape its force. Others who lost their lives didn't expect a second or third wave and ran down to the shore to try to save their boats or simply stand in awe at the barren rocks which had revealed themselves.
The tsunami traveled at speeds estimated at up to 500 miles per hour, crashing into the shoreline and engulfing everyone and everything. As the tide reversed, it dragged cars, boulders, printing presses, refrigerators, buses and bicycles along with thousands of people and tons of raw sewage. Many people died when debris crashed into them as they struggled to get out of the water. People caught in cars tried desperately to push open doors held shut by the force of the water. Dozens were killed in buses; 1,700 were trapped in a train that was tumbled by the first wave and its merciless return. The train track all along the coast would need to be completely rebuilt.
The waves washed away people's identities, their driver's licenses, birth certificates, bank statements, clothing, prayer books, shoes, photo albums, land records and money. Nearly a fifth of Sri Lanka's government regional offices were destroyed, and hundreds of local officials in almost every coastal town or village perished. Fishing boats, bicycles, cars, pushcarts and wheelchairs disappeared. Shoe stores, tailors, hardware stores, plumbing suppliers, pharmacies, gift shops, auto body shops, printers and newsstands vanished in a matter of minutes.
The 2004 tsunami had an eerie finality to it -- you either died or you didn't. There were relatively few serious physical injuries, although many died in the days after the event from sepsis. After swimming in sewage, the patient's wounds were cleaned and stitched shut and then they were sent away without antibiotics. The local doctors didn't know. Some lost limbs to save their lives, the amputations virtually all done without anesthesia.
Nothing we saw on television on the morning of December 26th before leaving the U.S. gave us even a hint of the reality of what happened in Sri Lanka. One Washington Post journalist we met there who had covered every major disaster over the past 15 years agreed. He told us that the Iran earthquake a year earlier, midwestern tornadoes, war-torn African nations, genocide and even Iraq diminished in his memory when he arrived in Sri Lanka. That, he said, was his new worst-case scenario, the deepest loss and suffering he'd ever seen. And although many of the mosques and practically all of the Buddhas miraculously survived, we wondered if a sign we saw foretold the truth. It said: "This is the beginning of the end of the world."
Our team first went to Galle, high on the forty-foot walls of the Forte, where hundreds of villagers threw ropes over the edge of the wall trying to save those in the water. Not a single person was able to grab hold and be rescued. We would later grieve with children who tried to save their friends or parents.
Everyone who witnessed the wave that day in Sri Lanka, whether six years old or sixty, experienced a traumatic event so profound that it wounded their psyche, making an indelible mark on their soul. We knew that many children would face the effects of post traumatic stress; most would find coping mechanisms and return to normal but 8-10 percent would be unable to rid themselves of deeply repressed emotions which would become PTSD. Without any intervention or support, the experience of this disaster could severely tax the Sri Lankan health care system and impact entire families and communities over a wide swath of the small island nation.
Ironically, one fortunate blessing that emerged from this tsunami was Second Response, the initiative that has since deployed teams following many other natural disasters. Its primary goal is building capacity on the ground for caregivers who can reduce the number of cases of PTSD among children in impacted areas. Sri Lanka served as the first opportunity to introduce the methodology we now call "PLAYshops" to teams from disaster organizations that came to Sri Lanka.
PLAYshops were created in response to the lack of effective, transcultural, secondary prevention methods specifically addressing the needs of children in the immediate aftermath of a traumatic event. In Sri Lanka, we experienced first-hand how quickly children's emotional needs are subjugated after a disaster and we soon recognized the gap in services between first responders and the reconstruction phase that would come much later. Very few on the ground were equipped to heal the unaddressed internal landscape of those affected, particularly children, in the weeks after the tsunami. Then and there, we pledged to share our methodology and caregiver's guide in order to mitigate the symptoms of PTS before it become the full blown disorder, PTSD.
Our Second Response methodology and protocols have proven to be a significant component in reducing the impact of PTSD after disasters in children who have benefitted from our trainings worldwide. We do this by teaching carefully crafted "play", somatic-based exercises, and improvised, creative physical expression. Within 90-120 days after a traumatic event -- during relief efforts and prior to the community's reconstruction phase - Second Response Trauma Teams work with children who have been affected. It is known that 8-10 percent of children cannot readjust using only natural coping mechanisms and therefore suffer long-term consequences also impacting the communities in which they live.
Since 2004 in Sri Lanka, we've been active throughout the world in places as remote as Java, Samoa, Japan and the Philippines and closer to home in the Northeast United States following various weather events. Over this time, we reduced the impact of PTSD in nearly 100,000 children and trained caregivers on the ground from medical schools, emergency managers, (CERT) Community Emergency Response Teams, parents, teachers and a variety of staff and volunteers from disaster relief organizations including the Red Cross, Mercy Corps, Save the Children, World Vision and Hope International.
We travel to areas most severely impacted and provide body-centered interventions, with two goals:

• Reduce the PTS that exists in the affected population after a disaster and prevent the onset of full-blown PTSD.
• Build on-the-ground capacity that is both cost-effective and easily replicated through pre-emptive training of local providers before a disaster strikes.
Since those life-changing days in 2004, members of our team have returned to Sri Lanka nine times and have continued to train local caregivers and build capacity to meet future events with additional, effective skills. We have learned a lot about the cost saving preventative measures similar to those that PLAYshops trainings can provide. One study concluded that interventions within 3 weeks of the onset of an event could cost as little as $5,000 but beyond that date costs can easily rise to $200,000. Untreated PTSD is likely to persist and cause further negative health effects like drug or alcohol abuse, chronic pain, depression, sleep issues, and the inability to interact socially at school as well as preventable illnesses like respiratory ailments, digestive disorders and skin conditions.
Our continued vision is that one day all disaster relief organizations worldwide will have an additional skill at their disposal -- one that can reduce and prevent PTSD so that children can more easily recover their natural experience of joy, laughter and play -- even after a life-changing event like the Indian Ocean tsunami of 2004.
REAL LIFE. REAL NEWS. REAL VOICES.
Help us tell more of the stories that matter from voices that too often remain unheard.