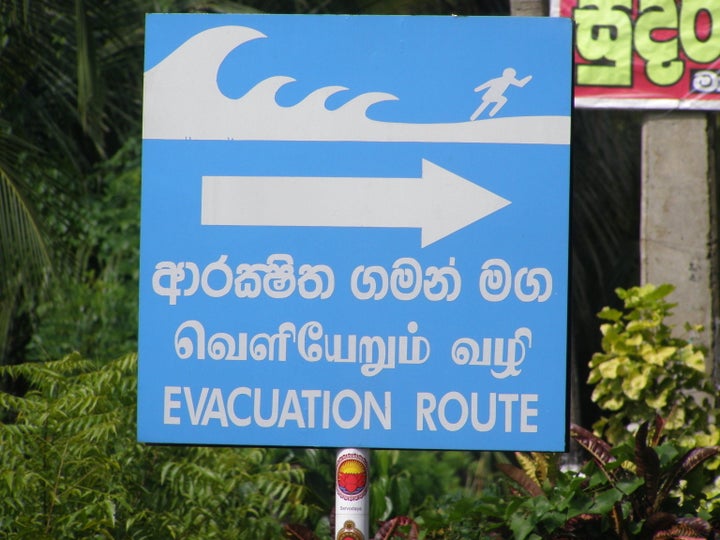 "How are you going to mark the fifth anniversary of the tsunami?" I asked a woman on the southern coast of Sri Lanka who had lost her husband in the tsunami.
"We don't need to mark it," she told me. "We remember it every day."
Today is the fifth anniversary of the 2004 tsunami that devastated the eastern and southern coasts of Sri Lanka and in the process took 40,000 people with it in the space of twenty minutes. No national commemoration was planned for today. Some here take a more cynical view of the lack of any national observance. "The government is more interested in January 26th than in December 26th," a friend told me, referring to the upcoming election that will take place exactly a month from today. Streamers fly over city streets, cars with public address systems attached to them move along the seaside broadcasting campaign ads mainly for the incumbent president. But the towns and villages along the coastline organized their own events to mark this day. A fishing village on the southeast coast observed two minutes of silence at 9:00 am, the time when the first wave slammed into the eastern shore of the island. No fishermen went out from that village to fish today. "This is all we can do," a fisherman told me. "The rest is God's will." Up the southwest coast a shopkeeper I spoke to told me that there would be five poojas (services) at the local Buddhist temple today but that for him and for others this was a normal working day.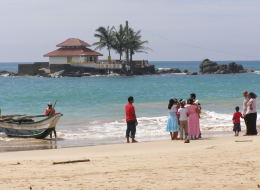 A working day for some, but for others a long weekend. Sri Lankans today frolicked on the beaches with their kids, picnicked from the back of cars or under palm trees and waded into the Indian Ocean to the refrains of the ice cream trucks in the background. It was good to see. I spent the day morning up the southern shoreline watching the world at the sea's edge, talking with people and taking my own dips into the ocean. Life on the ocean's edge has returned to normal, or as near to normal as it can after a tragedy of this sort.
It is a shoreline that, by anyone's estimate has changed considerably from when I was last here 2 ½ years ago working on my book "Not Quite Paradise: An American Sojourn in Sri Lanka" (Beacon Press, 2009). Buildings once reduced to a wall here and there have now been rebuilt with both government and aid money. Fishermen on both coasts have long ago returned to the sea's edge constructing wooden shacks for their families preferring these modest digs to the ones constructed for them but NGO's miles from where their boats are. Temporary camps for tsunami survivors have for the most part been torn down as the displaced have moved into permanent housing. Tsunami housing complexes have mostly been completed though there are cases here and there where people are still waiting to get into proper housing. The biggest complaint one hears these days is that the houses have been built substantially inland from where their occupants originally lived and where they still work. Down at the southern tip of the island a new harbor is being constructed in the town of Hambantota; markets thrive amidst the noisy confusion at the sea's edge.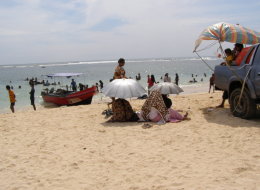 Something still hovers on the fringes of all this progress and rebuilding. Between land now cleared and home and hotels rebuilt stand the frames of houses, shells of places abandoned and never reclaimed. They have been left pretty much as they were after the waves rolled in. I watched from a distance today as a campaign worker went around affixing campaign ads to these buildings in what I thought was an incredibly tacky gesture. I asked a man about whether the structures were going to be torn down. "Madam," he replied. "They are our memory." And so as I traveled the shore today from its southern tip up to Colombo I passed these moments of memory as kids with balloons at the sea's edge squealed with delight just feet from impromptu graveyards erected just days after December 26, 2004. It is a mixture of heartbreak and hope, joy tempered on this island by the memory of a past much too recent to die.
Calling all HuffPost superfans!
Sign up for membership to become a founding member and help shape HuffPost's next chapter