WASHINGTON -- The Senate on Thursday unanimously confirmed key Obama nominee Sri Srinivasan to the D.C. Circuit Court of Appeals, a vote that comes amid tensions surrounding a potential Senate showdown on filibuster reform this summer.
The sweeping support for Srinivasan was no surprise -- Thursday's 97-0 vote came after he unanimously passed the Senate Judiciary Committee last week -- but the timing of the vote was. Senate Minority Leader Mitch McConnell (R-Ky.) was demanding that Srinivasan's vote be delayed from this week until June 4, despite outcry from Democrats about the GOP purposely stalling Obama's nominees. McConnell argued Wednesday on the Senate floor that lawmakers not on the Judiciary Committee should "have a week to evaluate this important nomination."
But he unexpectedly backed off that demand on Thursday. Senate Democratic and GOP aides offered different reasons why.
"McConnell caved," declared one senior Democratic aide.
Don Stewart, a spokesman for McConnell, disagreed.
"The only way to stick with [a] June 4th [vote] would have been to filibuster him today. We asked for a week to review; [Senate Majority Leader Harry] Reid refused," Stewart said, referring to the fact that Reid filed a procedural motion to force debate to begin Thursday.
Srinivasan is currently the administration's principal deputy solicitor general. He has been floated as a potential Supreme Court nominee, with some predicting he'll be on the high court before Obama leaves office.
The president released a statement Thursday praising the Senate's vote and hailing Srinivasan as "a trailblazer who personifies the best of America" and an "extraordinary litigator" in his current role.
"Now he will serve with distinction on the federal bench," Obama said, adding that Thursday's confirmation means Srinivasan will be "the first South Asian American to serve as a circuit court judge in our history."
Srinivasan's confirmation is a win for Obama but just one piece of a much broader fight underway over GOP obstruction of the president's nominees. McConnell and Reid have been sparring for days on the issue, with Reid signaling he's prepared to go as far as changing Senate rules to allow nominees to advance on a simple majority vote, rather than the current 60-vote threshold needed to overcome a filibuster. McConnell, in turn, has accused Reid of manufacturing a crisis when there isn't one.
Still, the fact that McConnell relented on the Srinivasan vote signals the minority leader may be trying to show that the GOP can play nice when it comes to moving nominees.
Pretty much since Obama took office, Republicans have been using a variety methods to block his nominees. They're not putting forward recommendations for nominees at the beginning of the process, they're causing delays in floor votes once nominees clear the Senate Judiciary Committee and they're dragging out the committee process by submitting hundreds of questions for nominees to answer.
Reid outlined the latter tactic during a Thursday press conference addressing GOP obstruction of nominees, ahead of the Srinivasan vote.
"Gina McCarthy, EPA [nominee]: more than 1,100 written questions after her hearing had closed," Reid said. "People have gotten hundreds and hundreds ... just to stall."
During the press conference, Reid and other Senate Democratic leaders were coy about whether they would actually follow through with a fight over filibuster reform. Reid insisted they weren't "picking a fight with anybody" and were just "laying out the facts."
But given the tough talk Democrats used as they listed off key nominees still awaiting confirmation votes -- including Richard Cordray for the Consumer Financial Protection Bureau and Tom Perez for the Labor Department -- they didn't appear to be ruling out the idea, either.
"Our patience with these standoffs is running thin," said Sen. Patty Murray (D-Wash.). "This president and the American people deserve a functioning government and we're going to fight to make sure they get it."
Sen. Charles Schumer (D-N.Y.) was more direct.
"The other side must be careful," he warned. "If they think they can win a debate over whether the Senate should change its rules, they might very well be mistaken."
This story has been updated with comment from President Obama and to note that Srinivasan is considered a potential Supreme Court nominee.
Before You Go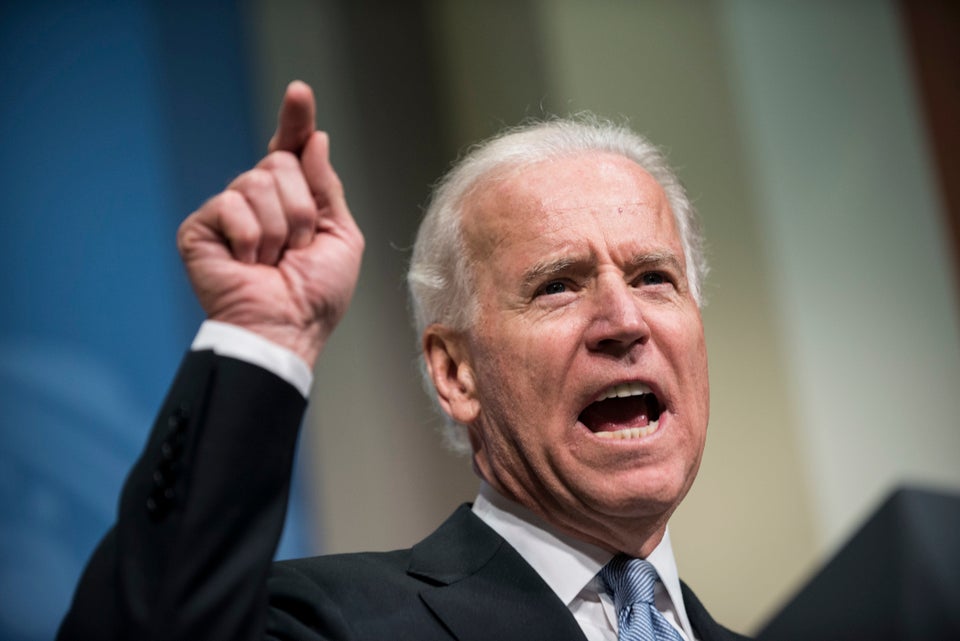 Obama Cabinet: Who's Staying, Who's Leaving
Popular in the Community