By now, we are aware of the health benefits of eating oatmeal for breakfast. We know, guys, we know. It's great for you. But sometimes we get tired of raisins or cinnamon or maple syrup. Sometimes, we are just plain tired of oatmeal.
Well, the geniuses at the Sriracha Cookbook Blog have probably found a way to snap us out of breakfast funk: Savory Sriracha Oatmeal. Although it does give us a chuckle that "putting an egg on it" and "putting Sriracha on it" are two of the most overused food-experimentation-cliches, we still want to eat three or four bowls of this stuff.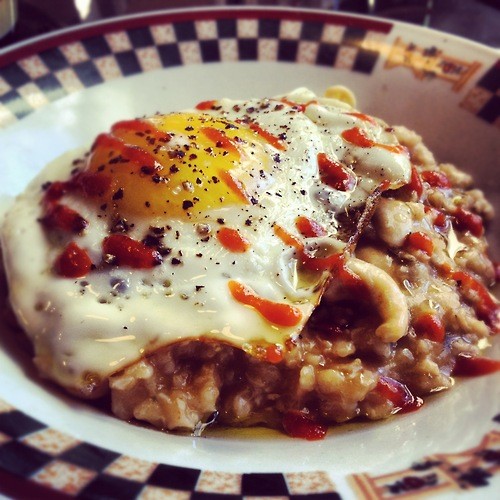 The addition of cashews and the fried egg give this recipe plenty of breakfasty protein, and a few dashes of liquid aminos lend a hearty savoriness. Not to mention the punch of the chile sauce. What do you think? Are you ready for Sriracha oatmeal? We're pretty sure we are. Do let us know if you give it a try.