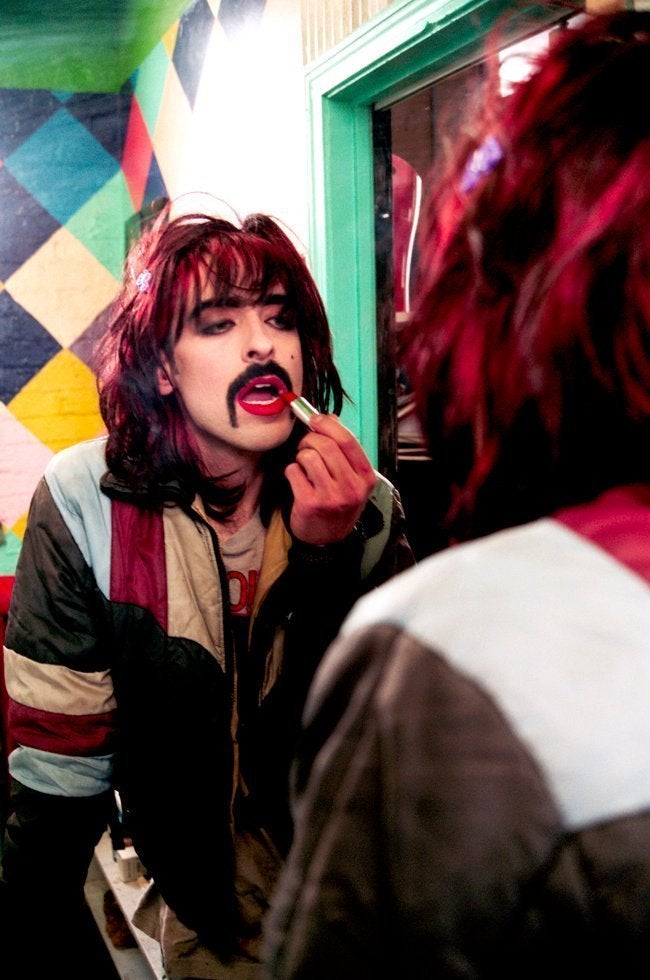 The part of Sunset Boulevard where the seedy nightclub Los Globos is is a place we normally drive by, but tonight it's our destination. Tonight is Homo-Ween, and SSION is playing alongside Ab Soto and House of Ladosha. This juncture of Halloween and homosexuality, seediness on Sunset and the decade-long art project SSION creates in us a wild, almost unruly expectation for the night, so it was with great pleasure, curiosity and some abandon that we walked up the steep, sticky steps to the second floor dance floor.
First, an introduction to SSION (which is pronounced 'shun', as in mission, ambition, or shunning day jobs and making art for a living). SSION is Cody Critcheloe, and Cody is SSION. SSION is his project, his band, the label under which he makes music videos for artists like Santigold, the Liars, Peaches and MNDR, and cover art for the Yeah Yeah Yeahs. It's also his livelihood.
Cody and SSION's backing band took the small Los Globos stage just after midnight, following the vogue-ing, highly costumed Ab Soto and the gender-bending rap-duo House of Ladosha, and played for well over an hour.
There is a real immediacy to Cody's performance. His screams of "LOS ANGELES" brings the audience in close to the stage, which helps the sweat that had beaded on our skin to run wild down our lower backs. He leans outward, he touches the ceiling, he rarely turns away. As a frontman, he is very present. To crowd surf he doesn't jump out into the masses, but instead wades in and is buoyed up. It's more crowd-floating than crowd surfing, more Dead Sea than Mavericks. In a few seconds the ebb and flow gets him back to the stage, and he continues on with the show, pleased.
Our expectation for SSION going in was a high-concept, totally fabulous theater piece, but that was noticeably missing. The concert was just a concert; there were no elaborate projections or glamorous costumes, and this ended up being a nice exercise in restraint. Cody's signature design elements were absent from the stage, but whether this was a casualty of tour or a new direction for the band remains to be seen. Regardless, the decision left focus on the music. This in turn led to much dancing, and plenty of slippery make-outs peppered in between, the audience's seal of approval for SSION's music's recent move toward pop. The audience, a healthy mix of ages, sexualities and men in winged costume, all danced.
SSION's sound is sultry pop with a disco backbone, led by Cody's sincere, controlled vocals. It is easy to dance along with, and because the music tends towards encouraging, the dance is positive, bordering liberating. SSION doesn't have to dabble in gimmicks to create the atmosphere they want. The music, and the man behind it, proved enough to make the hour-plus set sweet.
The set went smoothly with the exception of that one moment where Cody, having finished a song, looked out at the audience and saw a small white dog being held aloft. The dog was then passed to him on the stage, and Cody was visibly put-off, calling attention to the dog's quick-beating heart and saying it must be terrified. The dog eventually found its way back to its rightful owner (and here's hoping that the rightful owner was rightfully escorted out), and the show went on, the crowd spared any sort of Ozzy Osbourne moment.
We caught up with SSION, who are just over halfway through their LIVE & WET tour supporting their newest LP 'BENT.'
Q: That poor dog... does that happen a lot to you?
I use a lot of white dogs in the recent imagery. I have a weird obsession with white Pekingese dogs, but I don't know where the hell that came from, it freaked me out. I thought it was stuffed... when I picked it up, its heart was beating so fast, it was shivering, I was just... oh my god, this is fucked up. It took me out of it. I was really in the moment, and I was like... ah... thinking about this dog. God, everyone's expecting me to bite its head off.
Q: Did they just smuggle the dog in?
It had to have been in a purse. I thought it was stuffed, or animatronic. It was from this Queen who said "She wants to be a star!" It freaked me out.
Q: What happens after this tour? Is Coachella in the cards?
I wish. I've been to Coachella, I've seen a bunch of bands play there. I have no idea. I'd love to play Coachella. I love playing outdoor festivals.
Q: What are your plans for after this tour?
The main thing right now is doing videos for every song on this record. We have two that are done that we'll release after the tour is over. The plan is, as soon as we get back I'll go to Kansas City, which is where a lot of the people are that I've spent the last 5, 6 years working with on different projects. I'll go back there and make another video and get it done before the year's out.
Q: Are you going to make another album?
I don't know if making a full-length record is what I want to do next, but we were actually talking about doing some sort of EP, because this last record, the Bent record, I spent so long on it. I was really dead-set on making this pop record to the point that it killed it for me a little bit. I still love performing the songs, and I love how it connects with people, people know the words, that's cool. That's why I did it in the first place, but I'd like to experiment.
Q: Would the EP be less of an investment?
Anything I'm going to do is going to be an investment. Doing an EP just gives you more freedom. People don't hold the same expectations on an EP that they would on an LP. That sorta feels like the right thing to do. Making shit, staying busy 24/7. Being creative. Then there's a European tour that we're working on, we're doing a show at Miami Art Basel, and we're confirmed that we're going to do a New Year's party at The Standard in Los Angeles.
Q: What would be different on the next project?
I don't actually have a set in stone idea of what I want to make, which the last few records I did. I think that's a really good time to experiment. Even some of the demos for the songs on this record are more appealing to me now. They have a more raw, effortless thing to them. I don't think they got developed as catchy as they are now. I just want to have that freedom to make stuff constantly. That's the one thing that'll keep it fresh for me. It's exciting. It's cool, too, I don't feel any pressure to stay one way or the other. Anyone who's legitimately into SSION knows that, too. No ideal of what it has to be.
Q: What is one thing that you stand for, you individually, or SSION all together, that you're trying to portray to the world?
For me, I feel like the only goal and purpose I have in life is to make the stuff that I want to make, and to do the best stuff I possibly can. As long as I'm true to that vision, which is very impulsive and intuitive, then everyone else gets the meaning and messages out of it. It's hard for me to take any hardcore stance, I always feel a pressure to say something intelligent. That's not really me, I'm just a creator. When I'm totally 100 percent true to that, that's me. It's hard for me to say any one thing, like "Just be yourself." I don't feel like that everyday. It doesn't make sense for me to have a slogan. And it also comes off really smug.
Q: You've worked with Santigold, CSS, etc. Do you have a wish list of people you'd want to make videos for, or be featured with?
I've never sought out making videos for people. That just came about. I enjoy doing that, I love working with those people. It's an interesting process for me. Even though they've all given me an insane amount of freedom, you still have to work within their restraints. It doesn't matter who they are, they all have some image restraint in some way. You're working on their terms. I like the stuff I've made for those people. I feel like the stuff I make for myself is the best. I don't feel like I've ever really made a masterpiece for someone else. I really love what I do, so I'm selfish about it. I love doing stuff for other people. It's a necessary thing to do. If I could, I'd just be making it for myself. It's cool, we're going to make a video for Santigold, that's awesome. We make that video, I get paid for that video, and it's awesome, now I can make something I really want to make. I'm going to put all that in mine.
The people I want to collaborate with are just friends of mine. It's so hard, I can't even think of someone I'm dying to collaborate with, really. I would, I'm open to it. I like doing stuff for other people, and with other people, but I don't feel it's representative of my work. The videos I make for someone else are not really my thing.
Q: Do you feel like there's anyone out there who's doing something similar? If you teamed up, you would feel like you're staying true to what you are?
I feel like there are. I'm more interested in collaborating with someone I didn't sync up with very well, you know what I mean? Someone that's going to teach me something. I would just hate to get in a room and high five someone for five hours straight and say we're awesome. We're exactly the same! It'd be way cooler to do something with someone you didn't see eye to eye with.

Q: Do you feel like you have a fan following?
Not in a Grateful Dead kind of way. A few chicks that came to a few shows in a row, and I thought that was impressive. There was a girl who drove from Montana to Olympia. But it's not a Dead Head. It's awesome, we love it. We've played a lot of awesome shows on this tour.
Q: How has the tour been? Any particularly memorable shows?
In Cincinnati we played in someone's loft. I was telling the booking agent I just don't want a day off. If we're going to do this, let's play in every place we can possibly play at. In Cincinnati, Nicky Da B, the New Orleans bounce kid, it was such an odd show, but it makes sense. We're playing with him again in New Orleans. It's been rad, having House of Ladosha on the tour's been fun, it's good to have their energy on board. Awesome to see them open the show, I mean not in LA, people here are a lot more in tune to what they're doing. Cool to take House of Ladosha to somewhere like, you know, like Salt Lake City or Cincinnati, people'd be really confused then get really into it. It's the perfect opening act to have. Also to see certain cities go crazy for them, too.
I always try to look at everyone in the audience. I really want to connect with everyone, to make sure people are having a good time.
Q: What's the further out there goal?
I would love to put out an album on a major label, more than anything, and to have something that was a crossover. I love the idea of doing something mainstream. With that, ideally, comes a budget to do bigger types of things, which is exciting to me. Also, I direct all the music videos, and I would really like to one day make a full-length feature film. I'm sure I will, I don't know when that'll happen. With SSION, the way it started, it was first a band, but it always a brand. When I was at art school, just making videos or doing paintings, the name was SSION. Everything that I did that was the label it was on. I sort of see a lot of things as a potential for it. It's very open. I would like to do more acting. A fashion line. Have more art shows. Be a painter. Get really good at cooking. Ultimately, SSION is all I do, all I've been doing for over ten years. It also allows me to do anything I want.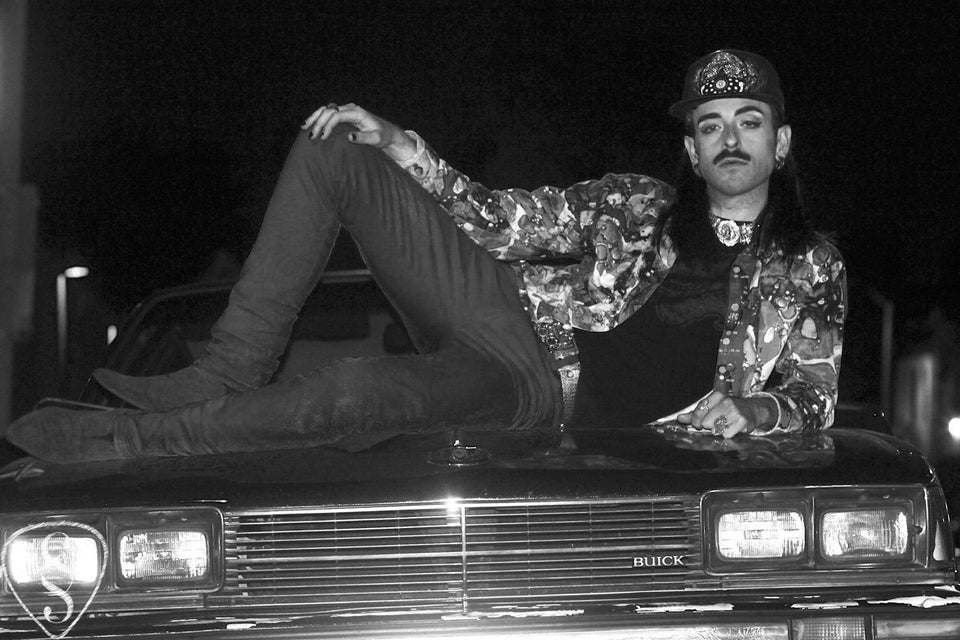 SSION
Popular in the Community