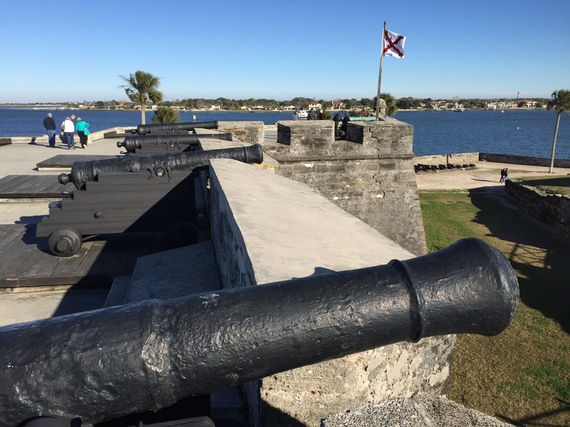 In 2015, St. Augustine, Florida, did something that no other town in North America has ever done. They celebrated their 450th birthday. But surviving as America's oldest city hasn't been easy. St. Augustine has been sacked and burned to the ground. Three times! It has been fought over in so many wars that the Spanish, French, British, Confederate, and pirate flags you see flying around town are not just for decoration - they actually represent countries and criminals that at one time or another controlled it.
But what can you expect from a town that was started for one purpose: to fight pirates.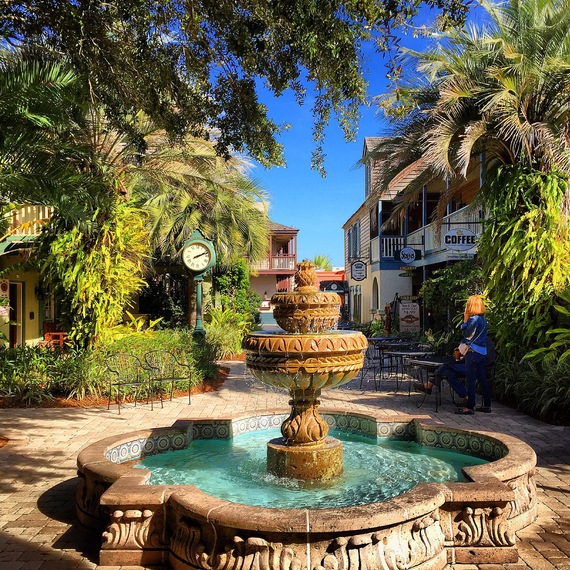 Perhaps the most amazing thing about St. Augustine is that after surviving centuries of hurricanes and bloody warfare, this little settlement, originally located in the middle of nowhere on the edge of swamps filled with mosquitos, rattlesnakes and alligators, has grown today into one of the most lovely and beautiful cities in the new world. It is a place of incredible charm with cobblestone pedestrian streets lined with quiet plazas and outdoor cafes shaded by palm trees.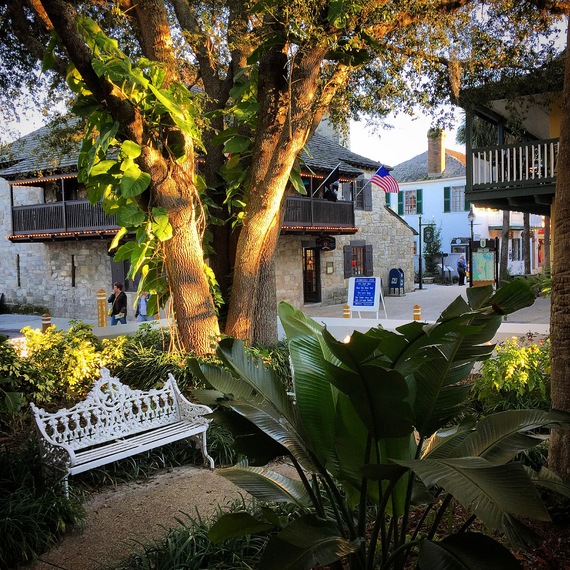 There is a European feel, which is highlighted by something very rare in North America - a great stone citadel that sits squarely in the center of the town. There are cute little shops and art galleries. Spanish moss hangs from the trees, while a full-size Spanish galleon brimming with canons floats in the harbor. And of course, there are dozens and dozens of 100 and 200-year-old buildings that have been re-purposed into museums, antique stores, pubs with live music, and candlelit restaurants. But don't forget, this is St. Augustine. Which means even the oldest buildings can only date back to 1702. That's the last time pirates sacked the city and burned it to the ground.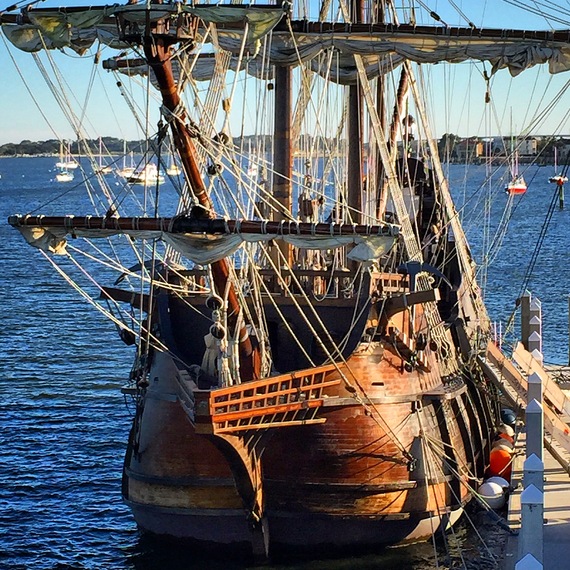 Pirates & Privateers and Privations
In 1565, Spain had a problem. Cortez had opened up Mexico and huge treasure ships filled with gold and silver were bound for Europe. However to get to the gulf stream to carry them across the Atlantic, the treasure fleets had to sail up the treacherous coast of Florida, and as the maps at the time said, "here there be pirates." Full blown pirates (outright criminals) and privateers (essentially pirates who had a letter stating they were fighting for one of Spain's enemies, like England or France) would wait and capture the slow moving treasure ships, or run them up on reefs and salvage the wreckage.
When the French went so far as to build a fort in Florida, Spain had to act. In 1565, they sent an expedition of 800 men and women under Don Pedro Menendez de Aviles to protect and settle the Florida coast. The French were soon dispatched and with the coast secure, the Spanish laid out the first European grid-style town in the continental United States, a real city with streets and plazas and impressive government buildings - and no food. Florida was then a hot, humid, bug and snake-infested swamp, filled with disease with little ground to grow crops. The early years here were incredibly difficult. And then there were the pirates. Nine wood forts were built, and destroyed by pirates. The infamous Sir Francis Drake burned the town in 1586, 34 years before the Pilgrims landed at Plymouth Rock.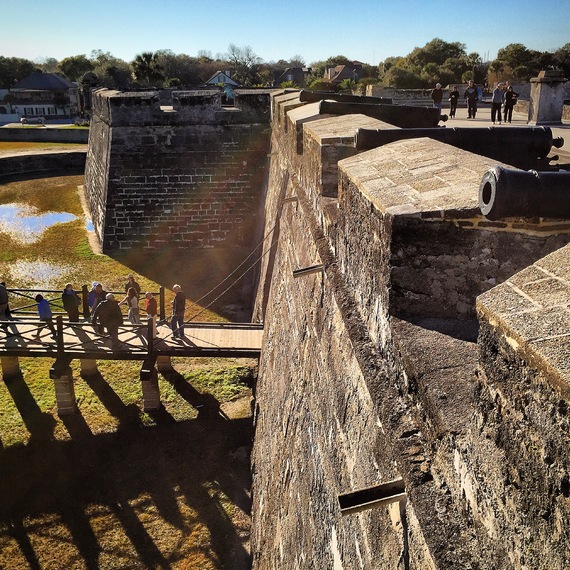 Finally, in 1672, Spain had enough and construction started on the Castillo de San Marcos - the oldest and best preserved stone fort in the continental United States. Today, the huge diamond-shaped fortress is a National Monument. You can walk the ramparts along the top of the towering, 28-foot-tall walls, defend the drawbridge, climb out on the bastions for a view of the harbor, and watch cannons being fired by re-enactors in Spanish uniforms.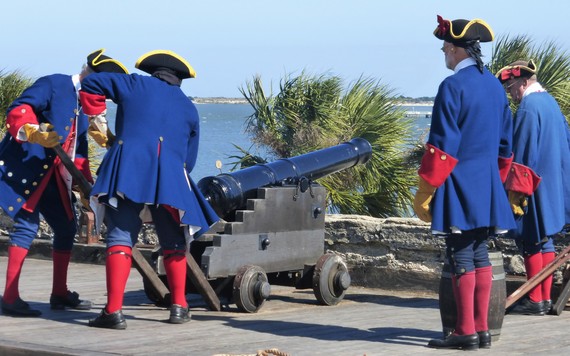 The fort was built of coquina, a soft local stone made of compressed shells. When the British attacked in 1702, the soft stone absorbed the cannonballs without crumbling, and the fort held out for 50 days. Of course, the frustrated British had to settle for capturing the town, which they burned to the ground before sailing off. But the fort survived that battle and another brutal British bombardment in 1740 and was never captured.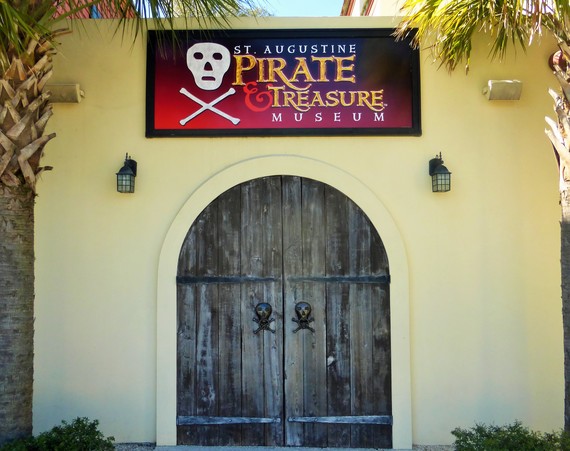 After you've seen the 60 cannon built to fight pirates, leave the fort and cross the street to continue the story from the other point of view at the St. Augustine Pirate & Treasure Museum. This is the largest and most authentic collection of pirate artifacts ever displayed under one roof. Of course, there are not a lot pirate artifacts. Most of the pirates were hung or killed in battle (Blackbeard went down with five bullet holes and 20 sword cuts, and they sliced off his head for good measure).
So there's not a lot of genuine artifacts, but you can see Blackbeard's blunderbuss, one of the three remaining "Jolly Roger" pirate flags, the world's oldest wanted poster, and Captain Thomas Tew's original treasure chest - the only known authentic pirate chest in existence. The museum does a fun job of detailing the lives of the most outrageous of the scallywags, and kids can fire a cannon, see a Disney-produced special effects show on Blackbeard's last battle, and stare at the actual sword used by Captain Jack Sparrow in the movie Pirates of the Caribbean. The sword spins in a special case with dramatic lighting as if it were a priceless relic, and maybe it is.
Most interesting are the exhibits of real treasure including pieces of gold, gold bars, pearls and silver, recovered from pirate shipwrecks, including Blackbeard's own flagship, the "Queen Anne's Revenge."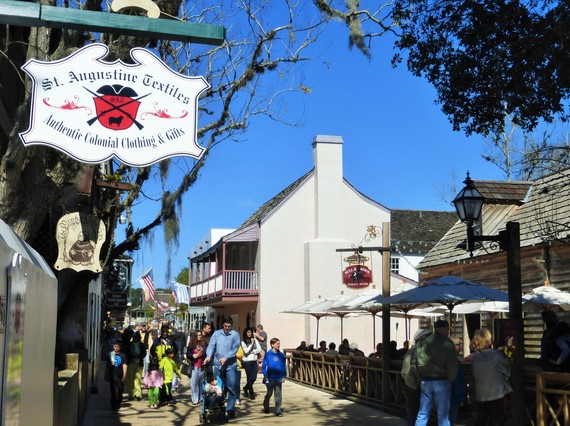 The museum is just one of a half dozen pirate adventures. This is deep pirate country, and if you doubt it, there are not one, but two stores where you can be completely outfitted in your own pirate costume, from tri-corner hats to boots, swords and pistols. Up to a dozen fully outfitted pirates stroll around town posing for pictures, and there are pirate shows, a pirate sailing tour of the harbor on the Black Raven, and pirate, ghost and graveyard walking tours.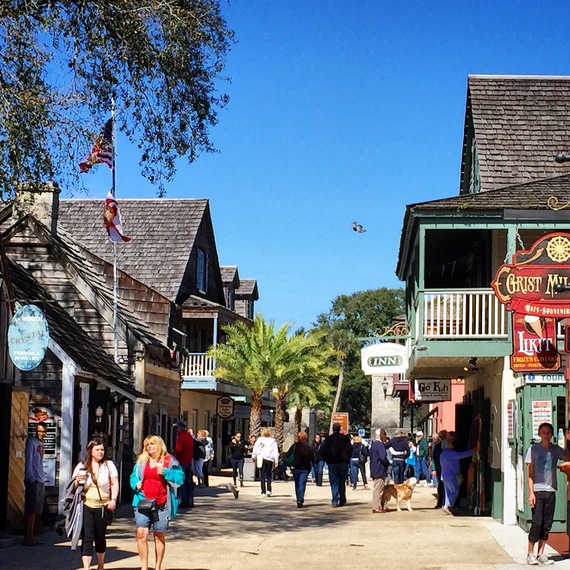 All of which seems quite natural. St. George Street, the cobblestone, car-free main street of town, looks like the setting of every pirate movie, with colonial buildings, pubs with wood signs, swaying palm trees, balconies and rustic old lanterns. Yes, it's a bit touristy, but much of it is authentic, and it's certainly beautiful at night with the lanterns glowing and candles flickering in many of the windows. Every March, there's a re-creation of pirate Captain Robert Searle's 1668 attach on St. Augustine. Reenactors of pirates and Spanish soldiers fight in the plaza, then all the people of the town and the soldiers flee up St. George Street while the pirates sack the city. It's no wonder there's two pirate stores in town.
A short walk from the pirate museum, you can see how normal people lived at the Colonial Quarter of St. Augustine. This 'living history' museum is fun for kids, where they can see a ship being built, watch a blacksmith at work and learn how to fire a musket. No matter where you wander in St. Augustine, you'll hear a lot of muskets and cannons being fired. There are four attractions that regularly fire off some type of black powder device. At least at the blacksmith, kids will learn where the expression "strike while the iron is hot" came from (you can only bend iron with a hammer when it is red hot).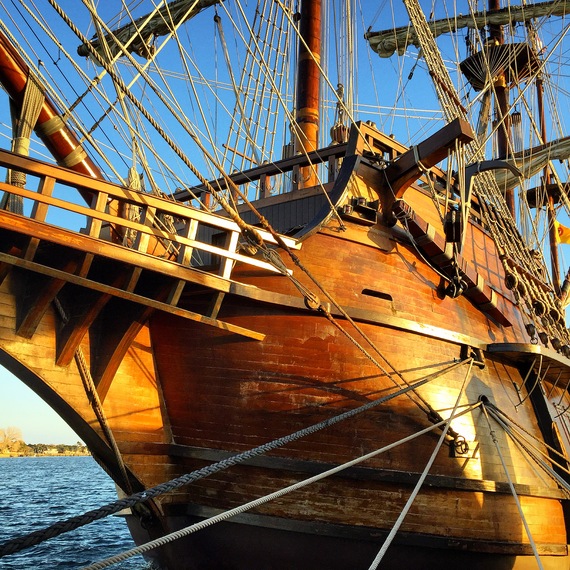 St. Augustine is also the North American port of El Galeon, a replica of a typical Spanish galleon. The 170-foot-long, 495-ton El Galeon sails from New York to Puerto Rico, telling the stories of these heavily armed cargo ships that were like full cities under sail, but it is frequently in dock in its main port, St. Augustine The El Galeon is similar to the San Pelayo, which flagship that first carried Menendez to Florida in 1565. That ship carried 77 crew, 18 gunners, 317 soldiers, and 26 families, as well as provisions, including cattle.
Among the crew were several African American sailors. Spain allowed slavery, but it had nothing to do with race, so blacks and whites could be free or slaves, and if slaves, they could earn their freedom.
The first free black community in the United States was at Fort Mose, just a few miles north of St. Augustine. At the state park museum, you can learn how many African American slaves under British rule in Georgia to the north escaped to Florida, where under Spanish laws they could be free.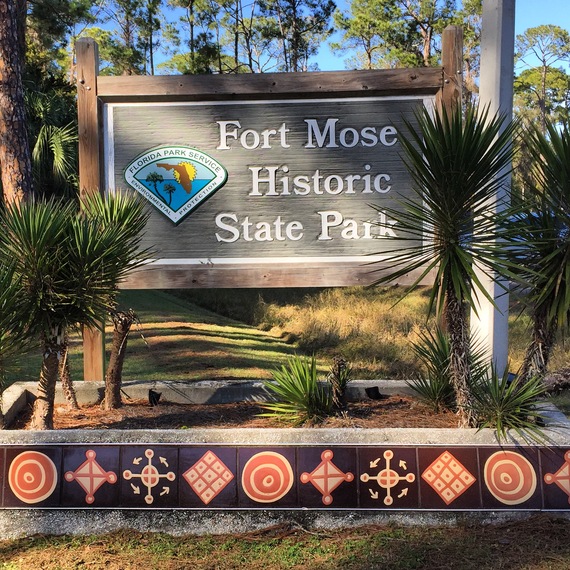 By 1738, a community of 100 former slaves were living here, under the leadership of African-born Captain Francisco Menendez. When a British force tried to capture St. Augustine in 1740, Menendez and the black militia along with 300 Spanish soldiers launched a surprise pre-dawn attack that left 68 British dead. The English retreated to Georgia and Menendez was a hero....to the Spanish. To the British? Well, of course, they considered him a pirate!
Walking and Drinking Beer in St. Augustine
St. Augustine is a five-star town for walking and drinking beer, filled with some great bars, live music a wonderful brewpub and seafood restaurants in 200-year-old buildings. It's more subdued than Key West, but has a similar number of bars in the historic district, which is where you want to stay. There are a dozen B&Bs in the area and a variety of chain motels along Hwy. 1, about a 15 minute walk away.
The AIA Ale Works is a good place to start. It's a modern building, but has second story views of the bay and five or more nice craft beers (the Porpoise Point IPA has a grapefruit taste that goes well with the view).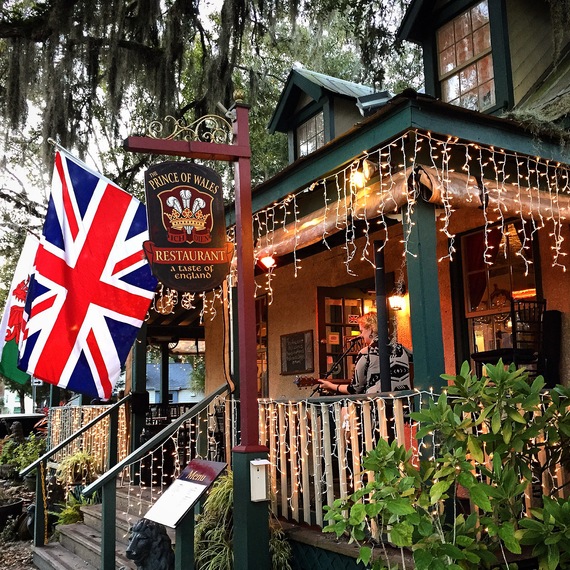 The town has three excellent British pubs, of which the Prince of Wales is a gem. Located on a secluded lane off the noise of St. George Street, it is surrounded by trees dripping with Spanish moss, offers a wonderful porch with folk singers and a small but traditional interior serving a British menu.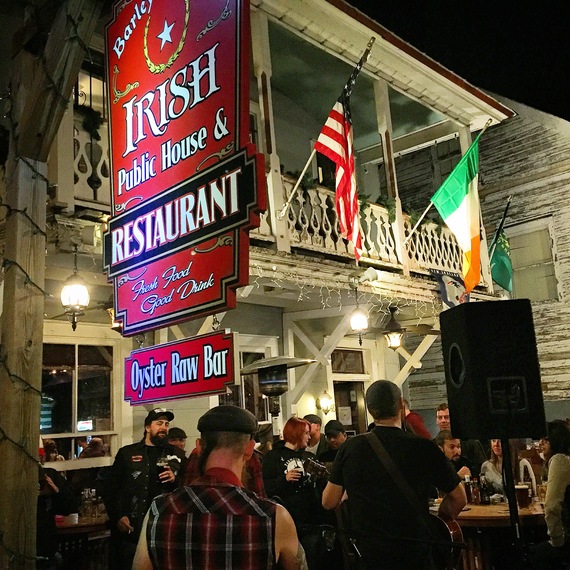 Across the street, the Barley Republic is a lively enough two-story bar with live bands and one of the best outdoor patios. Meehan's Irish Pub is a huge place on the bay with traditional music downstairs and Johnny's Oyster Bar up.
For dinner, it's hard to beat the atmosphere of O.C. White's Seafood & Spirits. The building dates back to 1790, the restaurant has a pirate for their logo, and their gorgeous outdoor patio overs the El Galeon floating in the harbor. It's the pirates choice for grub and grog.
Related