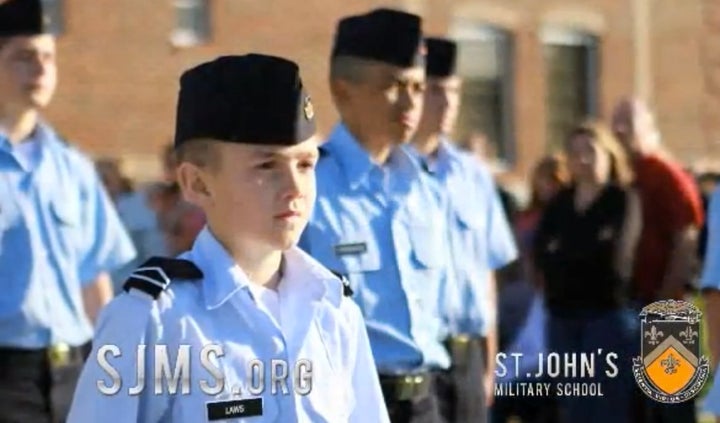 Parents of four students have filed suit against the St. John's Military School in Salina, Kan., claiming the Christian school allowed a group of students -- known as the "Disciplinarians" -- to punish other students by binding, gagging, beating and urinating on them, the Courthouse News Service reports. The suit also names the Domestic and Foreign Missionary Society of the Protestant Episcopal Church in the United States of America as a defendant.
The plaintiffs claim that St. John's has settled nine suits since 2006 that also claim similar abuse. School officials allowed the seniors to punish the younger students, the complaint alleges, arguing that since the school employs a model of student-to-student discipline, it should have extensive security and surveillance in the dormitories where students reside.
The parents also allege the abuse that underclassmen endured at the hands of seniors has been extensive -- with one student claiming he's witnessed multiple suicide attempts because of it. Other alleged abuses include one student being locked in a locker for 30 minutes, forced to roll around in the mud, then being urinated on in the shower. Another describes one student being beaten so badly that the victim suffered permanent vision loss from a broken orbital socket.
The plaintiffs seek damages for negligent supervision, intentional failure to supervise, intentional infliction of emotional distress or outrage, breach of fiduciary duty and conspiracy to assault and batter.
Earlier this month, two janitors from Gregory Elementary School in Long Beach, N.J. were placed on paid suspension after they allegedly bound and gagged two 10-year-olds in the school's bathroom.
Despite the janitors' dismissal, a spokesperson for the school district told My FOX New York the incident was a "practical joke gone bad."
In February, Los Angeles Unified School District Superintendent John Deasy confirmed that he had seen a few of the more than 400 photos of former teacher Mark Berndt reportedly spoon-feeding his semen to blindfolded and gagged students.
"It's sick. It makes you sick to your stomach," Deasy said, according to FOX 11. "I think the thing that is just so horrifying for us is we have thousands of amazing teachers. And we put our trust in them as they supervise students. And to violate that trust is just unforgivable."
The former teacher has since pled not guilty to committing lewd acts with the 23 children -- despite the photo evidence. The entire teaching staff was also temporarily replaced in light of the investigation.
Calling all HuffPost superfans!
Sign up for membership to become a founding member and help shape HuffPost's next chapter