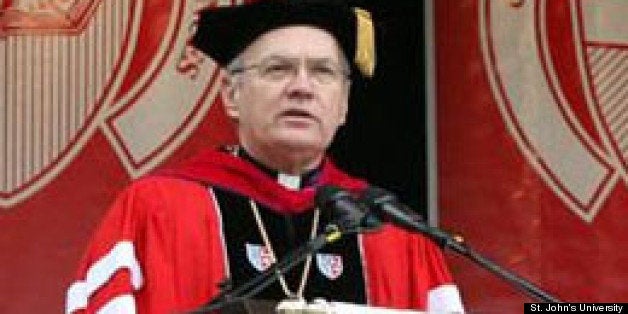 Father Donald Harrington, president of St. John's University in New York City, announced Friday in a campuswide email he will resign on July 31, while barely alluding to the embezzlement scandal plaguing his administration.
"For quite a while, I have been thinking about when would be the best time to relinquish the leadership role to younger, perhaps more energetic, individuals," Harrington wrote in the letter. "The urgings of many members of the Board of Trustees and others persuaded me to remain longer than I had originally planned. But the difficulties for everyone during the past year have convinced me, after much prayer and reflection, that the time to leave the presidency has now come."
Harrington boasted about increases in donations to St. John's and a growth in the university's investment portfolio during his 24 year tenure. He avoided mentioning Cecilia Chang, a former dean and vice president of international relations at the university, who was accused of embezzling more than $1 million from St. John's prior to her November suicide.
Wile also resigned, but according to the New York Post, his resignation doesn't take effect June 30. An investigation into alleged misuse of university money on the part of both Wile and Harrington is ongoing.
"As an alumnus of its law school, I've witnessed with pride as Father Harrington strengthened St. John's academically and physically with new facilities and buildings, while holding fast to the Vincentian mission that has drawn so many of the University's alumni to public service," Kelly said.
Cardinal Timothy M. Dolan also celebrated Harrington in his own statement.
"Father Harrington has been a beacon of light for Catholic education in the United States for decades," Dolan said. "His leadership and thoughtful planning of growth for one of this country's largest Catholic universities have brought a very high level of success to the St John's community. And tens of thousands of students, alumni and faculty have been enriched by his spiritual leadership."
Calling all HuffPost superfans!
Sign up for membership to become a founding member and help shape HuffPost's next chapter