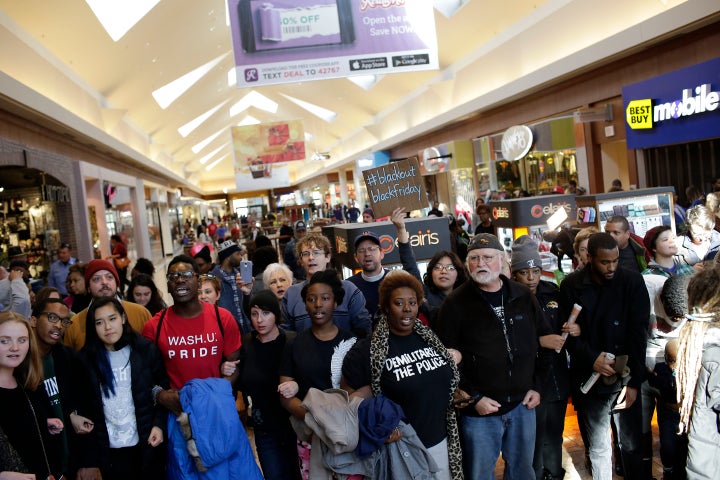 Black civic and faith leaders in St. Louis are calling for the community to boycott a dozen local businesses months after the acquittal of the white cop who fatally shot Anthony Lamar Smith.
The group No Justice No Profit announced the protest of Target, regional grocery store chain Schnucks Markets, the St. Louis Galleria (where protests have taken place in the past) and other stores Thursday during a news conference, The Associated Press reported.
Rev. Dinah Tatman said that black people are subject to excessive force by police, more likely to be criminalized for minor infractions and given longer sentences. Tatman also noted several racial disparities around economic growth and voting rights that block black communities' voices in elections. 
"As Main Street America enjoys social and economic prosperity, our community continues to erode, causing intense strain on our family structure and resulting in high unemployment rates and wanton incarceration of our black men," she said during the news conference.
Organizers at the conference said that they've named some of these businesses due to their alleged discrimination against black workers or customers. The group lists Target, which has 18 stores in the city, because of a 2013 legal dispute that allowed the company to use Rosa Parks' name and image on its merchandise. In a statement to AP, Target said that the lawsuit "was without merit and was dismissed" and that it works hard to "demonstrate inclusivity."
Schnucks Markets, which has 60 stores in the area, is listed because of the major contributions it made to Republican candidates and for allegedly abandoning low-income communities. In a press release, the company said it was "surprised and disappointed" to be included in the boycott, saying that it has customers and employees "from across the demographic spectrum." 
The boycott comes two months after a judge acquitted former St. Louis police officer Jason Stockley in the 2011 killing of Smith, a black man. The decision sparked outrage among community members, who held protests demanding racial equality. Tatum said Thursday that some "strategic" protests are planned as the holiday shopping season approaches. 
"We pay taxes ... We spend our dollars in other communities, other venues, and we have not received an equitable return for those monies that we have invested," Tatman said, per the St. Louis Dispatch. "We're now taking our money and investing in ourselves."
Watch the full press conference below.
REAL LIFE. REAL NEWS. REAL VOICES.
Help us tell more of the stories that matter from voices that too often remain unheard.
BEFORE YOU GO
PHOTO GALLERY
Powerful Black Lives Matter March In Washington