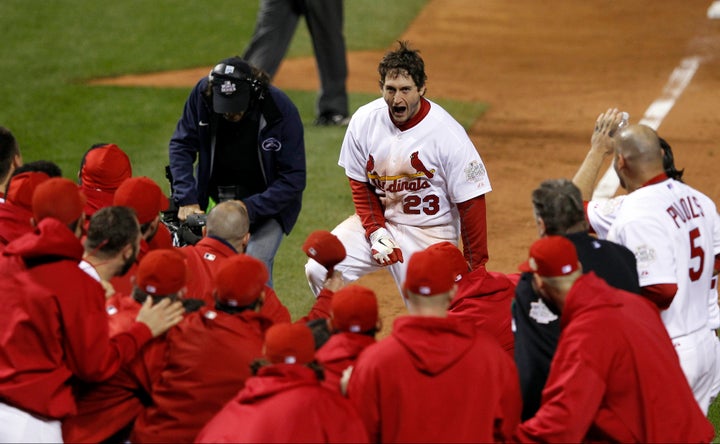 You hear the word all too much. It is so commonly used, in fact, that it sometimes sounds like a cliché.
But in the case of the 2011 St. Louis Cardinals, the word is not only applicable -- it is necessary.
To come back from 10.5 games out, as manager Tony La Russa said when we spoke on the phone following Game 6, "you don't have to win every game, but you can't lose more than one or two either."The 67-year-old La Russa, who has been a close personal friend more than a decade, had endured a very difficult season given his painful case of Shingles and well known feud with Colby Rasmus, who was traded in July.
On August 24, the Atlanta Braves had a firm grip on the National League Wild Card, beating teams with great pitching and clutch offense. The Cardinals meanwhile, looked old, slow and sunk. At 67-63, they had the 12th best record in the major leagues.
Viewed as an afterthought by many of the so-called "experts" and with little time to spare, they started winning, they kept on winning and, they won some more after that. Then, in the playoffs, they beat the payroll albatross Philadelphia Phillies -- the clear favorite to win the World Series -- by overcoming former Cy Young winner Roy Halladay on the road in a decisive fifth game. After that, they beat the Milwaukee Brewers and likely MVP Ryan Braun on the road, despite Milwaukee being the best home team in all of baseball. And then, of course, came Game 6 of the World Series, a game so unique and preposterous it will likely be known simply as "Game 6" moving forward.
In one of the longest World Series games in recent history at over four-and-a-half hours, the Cardinals trailed Texas on five separate occasions. They were down to their final strike two different times. They had every reason to give up; every reason to succumb. After the two-month run they made, nobody would fault them for that either. The Rangers after all, were a dynamic offense with one of the most lethal bullpens in the American League.
But, as we know, the Cardinals didn't.
As La Russa said: "[Chris] Carpenter kept going through the dugout in the ninth and tenth innings, saying, 'You know, we're a historic team with a legacy and it's not going to end right now.'"
The beauty of this Cardinal team was not only its resolve -- which included going an entire season without stud ace Adam Wainwright -- but the fact that many of its heroes were viewed as irrelevant unknowns just a couple of weeks ago. David Freese, Jason Motte, Allen Craig? Or what about Arthur Rhodes, a less-heralded reliever but important cog nonetheless. In a twisted bit of fate, Rhodes was actually cut by the Rangers this season. The 42-year-old was so appreciative of the opportunity to pitch that, following Game 7, he came into La Russa's office just to thank him. Octavio Dotel was no different. A 37-year-old many thought was washed up, Dotel maintained a 3.28 ERA this season and microscopic 1.13 ERA in the NLDS and NLCS combined. "Thank you for believing in me," he told La Russa. "Thank you for putting me in."
The truth is, discussion of professional sports so often focuses on high payrolls and monstrous personalities that the human element is forgotten. With inflated contracts and egos, players and teams become less relatable to fans. Not to say that this Cardinal team was devoid of egos or big contracts -- because it wasn't -- but it was special in a way we haven't seen from baseball in a very long time. With a humble payroll and a feisty, never-say-die attitude, it in many ways symbolized its passionate, no-frills Midwestern fan base.
"Some of my friends and I were talking about this season," says Mike Nichols, a St. Louis-area resident and longtime Cardinals fan. "This team was so much different than the past few years. They were fun to watch because they always played the full 27 outs. They always battled until the end."
Perhaps La Russa had it right after Game 6 when he called it "a human game" because of all of the errors and mistakes. This Cardinals team wasn't perfect and many times, it didn't play pretty baseball. But, in going 34-16 in its final 50 games, it always played hard, it always fought and, in the end, it won perhaps the most captivating World Series of this generation. "Guys just kept coming through under the extreme pressure," La Russa told The Huffington Post. "This team has exceptional character as far as the kind of people we have on the club."
In the end, you have to have talent; that is a formality. But, as this team proved, hard work, character and heart always beats talent. In the case of the 2011 St. Louis Cardinals, it had all of the above.
Email me at jordan.schultz@huffingtonpost.com or ask me questions about anything sports-related @206Child for my upcoming mailbag.
Plus, check out my new HuffPost sports blog, The Schultz Report, for all of my World Series coverage and listen to my weekly radio spot on 97.5 The Zone in Salt Lake City every Friday night at 6:25 ET.
Popular in the Community