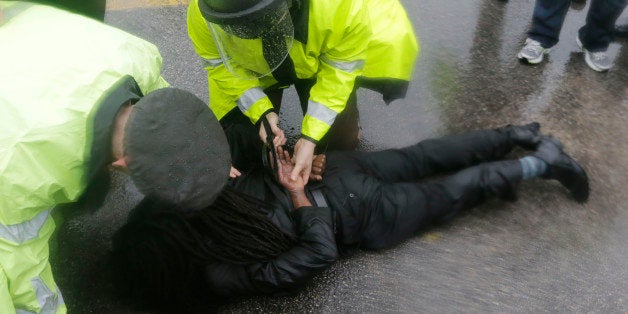 (Reuters) - A white off-duty St. Louis police officer shot a black teenager six times in the back of the legs and once in the side of the head in what was likely a fatal wound, a doctor who performed a private autopsy for the teen's family said on Friday.
The shooting of Vonderrit Myers, 18, in a St. Louis neighborhood earlier in October led to a renewed intensity of demonstrations that have continued in the area since unarmed black teenager Michael Brown was shot dead on Aug. 9 by a white police officer in the St. Louis suburb of Ferguson.
St. Louis police have said Myers was armed and fired on the officer who shot him dead in what they said was a firefight. Myers' family disputes that description and said he was unarmed.
Crime lab results released on Oct. 14 showed that Myers had gunshot residue on his hands, the waistband of his jeans and a T-shirt.
Four rounds struck Myers in the back of the legs, entering on an upward trajectory, consistent with him running up a hill in the front yard of a house, said Dr. Cyril Wecht, who was commissioned by his family to perform the autopsy.
"As he was running, he was being shot," Wecht said.
Another shot entered the side of his left thigh, and would have left him immobile while the fatal wound to the side of the head did not have an upward trajectory, Wecht said.
"I do not believe that shot would have struck him while he was running away ... up a hill," Wecht said.
Wecht said none of the wounds came at close range, but he could not determine the order of the shots.
The officer who shot Myers has not been publicly identified. His attorney, Brian Millikan, said the autopsy and the entry wounds are consistent with what his client described to investigators.
"It doesn't change the fact that Myers attempted to murder this policeman," Millikan said.
Millikan said that after a foot chase, Myers was lying in a gangway with his feet out of the gangway and his legs extended toward the officer as he was propped up on his left elbow.
"When the policeman is firing back, it's only natural that the back of his legs are going to be exposed to the policeman's line of fire," he said.
(Reporting by Brendan O'Brien in Milwaukee; Editing by Sandra Maler)
Calling all HuffPost superfans!
Sign up for membership to become a founding member and help shape HuffPost's next chapter