ST. LOUIS -- A year ago, after 18-year-old Michael Brown was killed by Ferguson Police Officer Darren Wilson, police responded to even peaceful daytime protests in the St. Louis suburb by deploying attack dogs and tactical vehicles, pointing sniper rifles at peaceful protesters, arresting people for simply standing still on public sidewalks, flooding demonstrators with tear gas -- often without warning -- and shooting them with bean bags, wooden pellets and balls filled with pepper spray.
A year later, St. Louis County authorities have decided they're not done with protesters quite yet. Lawyers representing the interests of those arrested in Ferguson last August say St. Louis County authorities have sent out "hundreds" of summonses to individuals swept up by police a year ago. Because the state prosecuting attorney refused to take many of the cases and the city of Ferguson has not pursued charges in others, the ordinance violation charges have come from the St. Louis County Counselor -- the very same entity that defends the St. Louis County Police Department's actions in civil rights lawsuits.
"What we're hearing is that they're just charging everybody who didn't get charged," Brendan Roediger, a law professor at St. Louis University. "We definitely have cases where the supplemental police report indicates that the state already refused the case. What's the message there? If the case is too weak for the state, it should be too weak for anybody."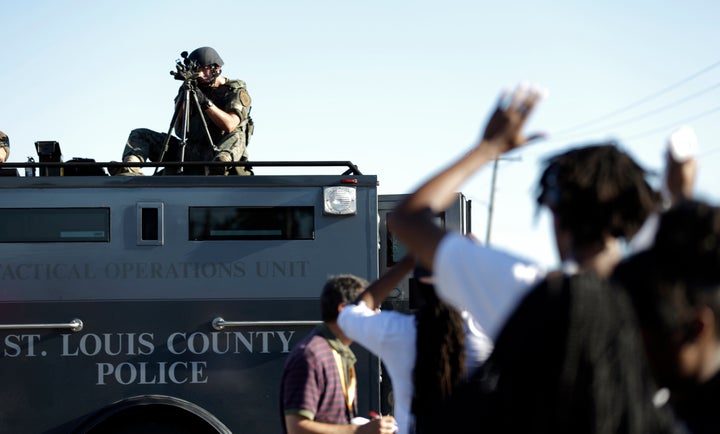 Cordell Whitlock, a former anchor and reporter in St. Louis who serves as director of communications for St. Louis County Executive Steve Stenger, did not respond to multiple requests for comment on Tuesday. But the charges appear "to be quite widespread," said Anthony Rothert, legal director of the ACLU-MO.
"It appears, as far as we can tell, that everyone is being charged who had been arrested," Rothert told The Huffington Post. "We've been led to believe by the St. Louis County Counselor's Office that that's what they're doing, so that's one big reason, but also we've started to get calls and complaints from a wide variety of people who were arrested on different days, but mostly in August, who are receiving summons. It's people who were arrested in a big group and released without any charges and haven't heard anything -- haven't heard anything -- for a year and now are receiving a summons."
A joint statement issued Tuesday by over a dozen organizations, including the American Civil Liberties Union, the Advancement Project and Arch City Defenders, condemned the action as "a blatant violation of constitutional rights and an appalling misuse of our already overburdened court system." The statement asked the St. Louis County Counselor's office to "do the right thing and help heal the region" by dismissing the cases. The organization also set up an intake form to help arrange for legal representation for those who have been charged.
Roediger said most of the people being charged are innocent, and noted sadly that many people are "OK with the process itself being the punishment" for protesters, who will be forced to spend time and potentially money fighting bogus charges. Many of those charged by the county don't live in the St. Louis region, which would mean heavy travel costs to return there, perhaps multiple times.
"The county is now, for the first time that I've ever heard, claiming that they have jurisdiction to prosecute cases that occurred in an independent municipality. It's wild. Talk about escalating things," said Roediger.
The decision to pursue charges comes despite the fact that a forthcoming report commissioned by the Justice Department finds that the tactics used against demonstrators last August were deeply flawed and suppressed constitutional rights. The decision to pursue charges was also made even though a federal judge ruled months ago that some of the strategies used by police were unconstitutional, and that authorities were ordered to give demonstrators warning before using less-lethal weapons on them. While police in the St. Louis region appear, at times, to have evolved in their approach to protests, they seemed to fall back on their old tactics around the anniversary of Brown's death earlier this month, when police rushed into crowds of demonstrators and seemed to simply grab whoever they could.
"All they complain about is that the young people are too hyped up, that these folks need to engage in calm conversation. Yet at every turn, they take the most escalating measure they can," Roediger said. "I don't think they learned anything."
Rothert said he believes that while officials in the St. Louis County Counselor's Office may think it makes their jobs easier to bringing charges against individuals who may have viable civil rights lawsuits against St. Louis County might make their jobs easier, it has the potential to backfire. He said they were opening a "Pandora's Box" by filing charges on a mass scale.
"It could also make people who are ready to move on and have just forgotten about their constitutional rights being violated much more angry and eager to pursue a lawsuit against the county once the criminal charges are resolved," Rothert said. "It's almost like it started to scab over for a lot of people, and now filing these charges is like picking the scab off and re-victimizing people whose constitutional rights were violated in the first place."
Disclosure: Ryan J. Reilly, who co-wrote this story, was recently charged along with The Washington Post's Wesley Lowery for allegedly "trespassing" in a McDonald's where they were customers and allegedly "interfering" with police officers. The incident happened on Aug. 13, 2014, shortly after other St. Louis County officers pointed sniper rifles at a crowd of peaceful protesters in broad daylight. The officers involved in their arrests all refused to disclose their names at the time.
Popular in the Community