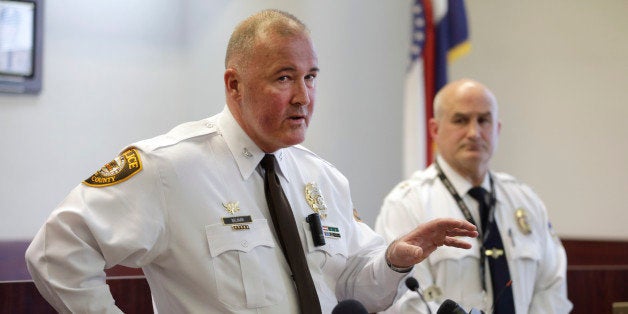 WASHINGTON -- For St. Louis County, the first step is admitting there's a problem. For years, the county has enabled small municipalities scrounging for funds to exploit citizens for money. After slapping residents with fines for offenses like overgrown grass, saggy pants and "manner of walking," municipalities have used the threat of incarceration as a brutal tool for ensuring that citizens pay up and help close government budget gaps. Part-time municipal judges working just a few hours a month in a network of dozens of tiny courts in towns of just a few hundred or a few thousand people conspired with city officials to put profits above justice.
Using police departments and courts to generate revenue, unsurprisingly, has ruined relationships between officers and the citizens they are supposed to serve. But things didn't really hit rock bottom until August, after a police officer in the St. Louis suburb of Ferguson shot and killed 18-year-old Michael Brown, sparking protests against police that at times turned violent.
After years of denial about the extent of St. Louis County's problems, some leaders are ready to take inventory and make amends. When they learned about the Safety and Justice Challenge from the John D. and Catherine T. MacArthur Foundation, officials saw their chance to rehabilitate their approach to incarceration.
On Wednesday, the MacArthur Foundation will announce that St. Louis County is one of just 20 jurisdictions across the country that will receive $150,000 to develop a multi-step plan to improve the local justice system, with the goal of reducing unnecessary over-incarceration. As part of the effort, 10 of those 20 jurisdictions will receive up to $2 million annually for two years to bring their plan to fruition.
St. Louis County was one of 191 jurisdictions from 45 states that applied. Along with several other counties across the country, the cities of Philadelphia, New York and New Orleans were also selected for the initial round. Combined, the selected jurisdictions have a jail capacity of nearly 100,000 and hold 11 percent of those in jails nationwide, according to the MacArthur Foundation. Laurie Garduque, director of justice reform for the MacArthur Foundation, said St. Louis County made the cut because it demonstrated that leaders in several components of the government were interested in helping with the problem.
"You had to have leadership commitment, motivation and the acknowledgement that you have a problem and that you were seeking solutions," Garduque said. "That's what made [St. Louis County] competitive among the similarly situated jurisdictions."
Frank Vatterott, a municipal court judge who spearheaded the effort to apply for the MacArthur grant, said the situation in August and the subsequent national coverage of municipal courts in St. Louis County highlighted an issue that was overdue to be addressed.
"Ferguson has shown that there is a lot of unnecessary incarceration here. I think everybody agrees to that. It isn't always that the incarceration is unconstitutional, it's just unnecessary," Vatterott said.
In an interview ahead of the announcement, St. Louis County Police Chief Jon Belmar called the reform effort a "positive that came out of a tragedy." While noting that roughly half of the dozens upon dozens of police departments in St. Louis County were "legitimate" in his view, Belmar said that there were many that didn't exist for the right reasons. The county has so many police departments that it's impossible for him to even know the name of every police chief, Belmar said.
"You have 92 governments, and 60 some odd police departments and 83 or so courts," he said. "The parts don't equal the sum. It's one of these issues to where it's very difficult to manage large situations because there are so many fractionalized agencies coming to the forefront trying to work together under different general orders, protocols and guidelines."
"It was patently obvious that certainly not all, but some agencies, some governments here in St. Louis County were using traffic fine revenue to prop their cities up and prop their police departments up," Belmar said. "Unfortunately, we do have police departments here in St. Louis County that exist, I believe, for the wrong reasons."
T.R. Carr, a member of the St. Louis County Board of Police Commissioners as well as the Ferguson Commission, said the grant came along "at an ideal time" for St. Louis.
"We're aware of the problem," Carr said. "We really believe that this grant will help us reduce the number of nonviolent individuals being [unnecessarily] incarcerated." He added that St. Louis County residents were generally not aware of how much of a hinderance the fragmentation was to law enforcement services, and it wasn't until the protests in Ferguson that the issue really came under close scrutiny.
"Once the discontent began to emerge in Ferguson, everything shifted. Why is the public so upset with law enforcement? It's really the way they're treated in terms of municipal courts. They perceived that police departments, some of these small municipal police departments, were just acting as an arm of the court as a way to generate revenue," Carr said.
St. Louis County will be working with officials from the University of Missouri-St. Louis as part of the effort. Nasser Arshadi, vice provost for research at the university, said that he thinks the MacArthur Foundation was attracted to the strength of the commitment from various officials in St. Louis County.
"They really have shown real good intentions in trying to do something to reform the current system," he said.
Beth Huebner, a professor of criminology and criminal justice at the University of Missouri–St. Louis, will also be working on the project. She said the St. Louis region has some very unique challenges.
"These lower municipal offenses have kind of been washed aside in some of our larger discussions on corrections and policing, but I think this is where we can make a huge impact," Huebner said.
Belmar, the police chief, said it is simply unrealistic for law enforcement to be able to enforce the hundreds of thousands of outstanding warrants in the county, many of them in connection with missed court dates for minor violations of municipal codes.
"I'm looking at cities that have 50,000, 39,000, 30,000 outstanding warrants today. You're never going to catch up to that," Belmar said. "You might have a city like Pine Lawn, which is 360 acres, that has 30,000 outstanding warrants. How can that be? The math doesn't work."
Belmar acknowledged that the protests in Ferguson have given a voice to populations that had been overlooked in the past.
"If you went to a very affluent area in St. Louis County, how long do you think a program would last where speed cameras were put up on arterial roads coming into subdivisions, and people were given letters saying they were going to be arrested? It would last about five hours," Belmar said. "You know that and I know that, and that's part of the problem. Yet in areas that are not as affluent, and where folks really are struggling with issues of poverty and education and crime and everything else that goes along with it -- unemployment -- they don't have the ability really to voice that opinion. They can't leverage change. So that's a good thing that's come out of all this."
Calling all HuffPost superfans!
Sign up for membership to become a founding member and help shape HuffPost's next chapter
BEFORE YOU GO
PHOTO GALLERY
Political Figures Who Moved On To Wall Street