The speed trap in question is a tiny stretch of highway in St. Ann, whose population is less than 13,000. Police patrol that tiny portion of the highway near the airport, which has been a reliable source of money, helping to replace millions in lost sales tax revenue after a mall shut down.
A report from the organization Better Together found that St. Ann collected 37.47 percent of its revenue from municipal court fines and fees, a number St. Ann officials disputed.
The new law, known as Senate Bill 5, caps revenue from traffic fines in St. Louis County at 12.5 percent, down from a previous limit of 30 percent. Officials in St. Ann are adjusting to the new reality -- but only begrudgingly. Police Chief Aaron Jimenez told The Huffington Post he has "mixed feelings" about the effects of SB5. He anticipates that his annual budget -- most of which came from tickets his department issued on the small stretch of highway -- would take a seven-figure hit.
"Because of Senate Bill Five, I jumped out ahead because I knew I was losing $1.5 million dollars out of my budget," Jimenez said. "I had to lay off 10 officers. Half of them were able to retire."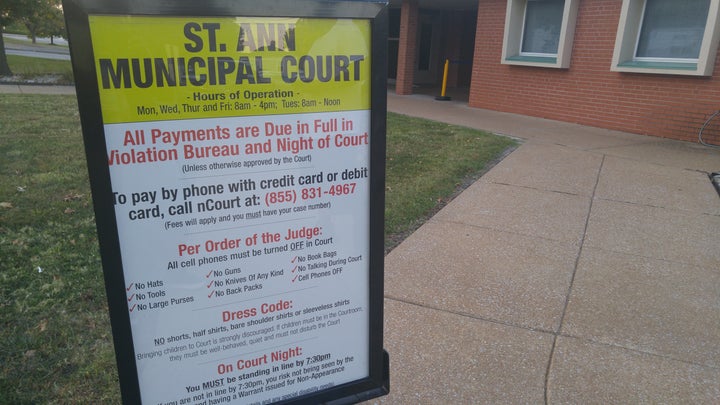 St. Ann has long been seen as one of St. Louis County's worst offenders. The lawmaker behind the legislation, Sen. Eric Schmitt (R), singled the city out for abusing municipal court system. In 2014, police in St. Ann issued nearly 8,000 tickets on their tiny stretch of the highway, an average of nearly one ticket every hour every day of the year. Municipal court revenues soared from less than $1 million in 2009 to $2.6 million in 2014.
Yet even following the passage of SB5, officials continue to insist it wasn't about money.
"People act like our city survived off those funds off the highway and that's clearly not the case," Mayor Michael Corcoran said in an interview.
While Corcoran called Schmitt a "friend," he says he believes the lawmaker "hijacked the Ferguson issue for his own agenda." Corcoran said St. Ann is "on solid ground" financially, but said the new cap would have a huge impact on other St. Louis County municipalities.
"Some of these neighboring communities are not going to survive. There's no way some of these communities are going to survive this, and then what happens?" he asked.
Other municipalities could "go downhill" as a result of the legislation, he said, which would hurt school districts in the neighborhood.
The mayor acknowledged that the officers patrolling the highway were, essentially, attempting to pay their own salaries. "We used the revenue from that ... to pay the police officers the overtime they were out there, the staff that it took and the core personnel to do it," Corcoran said. (Jimenez, on the other hand, said St. Ann police would "continue to be on the highway" and said he didn't care where the money went. "It's not going to stop the way that we enforce," the police chief said.)
A related issue is the St. Ann jail, which came under scrutiny for using set bail amounts to keep poor people behind bars for minor offenses. In particular, holding poor people on behalf of other municipalities had been a significant source of revenue for the city.
The groups Equal Justice Under Law and Arch City Defenders brought a civil rights lawsuit against St. Ann for holding individuals who cannot pay their pre-set bail, which the suit alleges is in violation of the Constitution. Thanks to a resulting court order, St. Ann now has to release anyone arrested on an unsecured bond or on their own recognizance "as soon as practicable after booking," except if the person appears before a judge within 24 hours or under other specific circumstances.
As a result, the population of the jail has diminished considerably.
"For the first time in St. Ann history, in the 19 years that I've been here, we've had zero prisoners starting [last month]. Once in a while we'll have three or four," Jimenez said. He said his jail had typically held an average of 50 to 60 inmates at a time, charging neighboring municipalities -- including Ferguson -- thousands each year to house their inmates, reportedly bringing in around $300,000 annually.
But while the population of St. Ann's jail may be down, the prevailing views within the St. Ann Municipal Court don't appear to have changed much. During a recent hearing, Judge Sean O'Hagan appeared uninterested in whether the individuals before him could afford St. Ann's high fines and fees. Community service was never presented as an option. (O'Hagan has a history of being focused on forcing poor citizens to pay up. )
Chelsea Merta, an attorney for Arch City Defenders, says the way the court has targeted defendants is "disgusting." Metra added that she recently had a client who had a warrant out from St. Ann because of a missed court date associated with a trash ordinance violation.
"St. Ann is one of the worst abusers of the municipal court system. I say that because of the type of charges they prosecute and type of dispositions that defendants get," Merta said. "Our clients suffer the abuse of that court system on a daily basis."

O'Hagan defended against the allegations in a brief interview with HuffPost, arguing that his court was already implementing positive reforms before SB5 went into effect. He seemed to believe that municipal courts in the region had been unfairly maligned, referring to the problems highlighted by the Justice Department's report on issues with Ferguson's Municipal Court.
"Let me put it this way: we didn't have the problems that Ferguson has had," O'Hagan said.
But Carmel Long, a 43-year-old St. Louis resident who works as a certified medical technician, may not agree. She owed St. Ann a total of $1,200 due to a 2010 speeding stop.O'Hagan suggested that Long and other defendants pay up the remaining amount to avoid having to appear in court again, but Long says she won't have her payment in full by November. She still owes the city $700.
"They assessed these fines too high, where a single mom with four kids cannot pay these fines. I just couldn't," Long told HuffPost. "It's like feed my kids or pay y'all. Y'all are rich. Feed my kids, or bring y'all my money and my kids starve. No. I'm going to feed my kids and pay my bills."
Ryan J. Reilly contributed reporting.
Language has been updated to better reflect the intention of Merta's remarks.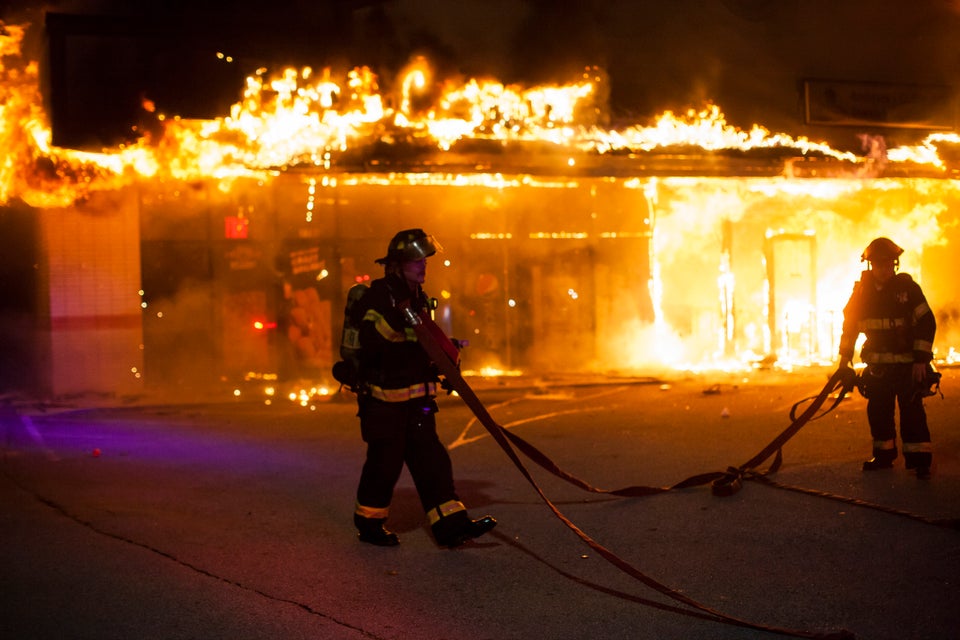 Ferguson Erupts
Popular in the Community