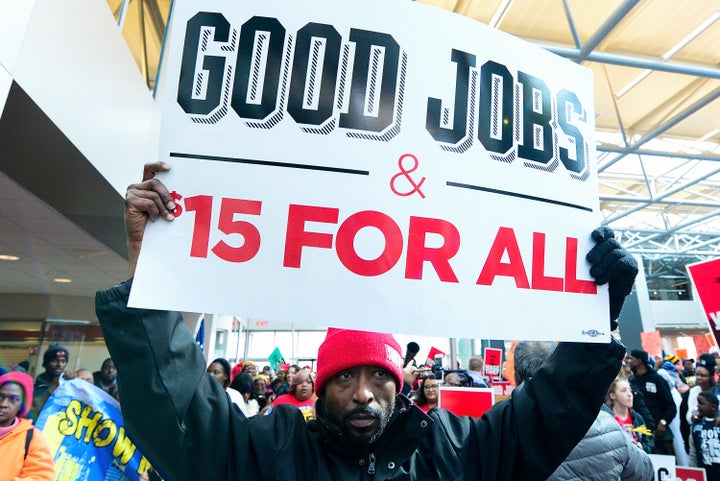 The Missouri Supreme Court gave low-wage workers in St. Louis a raise on Tuesday.
The five-judge panel issued a ruling upholding St. Louis' minimum wage ordinance, saying it did not conflict with Missouri state law as business groups had argued. The decision means the city's wage floor will soon rise to $10 per hour and then $11 in 2018.
St. Louis Mayor Francis Slay, a Democrat, tweeted that the ruling meant "higher wages for low wage workers," adding that the city would give employers a "short but reasonable" grace period to get in line with the law.
The ruling is expected to make a significant difference to the lowest-paid workers in St. Louis. The Missouri state minimum wage is just $7.70, over $2 less than the city's.
The city passed the ordinance in 2015, but it's been tied up in court ever since. Businesses argued that the measure should be preempted by a 1998 law that barred localities from instituting minimum wages higher than the state level. The state Supreme Court agreed with a lower court's ruling that that law was unconstitutional because of how it was passed.
The court also found that a separate state law passed in 2015 had no bearing on St. Louis' minimum wage ordinance. That law forbids local minimum wages that weren't in effect by Aug. 28, 2015. St. Louis' measure was implemented that very day, making it legally sound, according to the judges.
The federal minimum wage is $7.25 per hour and hasn't been raised since 2009. But as Congress leaves that wage floor untouched, cities and states around the country have gone ahead and raised their own rates in recent years, responding to public pressure from workers and labor groups.
The fight in St. Louis has been one of many "preemption" battles between states and cities. As labor activists have succeeded in passing local minimum wage hikes, Republican legislatures have responded by passing state laws that seek to nullify them. According to a recent report, 17 states now have preemption laws on the books that could block local wage raises.
Democrats and local activists argue that the state laws are meddling in local self-governance and keeping wages down. One of the most controversial preemption laws was passed in Alabama, where a mostly white state legislature blocked a minimum wage increase in predominantly black Birmingham.
The Fight for $15, a union-backed minimum wage campaign, issued a statement from St. Louis McDonald's worker Bettie Douglas on Tuesday praising the Missouri Supreme Court ruling as a "major victory."
"When we started our Fight for $15 an hour and union rights, nobody in Missouri gave us a chance to win," Douglas said. "But by standing together and going on strike, we've secured life-changing raises for fast-food cooks and cashiers, janitors, and home care aides across the city."
Popular in the Community