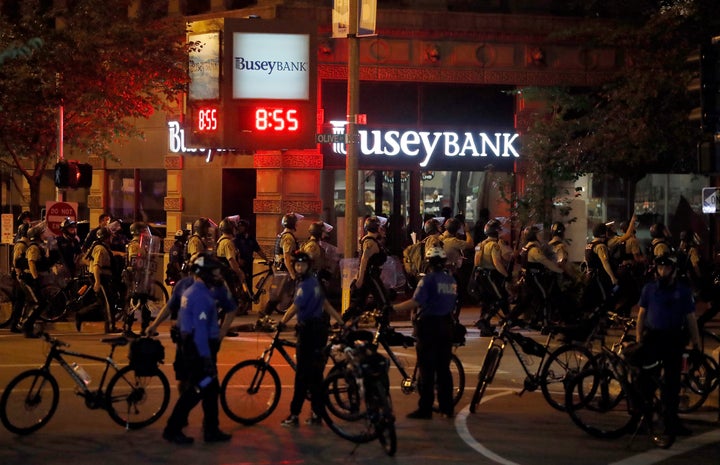 Four St. Louis police officers were indicted on federal civil rights charges Thursday in connection with their actions during an unconstitutional crackdown on a protest last year.
A federal grand jury indicted St. Louis Metropolitan Police officers Dustin Boone, 35, Bailey Colletta, 25, Randy Hays, 31, and Christopher Myers, 27, on felony charges that included deprivation of constitutional rights, conspiracy to obstruct justice, destruction of evidence, and obstruction of justice.
Police officers chanted the streets were "our streets" during the crackdown on protests after a judge found former officer Jason Stockley, who shot and killed Anthony Lamar Smith in 2011, not guilty.
The indictment alleges that at least three of the defendants "expressed disdain for the Stockley protesters and excitement about using unjustified force against them and going undetected while doing so." It features text messages between three of the defendants in which they joked about using force against protesters demonstrating against the Stockley verdict.
"let's whoop some ass," Myers wrote.
"it's gonna be a lot of fun beating the hell out of these shitheads once the sun goes down and nobody can tell us apart," wrote Boone. "We really need these fuckers to start acting up so we can have some fun."
Boone later wrote that it was a "blast beating people that deserve it" and bragged about chanting "OUR STREETS" with other cops after they locked "fools up on prison busses."
All four defendants were part of the St. Louis Police Department's Civil Disobedience Team, which led the police response to protests following the verdict against their former colleague.
The victim listed in the indictment is a fellow St. Louis police officer who was acting in an undercover capacity during the protests. The defendants, the indictment says, used unreasonable force against their colleague, a 22-year veteran of the force referred to as "L.H." The officers allegedly lied about their conduct against the undercover officer, who was wearing a shirt that revealed his waistband so officers would not think he was armed.
Officer Bailey Colletta, who was in a romantic relationship with Officer Randy Hays, allegedly lied to the FBI about what she knew about the takedown of the undercover officer. She claimed he was "brought to the ground very gently" when she knew he was forcefully slammed to the ground.
A federal judge said last year that officers "exercised their discretion in an arbitrary and retaliatory fashion to punish protesters for voicing criticism of police." Former St. Louis Post-Dispatch reporter Mike Faulk, who was arrested and violently assaulted by police while reporting on the protest, filed a lawsuit over police actions earlier this year.
Read the full indictment here:
Popular in the Community