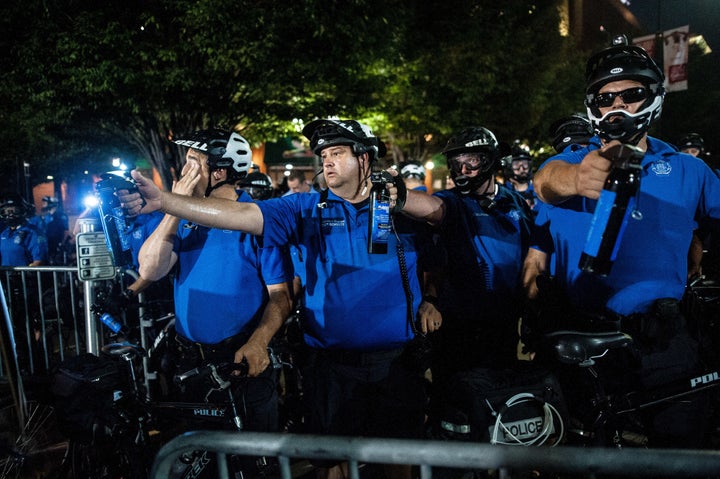 WASHINGTON ― A federal judge on Wednesday placed restrictions on the St. Louis Metropolitan Police Department, saying their conduct during recent protests had violated demonstrators' constitutional rights.
U.S. District Judge Catherine Perry ruled that the plaintiffs in a lawsuit against St. Louis police "are likely to prevail on the merits of their claims" that their First and Fourth Amendment rights were violated.
Perry found sufficient evidence that police arbitrarily declared an assembly unlawful even when there was no violence, and that there was "no credible threat of force or violence to officers or property" when police rounded up citizens, including journalists, on Sept. 17. After those arrests, the acting head of the St. Louis MPD declared that his department had "owned" the night, as his officers mocked protesters by chanting "Whose streets? Our streets!"
Perry also said that officers had clearly retaliated against protected First Amendment speech because they didn't like being criticized, and used chemical weaponry to suppress speech they didn't like.
"Plaintiffs' evidence — both video and testimony ― shows that officers have exercised their discretion in an arbitrary and retaliatory fashion to punish protesters for voicing criticism of police or recording police conduct," Perry wrote. "When all of the evidence is considered, plaintiffs have met their burden of showing that they are likely to succeed on their claim that defendant has a custom or policy of deploying hand held pepper spray against citizens engaged in recording police or in expressive activity critical of police in retaliation for the exercise of their first amendment rights, in violation of the First, Fourth, and Fourteenth Amendments."
Perry said police cannot declare an unlawful assembly unless there's a clear and present threat, and cannot use the law to punish people engaged in protected activity. She also said chemical agents can't be used unless there is probable cause to arrest a person, and that police can't threaten to use chemical agents against anyone engaged in expressive, nonviolent activity.
Last month, at a hearing in the case, American Civil Liberties Union attorney Anthony Rothert declared that "pepper spray is the new fire hose," and said officers were using pepper spray "arbitrarily, gratuitously and without warning."
Read Perry's ruling below.
Ryan Reilly is HuffPost's senior justice reporter, covering criminal justice, federal law enforcement and legal affairs. Have a tip? Reach him at ryan.reilly@huffpost.com or on Signal at 202-527-9261.
Popular in the Community