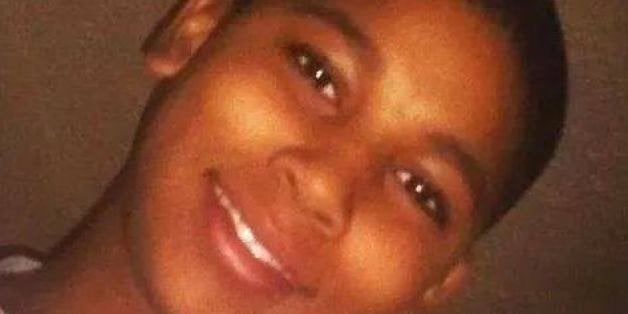 "I apologize to Tamir's family and anyone who was offended by the post," Chief Jon Belmar wrote in a Facebook post. "I was unaware of its presence prior to its release, I realize the message was insensitive to Tamir's family and the sorrow they are currently experiencing."
The post was titled "Kids Will Be Kids?" and appeared on the page of the SLCPD's City of Fenton precinct. The post used the death of Tamir Rice in Cleveland as an example of "a 'hot' topic" that residents should be aware of -- the risk of police getting called on children playing with pellet guns and AirSoft guns in their neighborhoods.
The aim of the post, written by neighborhood police Officer Aaron Dilks, was to encourage conversation between parents and kids about playing with realistic-looking pellet guns, Dilks told Mediaite.
"The point of 'Kids Will Be Kids' is that's what kids will do … The point of putting [the post] out was to educate and make sure something like this doesn't happen in the city of Fenton or in our area," Dilks said.
But the use of Rice as an example, and the underlying implication that police in that case responded appropriately, didn't sit well with critics on social media. The police department removed the post Thursday morning.
Rice was fatally shot in November after playing with an AirSoft handgun in a park. The gun, which shoots plastic pellets, had its orange tip removed. Documents released this week revealed that Timothy Loehmann, the Cleveland cop who shot the boy, had resigned from a previous law enforcement job shortly after he was deemed unfit for policing.
Dilks said he used Tamir's death as an example, despite admitting, "I do not know all the details of the story."
The police may get called to respond to "a child with a gun"... it is important to know how officers are trained to respond. If the type of gun is in question by the witness, the police will respond as though it is a real gun... If and AirSoft pistol is tucked in your pants like a holster then obviously the orange tip is no longer visible. The police will respond lights and sirens and come to a screeching halt in the area where your child is playing with the gun....

It goes on to list tips for children confronted by police in such a scenario. Read the full post below.
While the post did not take a side in the Cleveland case, it suggests that changes in children's behavior -- and not police procedures -- would prevent similar shootings. Calls for comment to the St. Louis County Police Fenton Precinct were redirected to a St. Louis County media relations officer, and were not immediately returned.
Both decisions sparked nationwide protests. The St. Louis County PD's Facebook post is not the only law enforcement social media gaffe to come out.
Original Facebook Post: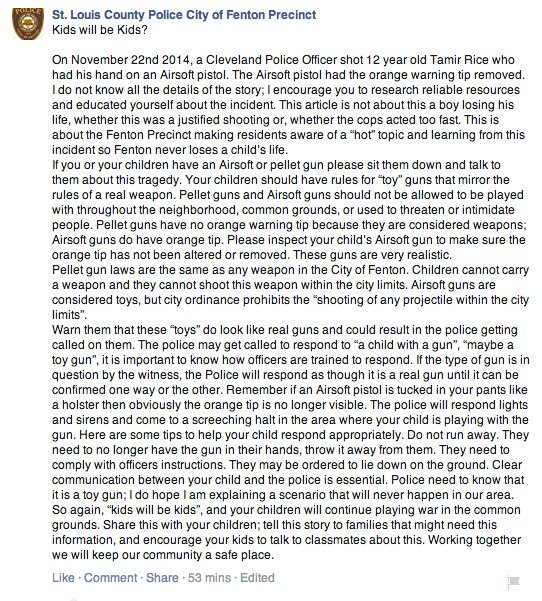 Like Us On Facebook |

Follow Us On Twitter |

Contact The Author
Related
Popular in the Community