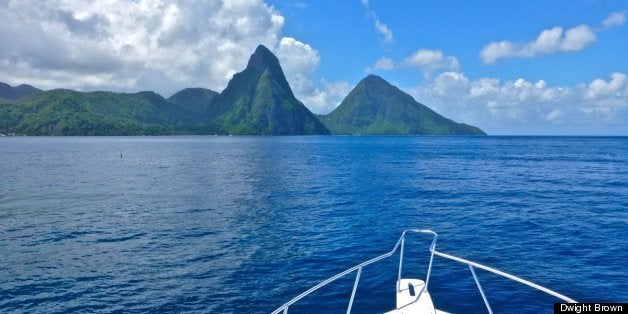 When the 22nd annual St. Lucia Jazz & Arts Festival came to a rollicking close May 12, over 50 artists had whipped audiences into frenzy and sustained a cool vibe that lasted for 13 days. When they weren't listening to toe-tapping music on Pigeon Island National Landmark, festivalgoers dined out, went sailing, sightseeing, beach hopping, zip lining or hung out at a diverse range of resorts that offer travelers very distinct vacations.
The Caribbean's Longest Running Jazz Festival
The St. Lucia Jazz & Arts Festival was inaugurated in a 1992 and originally set in few hotels and small venues. It was designed to both showcase the country and bring vacationers to the island in the traditionally slow tourist month of May. That humble beginning has evolved into one of the Caribbean's most venerable music festivals that showcases jazz, R&B, Afro-Caribbean, neo-soul... Concerts are staged all over the island, for a full week, leading up to the grand finale weekend that is set on the picturesque grounds of Pigeon Island, a 40-acre national park attached to the mainland's north coast by a causeway built in 1972.
In years past John Legend, Patti LaBelle, Diana Ross and Buddy Guy have graced the stage. This year the final weekend featured a rare performance by The Jacksons (Randy, Jackie, Tito and Jermaine -- their voices blended like angels, but none of the brothers can sing like Michael could), the lively sounds of Tito Puente Jr., soul music by Ginuwine and classic tunes by The O'Jays (Eddie Levert still has it).
Saturday night and Sunday night, respectively, Akon and R. Kelly battled for the attentions of the ladies in the audience. Off the cuff you might think that R. Kelly would be the better performer, but he was out-classed by Akon, who chatted up the audience and then, in a sheer act of courage, got one of his big, burly body guards to hoist him on his shoulders and walk him out into the crowd. The audience freaked. There were hands grabbing all parts of his body as he crooned and was in all his glory. R. Kelly was not quite as magnetic and bold, but he did have an eccentric routine. His crew placed black towels at the edge of the stage and Kelly asked female admirers to wipe his brow. And they did. Almost fainting in the process.
Mornings are concert free and a great opportunity to go exploring. The weekend festival finale takes place near the town of Rodney Bay on the northern tip of the island. At the nearby Vigie Cove, adjacent to the George F. L. Charles airport, Captain Mike's makes a lively business with its Hackshaw Boats, which will take you sport fishing, whale watching and cruising. The ride down the west coast on the placid Caribbean Sea takes you pass a Hess oil refinery and the village of Marigot Bay (where they filmed Doctor Dolittle). Heading south, the two majestic volcanic-formed Grand Pitons come into view: Gros Piton 2,619 feet, Petit Piton 2,461 feet. As you approach the southwestern coast the boat docks in the fishing town of Soufrière (established in 1746, it is St. Lucia's oldest city and original capital).
Not far out of town there's the Morne Coubaril Estate, where Soufrière Hotwire hosts zip lining, backdropped by the Petit Piton, with views of Soufrière and the Caribbean Sea. You climb steep stairs to the first landing and the next thing you know you are off on eight zip lines attached to Banyan trees. You glide 30-miles-an-hour around the estate, pass coconut, plum and mango trees, across a bamboo-shadowed gorge and over a pond. You can tour the Estate's grounds and its Great House.

Other places of interests: The concept of a drive-in volcano might seem far-fetched until you drive into St. Lucia's dormant Qualibou volcano, which dates back almost 39,000 years. It's a crater, filled with sulfur, calcium oxide and other minerals. The volcano's Sulphur Springs are therapeutic and bathing in them removes skin blemishes. The sulphur odor is annoying during the day, but far more pungent at night.
The village of Rodney Bay is filled by day with locals and tourists who walk along Reduit Beach Avenue darting in and out of Rodney Bay Mall. At night the same strip is innundated with party people who hit the lounge bars (Fire Grill), cocktail bars (Delirius) and ice cream parlors (Elena's Bar Gelateria, try the Run Raisin ice cream). Stop by for dinner at the plush hotel Cap Maison in neighboring Cap Estate and dine at their elegant The Cliff at Cap Restaurant. The eatery sits right over the water, has panoramic views and though the French/West Indian cuisine is outstanding, their signature item has to be their smartly concocted Rum Punch: 1 part cane syrup, 2 parts fresh lime juice, 3 parts Mount Gay Dark Rum Extra Old (or St. Lucia's own Chairman Reserve Rum might do), 4 parts ice, a few drops of angostura bitters and the secret ingredient is freshly grated nutmeg. Delicate flavor. Supreme texture. World's best Rum Punch cocktail.
St. Lucia offers a variety of accommodations that can suite every vacationer's tastes, from large expansive Shangri La resorts, to quiet off-the-beaten-path boutique hotels, to lively inns that are walking distance to night life and party places.
The former Jalousie Plantation is now a Sugar Beach A Viceroy Resort and the transition has turned the dramatic-looking property, set between the Pitons, into a chic hotel with cool, hip interiors. 59 Luxury Villas, 8 new Luxury Beachfront Bungalows and 11 fully renovated Luxury Sugar Mill Rooms give guests a variety of choices, but you'll spend most of your day at the beach or pool, gaping up at the Pitons thinking you are in a Hawaiian paradise. The gym is very comprehensive, there are tennis courts, a smartly constructed kids lounge with a karaoke stage, a pool table hall and a very eco-friendly looking Spa that is a series of wood huts on labyrinth-like paths. When you eat at the beachfront Bayside Restaurant, try the appetizer Roasted Chicken Wings, then the main course of Grilled Kingfish Souski (with Black Beans, Baked Sweet Potato, Bok Choy, Cherry Tomato). You will be in a quandary as you choose between the Watermelon Soup (with Strawberry Sorbet and Basil Syrup) and the Lemon & Basil Cheesecake Wild Berry Purée for dessert. But you can handle it.
Honeymooners and those who want to getaway from it all will appreciate the Water's Edge Cottages at Calabash Cove Resort & Spa. The nine, hillside, handcrafted teak and mahogany abodes come with private plunge pools, outdoor rain showers, Jacuzzis, hammocks and views of the Pitons and a near private beach. Their Windsong Restaurant serves only fresh produce and local food on a menu designed by a French chef. Start with the Local Octopus Tempura, dive into the entrée Papa Snapper (with papaya chutney and grilled pineapple on an artichoke ragout) and top it off with Lemon Tart. The grounds are so quiet you can hear an olive drop into a martini glass.
The Bay Gardens Beach Resort and Spa is located in the heart of Rodney Bay Village, minutes from Pigeon Island and on Reduit Beach Avenue. You're walking distance to the nightlife and the hotel's beach is lively and populated. If you're looking for people watching and socializing, this is it. Weddings take over the resort's entire pool and restaurant area. Music blares. This hotel is far less pricey than the aforementioned places and its rooms, restaurants and exceedingly slow service are an acquired taste. If you grow impatient waiting for your food (and you will) or for a waitress to show up on the beach (never saw one), take a break in their small intimate spa where a massage is just $44 U.S., which is unheard of at most resorts. The deep-tissue massage is surprisingly good.
Come for the jazz festival stay for the views, adventure and versatile accommodations in St. Lucia.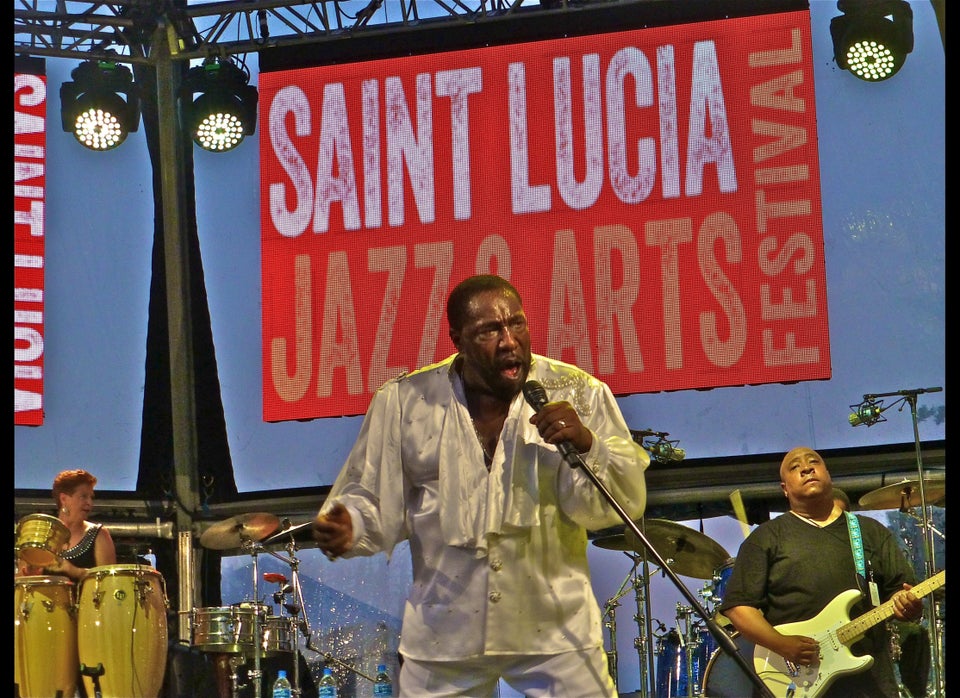 St. Lucia -- Come for the Music Festival Stay for the Island