St. Lucia is an earthly, verdant, mountainous paradise perfect for exploration and vacations.
Located in the Caribbean's southeast Windward Islands, St. Lucia has a volcanic, tropical landscape, with steep dramatic valleys and dark sand beaches--it resembles Hawaii. Prolific banana trees (which provide a year-round harvest) have replaced sugar cane (bi-annual harvest) as the main crop over an isle that measures 27 miles long and 14 miles wide. Mango, breadfruit and love apple trees also flourish in average daily temperatures ranging from 78.8 °F to 89.6 °F.
The island's 173, 765 citizens, primarily of African or Afro-European descent, are scattered over 11 parishes. With a history that includes colonization in 1660 by the French (they named the island after Saint Lucy of Syracuse), and then the English (who brought African slaves to work on sugar plantations), St. Lucians speak English and Creole. In fact if you want to prompt a smile, say "Sa Ka Fete;" which in Creole means "how are you" and "what's happening." The citizens, who place a high priority on education, are friendly and very expressive. Noble Laureates Sir William Arthur Lewis Economics (1979) and Hon. Derek Alston Walcott Literature (1992) are proud St. Lucians.
The south western fishing town Soufrière, established in 1746 by the French, is St. Lucia's oldest city and original capital. A recent discovery of the terraces and carved rocks at Belfond and the petroglyphs near Jalousie indicate that Soufriere is one of the island's most historically rich locations, with vestiges of its original inhabitants, Carib Indians. Devastating hurricanes (1780, 1817, 1831, 1898, 1980), a 1839 earthquake and a 1955 fire have battered the city, but never crushed Sourfriere's spirit.
The majestic Pitons, the islands' world-famous beacons and a UNESCO World Heritage Site, are two mountains formed by lava from volcanic eruptions millions of years ago: Gros Piton 2,619 feet, Petit Piton 2,480 feet. Tourists climb them everyday. Perhaps the second most famous tourist site in St. Lucia is the dormant Qualibou volcano, which dates back almost 39,00 years. It's a crater, filled with sulfur, calcium oxide, and other minerals. The volcano's Sulphur Springs are therapeutic and people bath in them to remove skin blemishes. The sulphur odor is more pungent at night in this natural phenomenon know as the world's only drive-in volcano.
A Room With a View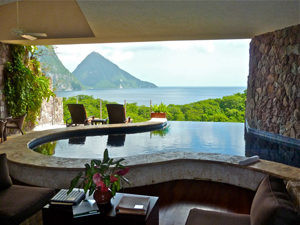 Anse Chastanet, a chic bohemian resort designed by owner Nick Troubetzkoy, has 12 rooms near its gray/purple-sand beach that is framed by sloping land. Thirty-seven rooms ascend up a mountain. All are filled with locally made furniture (made of teak, mahogany, red cedar) and graced with limestone or tile floors. Yes, meals at the Treehouse Restaurant (Roasted Red Snapper in Coconut and Tamarind Sauce), or Apsara (Caribbean Goat Vindaloo) are delicious. Yes, lying on a lounge chair under straw beach umbrellas listening to soothing waves calms the nerves. Yes, full day cruises on the resort yacht Serenity, or trips on the double-decker catamaran Lucky T for its "Jazzy Champagne Sunset Cruise" are balmy. But this resort's true signature is its cavernous, two-walled rooms, with unobstructed OMG views of the Pitons and the beach. No windows. No screens. It's just you and Mother Nature. And, the neighboring Jade Mountain Resort, Troubetzkoy's latest gem, is even more modern, more lush, and it features in-room infinity pools!
St. Lucians know that Marigot Bay, a west coast circular bay surrounded by hills that descend into the sea, was fought over by the French and English. The rest of the world might recognize the Marigot vicinity as the setting for the film Dr. Doolittle. The creation of the harness for the giant lunar moth and scenes of the shipwreck were shot here. When hurricanes in the region are forecast, yachts flock to idyllic Marigot Bay for protection.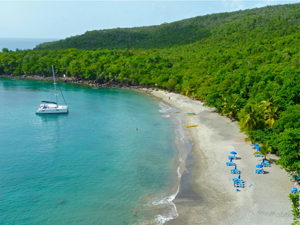 The 1,800 feet high Rain Forest covers 19,000 acres and features 29 miles of hiking trails. Fragrant orchids, gum trees, ferns, heliconia and climbing palms provide camouflage for humming birds and the ever-squawking and once nearly extinct Saint Lucian Parrot. The Barre De L'isle Trail, which divides the eastern and western halves of the island, suits casual hikers who walk two hours on a one-mile trail and one-mile climb up Mr. La Combe ridge. On the way glimpses of Mount Gimie (tallest peak at 3117 ft), Cul-de-Sac valley, the Caribbean Sea and community of Aux Leon come into view. The Ministry of Agriculture, Forestry and Fisheries must guide all hikes. If you like thrills with your bird watching, try taking a zip line.
Lodging off the beaten path doesn't require leaving stylish accommodations, fine dining and a first-rate spa behind if you stay at the quiet, remote Ti Kaye Village. The 33 white, double-room cottages, 11 with plunge pools, sit among brilliant red bougonvilla and mango trees on a cliff overlooking the sea. Each Creole style, stucco abode has a porch, two-person hammocks, chair swing, and table and chairs. Open-air showers, plunge pools and impeccably designed rooms with four-poster beds underline the resorts rustic elegance. The adjacent beach at Anse Cochon Bay attracts snorkelers and scuba divers (Ti Kaye offers PADI specialty courses). If your muscles need to be kneaded, head to Kai Koko spa, housed in the three cottages on stilts, with floor-to-ceiling windows and panoramic views. Get a 4 Hands Massage (request the vanilla oil); the view looking down in the headrest is of a bowl of flowers with a mirror reflection of the sea. Take a detour to the wine cellar before dinner, and then head to Kai Manje for the Island Jerk Style Fisherman Mahi Mahi with Pumpkin Rice, Grilled Vegetables and a Fresh Pineapple and Tomato Salsa. The Bread and Butter Pudding served with Rum Toffee Sauce makes the perfect dessert. If you want to write a book or totally relax, Ti Kaye's tranquil surroundings are the answer.

Heading North
The capital city of Castries is the northern region's anchor, home to government buildings, resorts, a popular cruise ship harbor and duty free shops (Pointe Seraphine and La Place Carinage). The Cathedral of the Immaculate Conception, Fort Charlotte, and Derek Walcott Square are worth a view. The nearby town of Gros Islet features the Beausejour Cricket Grounds, the National Tennis Centre and Friday Night's popular Jump Up Party where locals and tourists gather for fried fish, Piton beer, and dancing in the streets to zouk and reggae music. The village of Rodney Bay's marina is filled with yachts during the December Atlantic Rally for Cruisers (transatlantic yacht crossing), and its ferries make daily excursions to Pigeon Island, a 40-acre national park attached to the mainland by a causeway built in 1972. Check out the island's ruins (Fort Rodney, circa 1778), beaches (locals line the shore) and the world famous St. Lucia Jazz Festival where every May, musicians like John Legend, Pattie Labelle and Buddy Guy whip the crowds into a frenzy.
The Place to Stay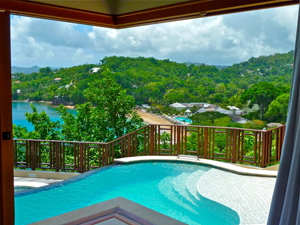 Castries' luxurious, 210-acre, all-inclusive Sandals La Toc Golf Resort & Spa has 211 rooms housed in a shorefront, lime-colored building dubbed Emerald Village. 120 brightly, colored villa suites (some with butler service and private plunge pools) dot a hillside section dubbed Sunset Bluff, and are nestled under hilltop Millionaire Suites that feature 180-degree views, infinity pools and whirl pools. The nine-hole golf course has ocean vistas and five tennis courts are lit for night play. Gregarious types gather at the three large pools and decompress at the Red Lane Spa (go for the West Indian Massage: full-body massage, warm river stones, tropical rain forest-scented mist, and a white-sand foot exfoliation). Most all-inclusive resorts feed guests like cattle with been-cooked-all-day buffet food. Not here. Every meal is made to order: Pan Seared Tilapia with Cous Cous and Ratatouille at the beach restaurant Neptune's; Grilled Stuffed Red Snapper topped with Café de Paris butters at the ultra elegant and romantic La Toc. Fine, romantic luxury.
Many island destinations may claim to be paradise. St. Lucia doesn't have to boast. It is the ultimate Shangri-la, the most beautiful Caribbean island.
Related