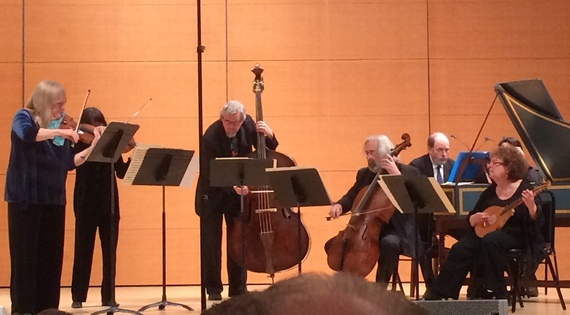 By Christopher Johnson, ZEALnyc Contributing Writer, February 8, 2017
The St. Luke's Chamber Ensemble opened its 2017 Baroque Chamber Music Series on Sunday afternoon, at the Brooklyn Museum, with a program of mostly familiar works by Vivaldi and Bach. Ho-hum? Not so much: of Bach's "Wedding Cantata" and second orchestral suite--the one with the famous flute solo--you can probably never have too much; Vivaldi's "La Follia," one of the great all-time foot-lifters, was even more rousing than usual; and the program's sole rarity, a Vivaldi motet of heart-stopping melodic invention and hair-raising harmonic daring, showed how much we still have to learn from a composer we presume to know altogether too well.
The high-point of the program was "La Follia"--technically a trio sonata, but in its gypsy heart-of-hearts a set of variations on a tune that took Renaissance Europe by storm and kept it rocking for decades. (Imagine Thriller topping the charts for sixty-five years and still being covered by all the top bands three centuries later.) There is nothing particularly deep here--it's a simple set of chords with a rudimentary melody--but what Vivaldi does with it is astounding: kaleidoscopic changes of texture, little stabs of instrumental color that seem sharp and original even today, total exploitation of every instrument in the ensemble, even the continuo. And what these players did with it was extraordinary, from Krista Bennion Feeney and Mitsuri Tsubota's high-wire motivic juggling act on the violins, to John Feeney's wild-man bass-playing. And what can you say about Louise Shulman, a tiny, normally self-effacing musician, who came on with a zittern (she described it as "a Renaissance banjo") and proceeded to play it as if either she, or the instrument, or both, were about to go up in flames? Toes were tapping spontaneously all over the stage, and if the audience hadn't been so Brooklyn-polite, there would have been foot-stomping, yipping, and scarf-waving all over the house before the final variation, and an encore of the whole business wouldn't have been out of line.
The rest of the program wasn't on quite the same level, but there was much to enjoy, and there were extenuating circumstances. Elizabeth Mann, the soloist in the Bach suite, for example, had broken her leg and was only one day out of her cast: you could forgive her the occasional wrong note or failure to keep up with fairly breathless tempi, in exchange for some nice rhythmic inflection in the Ouverture and a fleet, chipper Badinerie that, for once, sounded like actual banter. Melanie Feld did a nice job with the all-important oboe part in the Bach cantata, but the oboe is a penetrating instrument even in the kindest of acoustics, and the Museum's Cantor Auditorium is not consistently kind.
The room--a handsome auditorium in the familiar modernist-geometric-good-Norwegian-wood vein--is similar in size and configuration to Rome's Teatro Capranica, where Vivaldi was working in 1723-25, when he most likely wrote the bulk of his motets, so it ought to favor repertoire of this kind. Mostly, it does--it's bright and dry in a way that pops all kinds of interesting instrumental detail, but there's enough wood on the stage-floor and along the walls, and enough of a wave to the ceiling, to make a decent overall blend possible--but still, strange things happened: the zittern, which ought to have been a vague, sexy buzz in this company, was clearly audible, and really quite thrilling, while the flute, the main event in the Bach suite, tended to merge with violins playing in the same tessitura.
Up-and-coming soprano Anna Dennis was the vocal soloist, and here again, the acoustic may not have been ideal. Dennis's soft singing was often lovely, but anything above mezzo-piano threatened to glare, and the openings of both her pieces were pin-me-to-the-back-wall loud. There were beautiful things--the nearly perfect unison on "arbiter" (judge) and the seemingly endless, winding melisma on "fallaces" (deceitful), both in the Vivaldi motet, and some gorgeous long-held notes, ending in the most delicate of releases, in the opening movement of the Bach cantata--but at the same time, there was an overall sameness of approach, a generalized earnestness, that might have been appropriate to Vivaldi's lesson on the transient nature of earthly things, but was wholly out of place in Bach's sweet-tempered, delicately erotic, sometimes antic little shivaree. The words "jest," "delight," "laugh," "lips," and "breast" ought not to look and sound just like "prayers," "cries," "transitory," and "unclean." There may be an interesting compare-and-contrast to be done here, but the pieces still need to be separately and distinctly characterized. Dennis's best is very good indeed, but she didn't look like she was having much fun, and in the Bach, that really matters. (If you doubt the old bowser, check out either of Elly Ameling's benchmark recordings, and get ready to smile. Her first, with the Collegium Aureum, is a marvel of warmth and charm, and her redo with Marriner and the Academy of St.-Martin-in-the-Fields is sweet, too, and more tidily played. There's a reason why these recordings, the earliest of which is more than fifty years old, are still in print.)
During intermission, a small boy wandered up onstage while the harpsichord was being retuned. Robert Wolinsky, the ensemble's stalwart keyboard-player, not only gave him a guided tour of the instrument but let him play a few notes. Take that, Manhattan!
___________________
St. Luke's Chamber Ensemble in concert at the Brooklyn Museum, Iris and B. Gerald Cantor Auditorium, on January 29, 2017, at 2:00 p.m. Krista Bennion Feeney and Mitsura Tsubota, violins; Louise Schulman, viola and zittern; Myron Lutzke, cello; John Feeney, bass; Elizabeth Mann, flute; Melanie Feld, oboe; Robert Wolinsky, harpsichord. Guest soloist: Anna Dennis, soprano.
BACH Weichet nur, betrübte Schatten, BWV 202 ("Wedding Cantata")
VIVALDI Trio Sonata in D Minor, Op. 1, No. 12 (RV 63), "La Follia"
VIVALDI O qui coeli terraeque serenitas, RV 631
BACH Orchestral Suite No. 2, BWV 1067
Cover: Krista Bennion Feeney (violin), Mitsuru Tsubota (violin), John Feeney (bass), Myron Lutzke (cello), Robert Wolinsky (harpsichord) and Louise Schulman (zittern).
___________________
Christopher Johnson writes frequently for ZEALnyc about classical music and related performances.
REAL LIFE. REAL NEWS. REAL VOICES.
Help us tell more of the stories that matter from voices that too often remain unheard.