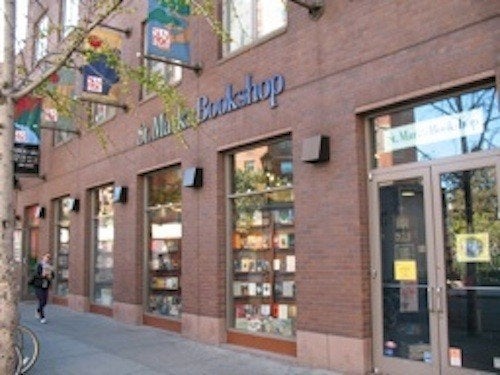 The St. Mark's Bookshop will stay open, after all. At a press conference outside the store Thursday morning, Manhattan Borough President Scott M. Stringer announced he'd helped broker a deal between the store and landlords Cooper Union to reduce the rent and keep the East Village institution alive-- at least for another year.
"I congratulate both sides for agreeing to new terms," Stringer said in a statement, "and I also want to salute the small businesses, independent bookstores, artists, and activists that have traditionally made the East Village so special."
Stringer added that he was confident the agreement would help keep St Mark's Bookshop open for "another 35 years!" The crowd of local activists and St. Mark's supporters broke into applause.
The new terms will see the rent reduced from $20,000/month to $17,500/month. Cooper Union, who's having some financial troubles of their own, will also forgive a prior $7,500 loan. St. Mark's has also agreed to work with Cooper Union students to design a business plan that won't make it dependent on further subsidies. The agreement is only for one year. After that, it's up to St. Mark's to turn business around.
"The next step is on us," said City Councilwoman Rosie Mendez. "We gotta buy books and we gotta buy often."
Last week, the future looked bleak for the St. Mark's Bookshop. After a tense month of back-and-forth negotiations with Cooper Union an agreement to save the shop had failed to materialize.
The store had been struggling all summer with slower business and steeper overhead costs in a neighborhood where rents are skyrocketing. In June, when management was forced to downsize its staff, a sign in the store ominously read, "Find It Here. Buy It Here. Keep US here."
Longtime patrons of the store rallied and the Cooper Square Committee, a local community organization, started an online petition called "Save St. Mark's Bookshop From Cooper Union" that gained traction quickly. Writer Salman Rushdie and Paris Review editor Lorin Stein wrote missives in support of the shop.
As of Thursday morning during the press conference, 44,075 people have signed the petition.
"We don't want to see the Lower East Side become a bland, corporate mall stuffed with chain stores, where only the rich can live," said Cooper Square Committee member Joyce Ravitz, adding, " We will continue to work to preserve the Lower East Side as an area where the 99 percent can live full lives in a neighborhood that continues to have its own character."
At the end of the press conference, a woman from Cooper Square Committee yelled out, "Keep Cooper Union tuition free!" The school is considering charging tuition for the first time in its history in light of a growing deficit and not enough donors. A new online petition, "Save The Cooper Union Without Tuition" is making the rounds this week.

Calling all HuffPost superfans!
Sign up for membership to become a founding member and help shape HuffPost's next chapter