In fairytales the quest is always at least as exciting as the arrival at the Emerald City at the end of the Yellow Brick Road or giant's castle at the top of a beanstalk. So the trip to St. Mortiz and Badrutt's Palace should have the same sense of anticipation along the way, and since this sugar plum of an Alpine resort town is two and a half hours by train from Zurich, the traveler will be in awe of the passage of Swiss mountainscapes, yawing away in the distance or shooting up in facades outside the train's windows.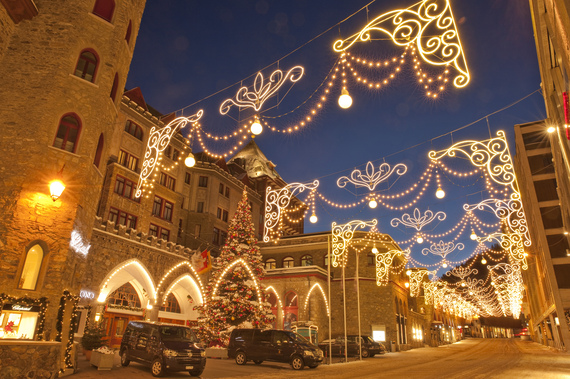 You arrive at the St. Moritz train station, and, if you're staying at the appropriately named Badrutt's Palace, you will be picked up by a driver in livery, perhaps in a vintage Rolls Royce that will quickly discharge you in front of the historic resort hotel's porte cochere. Built by Johannes and Caspar Badrutt in 1896 on the edge of St. Moritz Lake and appended over the years to include a tower and enough baronial public spaces to make finding your way through them an hour's delight, Badrutt's looks like the kind of place James Bond's nemesis Auric Goldfinger would book for the winter season. (The actual Alpine scenes in the 1964 movie were actually filmed a hundred miles away in Andermatt.)

My recent trip this month found St. Moritz in a bit of a slowdown after the jam-packed weeks of Christmas and New Year's, but the snow fell heavily and dutifully while I was there to give this charming little town an ermine luster, all within view of the glorious Alps across the lake.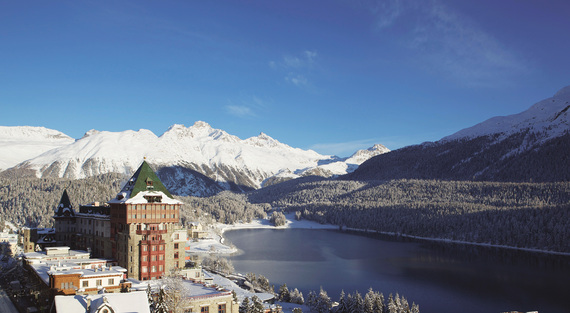 St. Moritz is a winter resort of dazzling affluence, the main streets lined with the same international stores -- Prada, Ralph Lauren, Dolce & Gabbana, Omega, Valentino, and all the rest -- that line the streets of every world capital, but there are some indigenous shops, like Glattfelder that sells only tea, coffee and caviar, and the beloved Café Hanselmann whose counters teem with pastries and chocolates. You may also arrange through the hotel for a horse-drawn carriage to take you up the snowy lanes, and, depending on your degree of adventurousness, you may toboggan or even practice on the death-defying skeleton run: Anyone who breaks a limb is treated at the bottom of the run with a glass of Champagne and a red tie.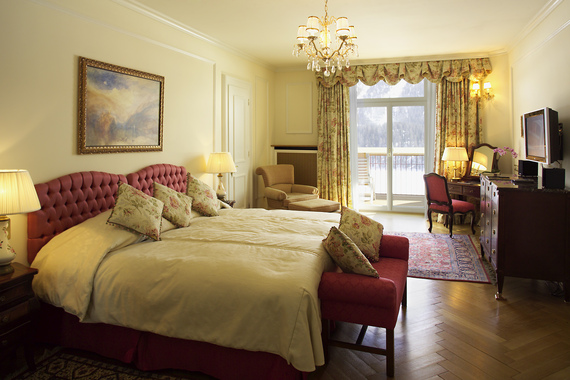 The five-star Badrutt's Palace, recently renovated at a cost of 70 million Swiss francs, now has 157 rooms with 37 suites, one that rents for 20,000 francs per night, quite often taken by some Russian oligarch or other of a kind that can drop 35,000 francs on wine for Sunday brunch. My room (above), overlooking the lake, was commodious, sedately furnished with extremely comfortable bed and pillow, and a large, very well-lighted bathroom. WiFi remained and off-and-on frustration during my three-day stay, but the concern over every detail of service was addressed immediately by every staff member, most of whom speak English as well as French, Italian, perhaps even the native tongue, Romansch. If a concierge says someone will be right up to fix a problem, he means within two minutes.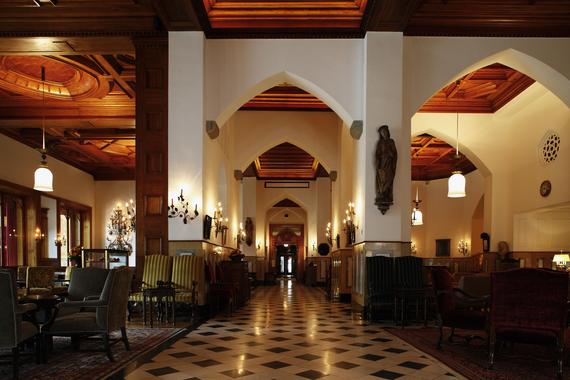 There is now a "Kids' Club Palazzino," which means that families are very welcome indeed at Badrutt's, and the spa here, entered through a carved out room of rock, is state of the art in every amenity, including a small restaurant named La Diala with calibrated food that I was amazed had so much flavor and satisfaction.

The other restaurants include the elegant Le Relais for lunch, where I enjoyed a delicious pork Pojarski with mushroom sauce; the formal Le Restaurant, where the complimentary breakfast buffet is held each morning, which has tremendous grandeur and a fine harpist and where there is impeccable tableside service for many dishes, including desserts like crepes Suzette and cherries jubilee. (And Badrutt's wine cellar is one of the richest and best maintained in Europe, with several vintages of the world's most prestigious First Growth Bordeaux and Grand Cru Burdgundies.)
Badrutt's has also attracted a branch of the Japanese restaurant chain Nobu, more elegantly appointed than most, but I found the sushi and other food puzzlingly lackluster and very high in price.
I most enjoyed Badrutt's Italian restaurant, Chesa Veglia (below), which lies a short stretch away in town. It has a rustic, warming charm, and I enjoyed exceptionally good pizzas, some topped with black truffles, and pastas.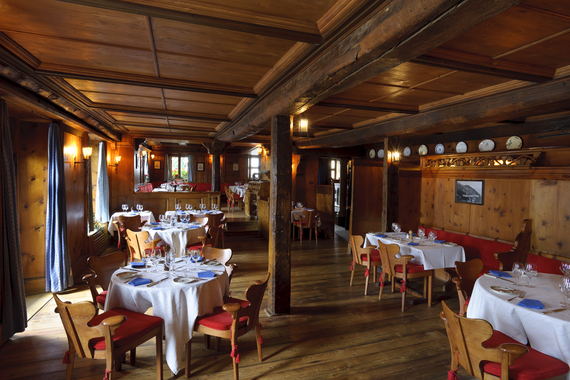 Badrutt's is not unique in St. Moritz as a five-star property, for the Kulm, the Kempinski Grand, and the Carlton share that distinction, but it certainly has the longest and most storied past, complete with a parade of royalty, presidents, and celebrities that range from Gregory Peck and Rita Hayworth to Charlie Chaplin and Alfred Hitchcock, who came up with the idea of making The Birds after seeing flocks outside the window of his room, a quiet, secluded suite you may rent. And, of course, the resort has had its share of eccentrics, like the odd fellow who insisted on having an elephant brought in for his daughter's birthday. Badrutt's shrugged, then delivered the first elephant over the Alps since Hannibal brought his herds.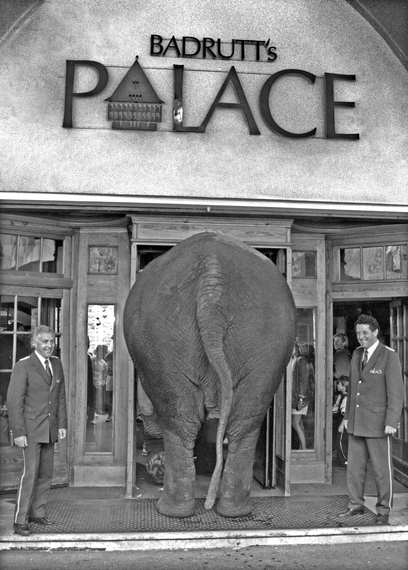 I must confess I don't ski, nor do I have any interest in breaking bones on the skeleton run. But it hardly mattered during my stay, for there was so much to see and enjoy, not least a massage at the spa, so much to taste, and so much time to relax, that I never had that sense of being shunned by fellow travelers, as I have in far snootier places like Aspen and Vail.

Like Hitchcock, I could bask in the luxury and history of Badrutt's for days on end, with the snow falling outside my terrace and the gluwein warm in my hand.
Badrutt's rates include complimentary ski and hiking pass; complimentary refreshment bar; complimentary movie channels; complimentary sweet welcome gift; complimentary buffet breakfast; butler service in suites; complimentary entry to the spa and to the King's Club nightclub and ice rink.
(The exchange rate today is CH1 = US$ 1.11341.)
Rates Peak Season Feb 7 - Mar 2, 2014
o Standard Double Room Ch 935 (US$ 1040)
o Superior Double Room CH 1235 (US$ 1374)
o Deluxe Double Room CH1980 (US$ 2204)
o Junior Suite Deluxe CH3570 (US$ 3974)
o Suite Deluxe CH 4970 (US$ 5532)
• Rates Summer July 4 - Aug 16, 2014
o Standard Double Room Ch 460 (US$ 512)
o Superior Double Room CH 565 (US$ 628)
o Deluxe Double Room CH770 (US$ 857)
o Junior Suite Deluxe CH1800 (US$ 2003)
o Suite Deluxe CH 2020 (US$ 2248)