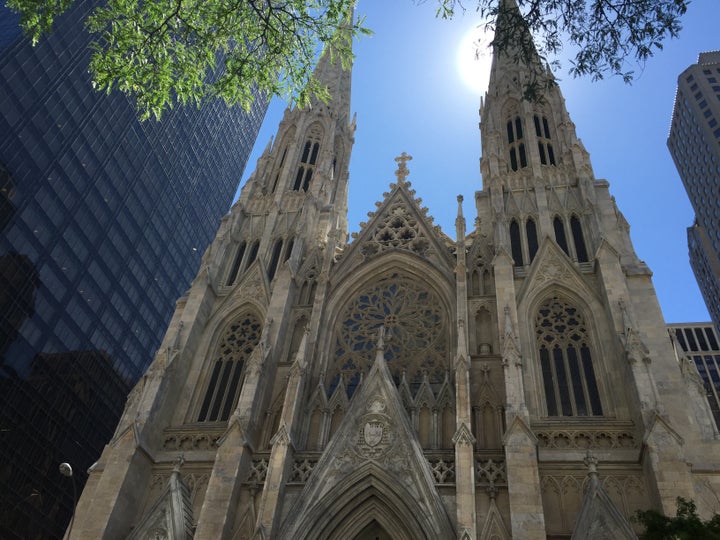 "You have a lot of chutzpah," the silver-haired priest told me as I walked out of my first confessional last summer. "In a good way," he added. Only in New York could I find a Catholic clergyman who spoke Yiddish.
As a then 28-year-old Jewish journalist living in the Village, it was incongruous that the massive St. Patrick's Cathedral was my refuge. My mother and I had accidentally stumbled into my unlikely place of solace two years ago, and I have been returning monthly ever since.
With the Jewish Day of Atonement coming up, I wondered what my rabbi and cantor would think at the reform temple in New Jersey where I had my bat-mitzvah and spent the High Holidays.
My visits to St. Patrick's started when my mother and I received upsetting news about my aunt's health. Instead of escaping the screaming midtown traffic and heat with a stop at Saks Fifth Avenue for retail therapy, my mom led me to its holy, towering Gothic neighbor. Walking through the over 9,000 pound bronze doors on 50 street and 5 Avenue, I stared at the ribbed vault ceiling. Light shone through the giant multi-colored stained glass windows, still radiating from behind the scaffolding erected for its $175 million renovation.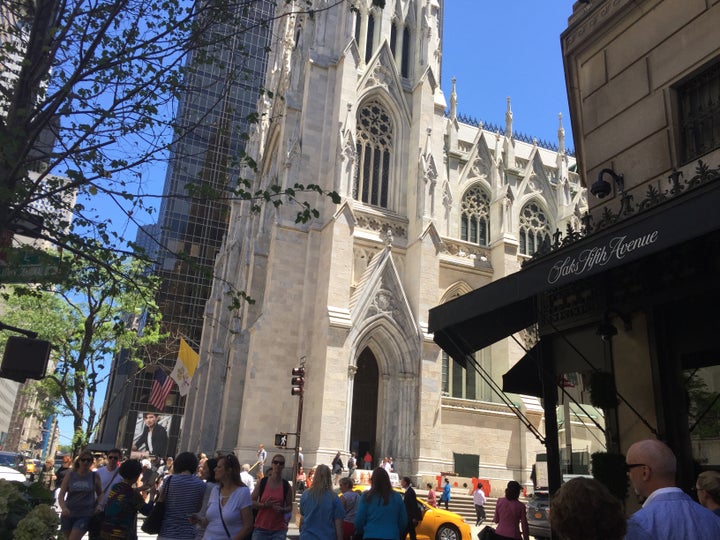 We settled into the aged wooden pews in the fifth row. While I was raised a Jew, my dad was a non-practicing Catholic. I'd rarely been in churches, mainly for funerals on his side of the family. I never expected my Jewish mom to be the one leading me to a famous Christian house of worship.
"Have you been here before?" I asked.
"Yes," my mom said. "Now that I think of it, my Orthodox bubbe from Williamsburg used to come here on her way home from work to pray for her sick son."
"That's odd," I said while I sat looking at the strangers surrounding me.
"It was a place she felt she could cry openly," she said. "She was touched that the clergymen comforted her though she practiced a different faith."
I was shocked to hear this, yet only after five minutes of sitting, I felt grounded there too: relieved to be anonymous and cry without being recognized.
But I felt guilty every time I ended up there. I'd spent ten inspiring days in Israel on Birthright, went to Shabbat services at an Orthodox Chabad and events at the trendy Soho Synagogue. I met nice, new people while becoming more in touch with my own religion. So I was caught off guard when I was drawn to another spiritual haven.
I'd pop in for a break from the dizzying city when I was overwhelmed or to light a candle for St. Theresa in honor of my dad's church-going, Italian mother who was given the saint's name. I've wondered before what it would be like if I were brought up my dad's faith.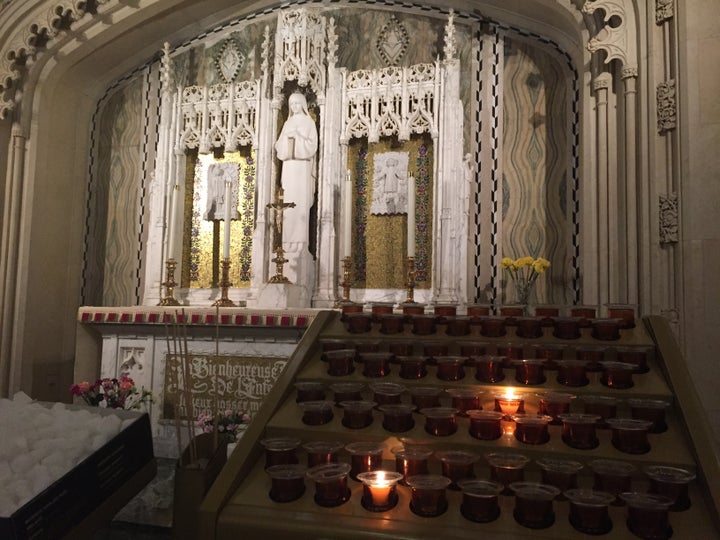 Yet I felt an uneasy guilt about using a Christian holy place as my un-kosher sanctuary. I noticed the sign for confessional and thought about what it would be like to confess sins weekly to a clergyman as opposed to my religion's once a year Ten Days of Repentance. After watching a "how to do confessional" YouTube video at home, I mustered the courage to jump in the lunch hour line. I waited with 15 worshipers, ranging from serious businessmen in tan summer suits to weepy women in housekeeper uniforms.
"Hi, I'm Jewish but my dad is Catholic and I enjoy coming here just for peace," I read from my notebook in the enclosed, cramped booth. "I feel guilty since my mom's Orthodox bubbe--"
"Stop," the priest said softly from behind a screen. "Can I see you?"
"Yes," I said, my hands shaking. I was embarrassed to be wearing ripped jeans and a sweatshirt -- not my Sunday best or my Shabbat finest. I felt like I was about to be scolded in God's office, ousted from this Member's Only club to which I didn't even subscribe.
"God cares for all people, as do I," the priest said, smiling.
He pointed out the recent revelation that the mother of Cardinal John O'Conner, the late archbishop of New York, was born a Jew. He joked that if his church's former top official in New York, according to Jewish matrilineal convention, was one of the Chosen people then I was definitely in the clear.
After twenty minutes of chatting about the two religions, I asked the priest if I could continue to come to St. Patrick's -- as a Jew. I was definitely not looking to convert, just to enjoy a place that soothed me with its sheer grandiosity and melodic organs and bells. I found peace just knowing it was open 24 hours a day.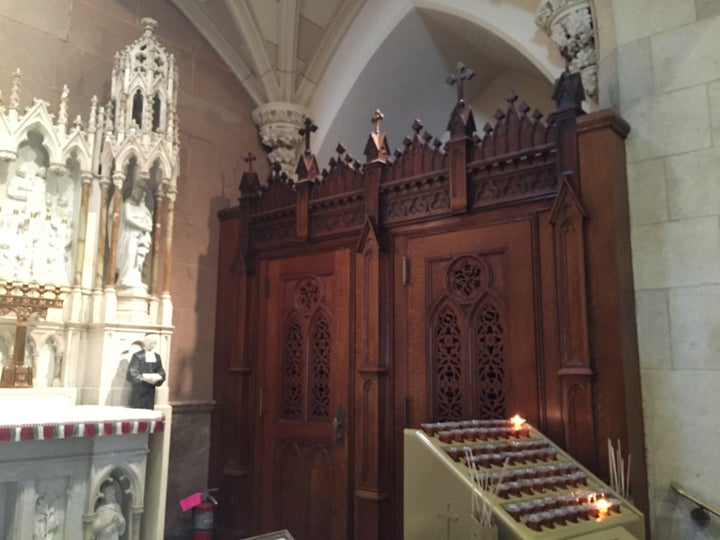 In response, he blew onto a page of my notebook, allowing the wind to stir it up and settle where it wanted. He did it again, but this time holding the center of the page to lock it from traveling its natural path. He said to not fight where life moved me. He continued with an Old Testament blessing and said he'd be delighted to see me around. As we shook hands, he told me I could pray for him too.
I walked to the back of the chapel to light a $2 candle for St. Theresa in honor of my nonna. I only had a ten-dollar bill so I also lit a candle for my recovering aunt. I dedicated the last vigil light to the priest, to pray for him and thank him for opening up his magnificent home, sharing the comfort of its beauty with millions of New Yorkers, tourists and me.
"You're lucky in a way," the calm white-collared man said. "You have an understanding of both Judaism and Catholicism." And a double dose of remorse as a result, I didn't say.
"It's your job this year to get the Minerva clan to come to Chabad for the second day of Yom Kippur," said the rabbi at an Israel rally a month after the Church absolved me. I felt guilt-ridden enough because of my family's tradition to go to services only the first day, but he didn't even know about my new custom. Oy vey.
"Does it count as a mitzvah?" I asked.
"Absolutely," said the bearded man who visited my aunt when she was sick in the hospital and frequently dropped off his wife's homemade challah to my parents' home for Shabbat.
"Then I'll work on it," I said, anxious that I promised something I might not be able to deliver. "Put in a good word with the Big Guy," I added, pointing to the sky.
"You got it," he laughed.
I'm appreciative for my smorgasbord of confessional offerings. Surrounded by my family in New Jersey, I listened to the shofar's sound ring in the Jewish New Year and dipped apples into honey to hope for a sweet year. On Yom Kippur, I fasted and asked forgiveness for sins I committed during the year--but not for finding my unexpected sanctuary.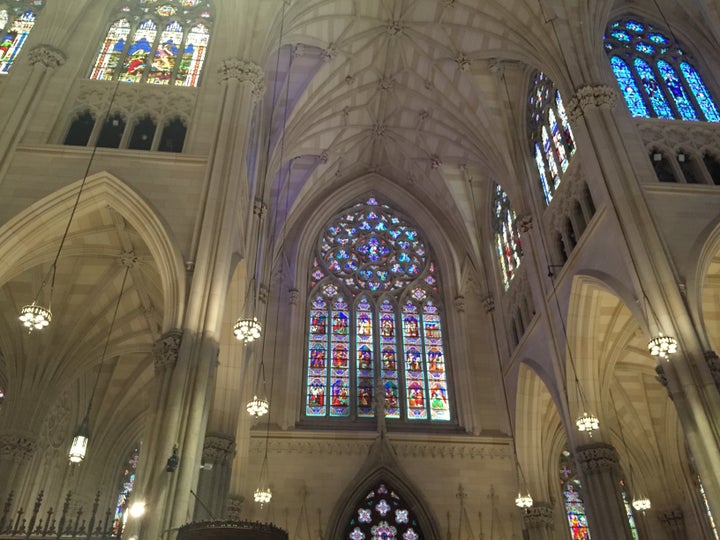 "Perhaps more than any other church in the United States, this place is known and loved as a house of prayer for all peoples," said Pope Benedict XVI on his papal visit to New York in 2008. The cathedral, now restored and truly radiant, continues to welcome me. I realize life has taken me to St. Patrick's and there's no reason to shvitz the small stuff, just to be grateful.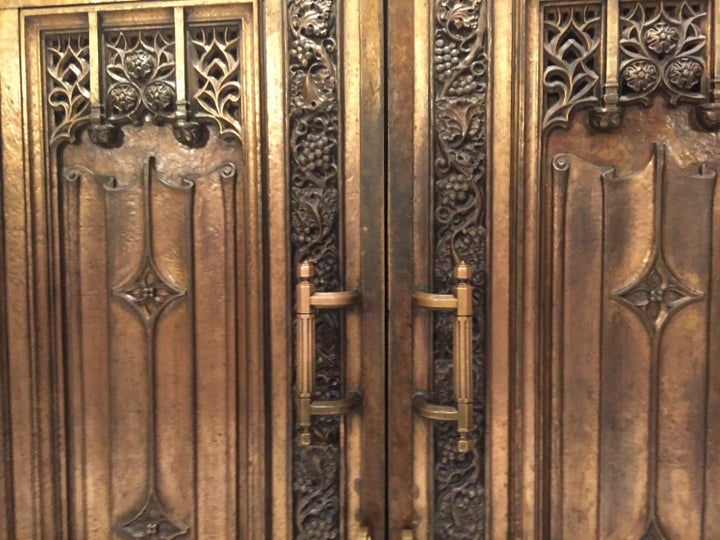 Support HuffPost
The Stakes Have Never Been Higher
Related
Before You Go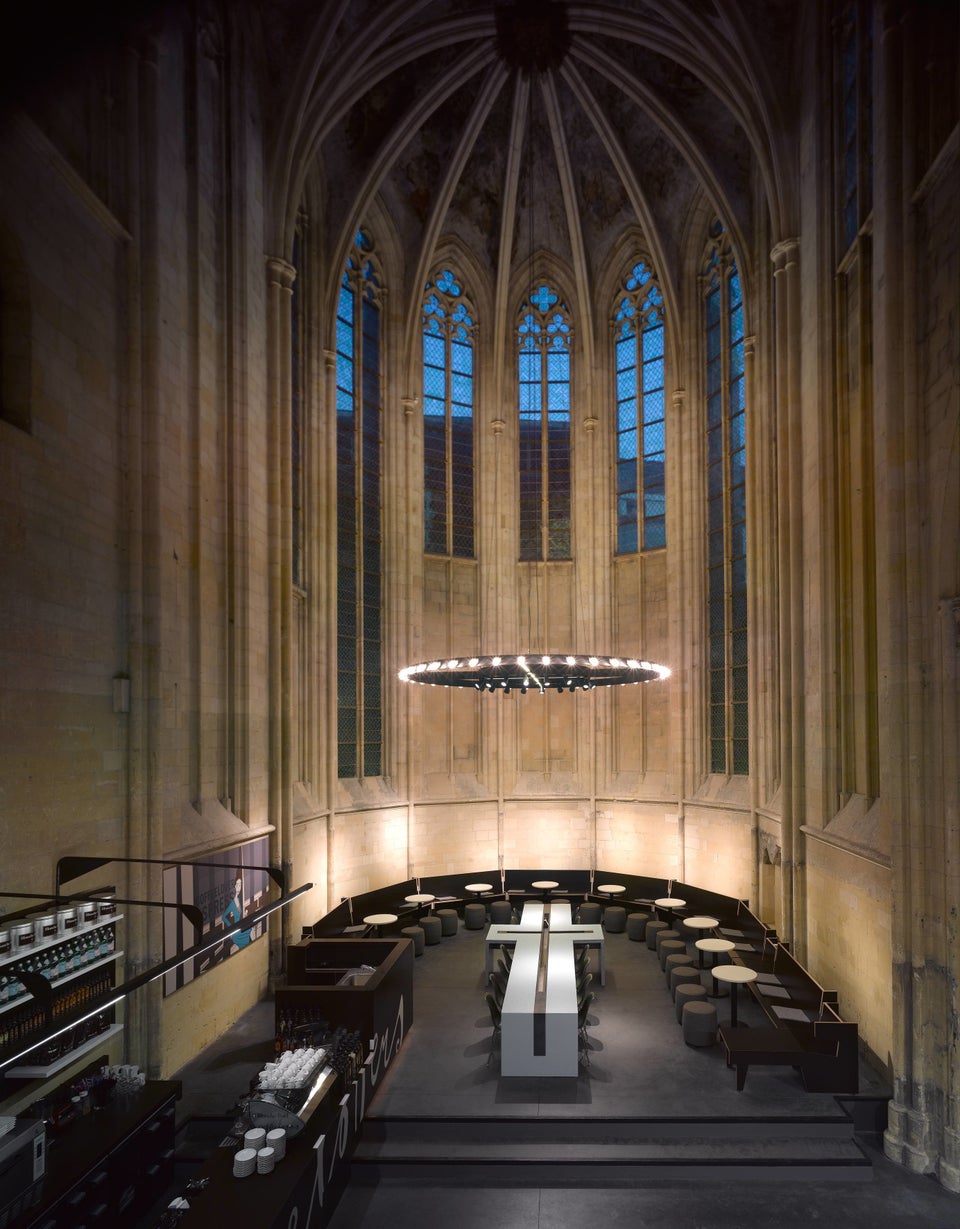 Churches turned into secular buildings
Popular in the Community