In the hopes of amplifying their objections to President Donald Trump and his policies, Irish and American progressive activists will host an event calling for human rights and welcoming immigrants on St. Patrick's Day in New York City.
"Irish Stand," as organizers are calling it, will take place in the Riverside Church on Manhattan's West side on Friday evening. It will feature speeches from a number of Irish civil rights advocates, including Irish Labour Party Senator Aodhán Ó Ríordáin, actor Gabriel Byrne, comedian Maeve Higgins and author Colum McCann, as well as prominent American faith leaders, artists and activists like Shaun King of the movement for black lives.
Tickets are $15 and the proceeds will go to the American Civil Liberties Union.
It was especially important for Irish people to hold a rally on St. Patrick's Day, Ireland's national holiday, according to Sen. Ó Ríordáin, whose impassioned appeal for the Irish government to criticize Trump's xenophobic rhetoric went viral in November.
"We have a strong voice and we need to use it," Ó Ríordáin said. "We have to say, 'Look, on this day, on the day that everyone considers themselves a little bit Irish, we have to speak up for immigrants everywhere.'"
Several activists, including King, contacted Ó Ríordáin after his famous November speech with the goal of collaborating on transatlantic civil rights efforts. Ó Ríordáin saw Trump's election as the culmination of a nationalist wave sweeping Western countries that included the United Kingdom's vote to leave the European Union, commonly known as Brexit.
"We feel it keenly in Ireland because we're right between Trump and Brexit. We're right between the two major earthquakes in the Western world over the last year or so," he said.
After Trump implemented the first travel ban in January, Ó Ríordáin, King and others settled on doing an event on St. Patrick's Day. King recommended Riverside Church, according to Ó Ríordáin, since it was the site of Martin Luther King Jr.'s historic speech against the Vietnam War almost exactly 50 years earlier.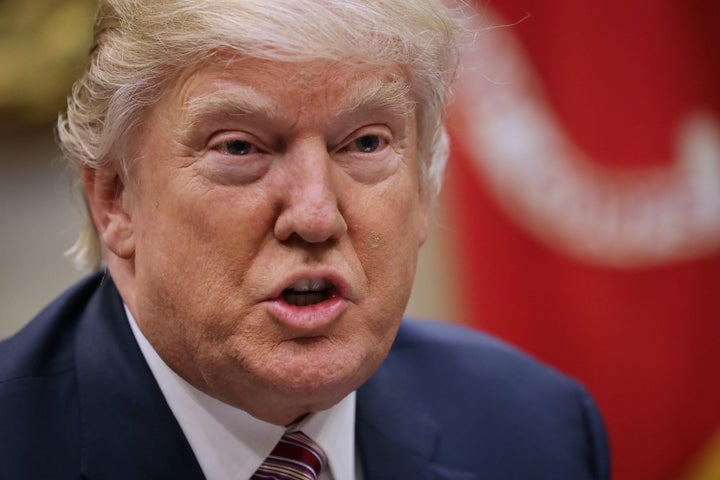 St. Patrick's Day has historically been a politically important day for U.S.-Irish relations.
For decades, Irish prime ministers have visited the White House on or near St. Patrick's Day to present the U.S. president a bowl of shamrock as a gesture of friendship. During difficult times, such as the Troubles in Northern Ireland, it was an opportunity for Irish officials to discuss peacemaking efforts with American lawmakers.
The tradition will continue this year under Trump, which makes it essential that other Irish people show their displeasure with Trump's anti-immigrant rhetoric and policies, according to Ó Ríordáin.
"It's a big deal," Ó Ríordáin said of the shamrock ceremony. "But the fact that this is the first Patrick's day since Trump's election, and the fact that the focus of this administration seems to be ... a very negative view of immigrants, we feel is an affront to our people as Irish people. If they are to have a critical view of any immigrant people, then they have a critical view, to be honest, of us too."
"Irish Stand" is also intended to signal that the Irish-Americans collaborating with Trump are out of touch with the national history of Irish people as immigrants fleeing persecution, Ó Ríordáin said. There are currently an estimated 50,000 undocumented Irish immigrants living in the United States as well, he noted.
"What we're really conscious of, and what I'm really conscious of, is that quite a number of Irish-Americans surround Trump ― Bannon, Conway, Pence, Spicer, Flynn, Kelly ― these are all Irish-Americans, these are all Irish names ― Ryan," Ó Ríordáin said, referring to top Trump administration officials and House Speaker Paul Ryan (R-Wis.). "These are all people that in my judgment have completely forgotten their family history, because the Irish story is one that has been replicated now by other people… We were once the people who came to America as refugees. We were viewed by the British as being terrorists. We were people who suffered sectarian discrimination in the United Kingdom and [in the U.S.] as well."
Calling all HuffPost superfans!
Sign up for membership to become a founding member and help shape HuffPost's next chapter
BEFORE YOU GO
PHOTO GALLERY
The World Protests President Trump