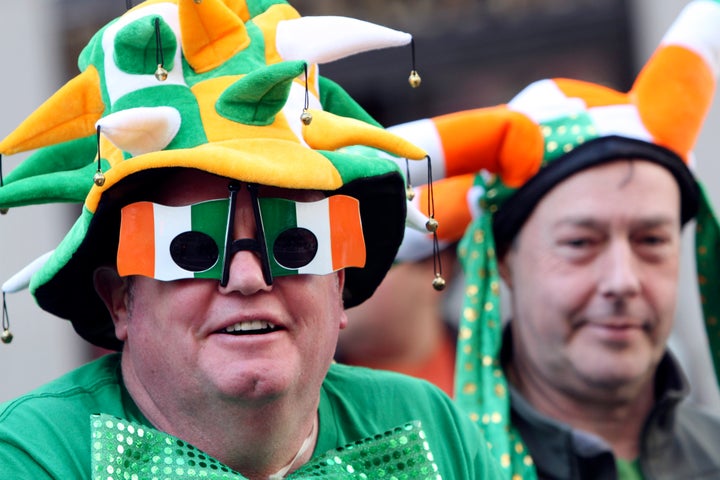 "There are moments, you remember all your life. There are moments you wait for and dream of all your life...this is one of those moments." Barbra Streisand, Yentl
As a member of the media I've had an extraordinary life full of unique and one-of-a-kind experiences all undertaken in the name of the story or the show. But nothing in over three decades as a journalist and entertainer could prepare me for St. Patrick's Day 2011 in Dublin, Ireland.
Tourism Ireland (www.discoverireland.com) and the entire country is committed to promoting the Irish Isle and each year they bring international media over to Dublin to celebrate the week and explore the country. The Irish continue to feel on a governmental and private level that tourism is one of the main arteries of revenue that Ireland must have to survive. This year they had a surprise for that media: they'd be leading off the parade itself.
I've had the pleasure of going and broadcasting five times now, but nothing prepared me for this trip. First, there was the pre-St. Patrick's Day trip to Galway, which seems like a lifetime ago yet was a few days. That journey entailed riding motorcycles across the country thanks to Celtic Riders (www.motorental.ie) the poshness of the G Hotel and taking a trip in to the high country of the West of Ireland that was the stuff of which story books and legends are made. A journal of that adventure can be found here.
There can be no doubt Dublin is ground zero for St. Patrick's Day even though the actual festival is a continuation of an American tradition, not an Irish one per se. While the country has always celebrated St. Patrick's Day it was a religious holiday akin to our Easter. But 70,000 Irish immigrated to America when hard times befell the country in between WWI and WWII (with half dying on the crossing on what are known as "Coffin Ships"). The ones that did make it, brought their tradition and their land with them, and St. Patrick's Day soon became big events in Boston, San Francisco and other cities with large Irish populations. These celebrations became so popular that they were actually carried back to Ireland, where the island took the idea and ran with it big time.
Media trips are always very scheduled. The tourism council of any city or country plans an itinerary to best show off their country. Trips are planned by tourism councils for groups of journalists every day of the year, it's a big part of the tourism industry. So Day One in from Galway, the day prior to St. Patrick's was spent doing in one day what most would take a week to complete.
Ronan Ganter and his brother love literature, history, people and biking so Dublin Bike Tours was born. Now visitors from six to 76 and beyond can hop on bikes and navigate around one of the most culturally diverse cities in the world in a green way. Colm Quilligan of Dublin Literary Pub Crawl takes a group from pub to pub each night, telling of them of authors old and new that haunt or haunted the pubs. He tells stories of how authors used the pubs in Ireland as a way to promote their books, to get to the media, the opinion makers, who were often found in pubs. Actors reenact scenes from famous books in the pubs and talk about the author and the stories and point out contemporary authors who find themselves part of the tour as they have a pint. Rory McCarthy, Festival Officer for Failte Ireland (pronounced Fall-cha meaning welcome) tells of country side festivals island wide as we sit in the Pub at the Morrison Hotel in Dublin and watch tens of thousands arrive. Every city large and small has a St. Patrick's festival and others all throughout the year and McCarthy's job is to promote them. Over dinner at the Fitzwilliam Hotel in St. Stephen's Square Aine Kavanagh of Dublin Tourism talks of the upswing in tourism over this year, in particular Americans. Seems more Americans are already booking travel to Ireland for next year or later this year, signaling more confidence in the economy or at least their lives.
The day itself it city wide, much like the Mardi Gras in New Orleans or Carnivale in Rio. The city gets going early, with streets being closed off early morning and the parade kicking off at 11:30 am. This year the theme of the parade was "Brilliant" based on a story written for the event by Roddy Doyle, a contemporary Irish author of renown (he wrote The Commitments). Yes, a parade based on a book with each contingent personifying a different part of the story. The opening chapter was a double decker bus, the Brilliant Bus, filled with International Media, myself included. The bus was hosted by Bryan Ormond, a famous presenter on RTE news channel in Ireland and former boy band member, so the women swooned.
Prior to boarding a traditional Irish Breakfast at the Dublin Writer's Museum complete with an Irish Coffee making demonstration was held for the media. The Buena Vista Café San Francisco is a sponsor of my trip. The story goes that in the Shanon Airport Joseph Sheridan, a chef, wanted to warm some passengers from a Pan Am Flight that had a rough go. A group of Americans were getting off a plane disheveled and in need. A shot of Jameson's, some brown sugar, cream and coffee later and the tourists were well and a drink was born in Ireland. Stanton Delaplane, a travel writer for the San Francisco Chronicle, was on the plane and worked with the Buena Vista Café to start serving the drink. Then there's the breakfast. A traditional Irish is Pork (sausage), stewed tomato, mushrooms, Black and White (blood pudding) and eggs. It was traditionally served to prepare the Irish for the day of work (and drinking!) and seems to work.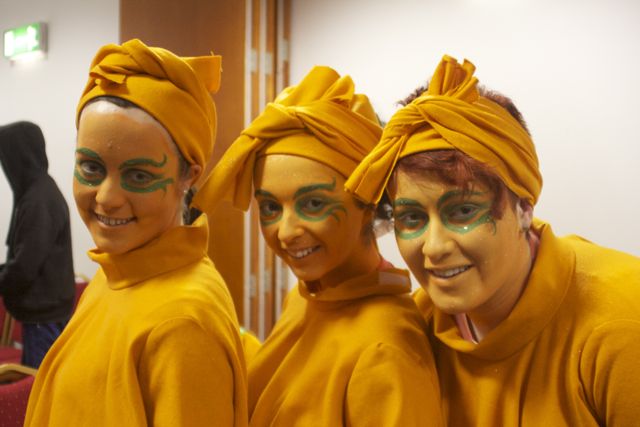 Backstage at the Parade
Being part of a parade is not new to me, I've had the pleasure to ride in many. But how can one be prepared for being the lead in the St. Patrick's Day Parade in Dublin going down a route lined with over 500,000 people from all over the world? It simply can't be done. The swelling of pride, of joy, of happiness, the thousands of faces all there for one reason, to celebrate Irish heritage and pride and have a good time. In every window down the route children from newborns to teens pressed against the glass waving; their faces, so happy, so pure, so innocent, the emotions so basic and real. To greet these people, to wave, to say hello, to be a part, the swell of emotion is actually something words truly cannot describe, and I'm a writer; but some things are simply meant to be felt. And those watching the parade were pieces of a sea of diversity; people from all over the world all here for one reason and one reason only -- to help Dublin celebrate.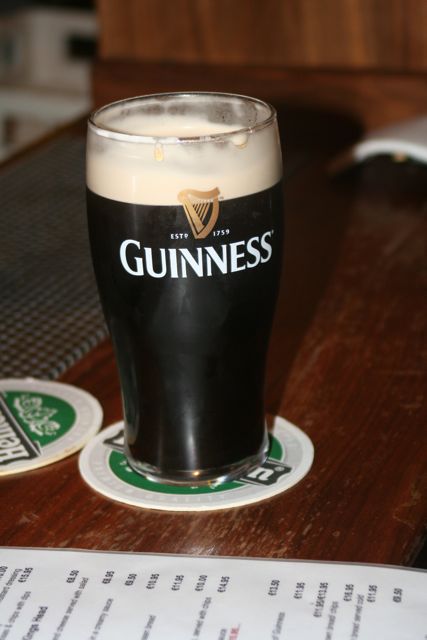 Guinness!
After the parade many filter in to the Guinness Factory where the beer really is better. Guinness has a rich history in Ireland and is a lot more than a great stout. The Brewery was leased for 45 pounds a year for 9000 years in 1759. A great deal. The Guinness book of records was developed by Guinness and a friend to settle bar disputes, starting with theirs over the fastest land bird. However, those that believe the Dublin plant is the biggest manufacturer of the deep ruby red ale (American Guinness comes from Dublin) would be incorrect -- that honor goes to Nigeria.
Another fave is the Jameson's Distillery. 700,000,000 glasses of Jameson's are consumed world wide annually and it's the fastest growing Whiskey brand in the world. It's made solely in Ireland, and aged in casks from ... Kentucky! Yup! They buy Kentucky's used sherry and bourbon casks. Jack Daniel's uses new barrels, with charred insides giving it a very different flavor.
As for alcohol, there are two separate St. Patrick's Days in Dublin. The first is for family, the parade, the food, the museums, the spectacle. The second is for the drinking and St. Patrick's Day brings out amateurs that want to turn pro from around the world.
The Temple Bar area is where youth go to partake in the age old stereotype of drinking like an Irishman. The difference is most Irishmen know how and when to stop. Temple Bar should be experienced by everyone that comes, but it will take a special person to stay the course; and the course comes in stages. From 2pm to around 6pm it continues and begins, the "I started drinking at around 12 and now its afternoon and let's have lots more" phase. Then around 6pm, when they should be having dinner, they're off to more pubs. Come 10, it's the dance bars. The fights begin around 8pm, the "I saw the way she was looking at you," or "What did you say to him" and the countless other drunk arguments that begin. Come 10pm the hearty are off the dance bars while the lesser are sitting in the streets, head in hands, vomit flowing, usually with a friend or spouse hovering nearby telling them it will all be all right. Well, except for the two girls we saw doing that very thing and as walking by we heard "Hurry up and get this over, luv, we've got to get back inside the pub for the guys..." Oh my.
Destructive behavior? Bad? Wrong? Future Charlie Sheens? Just young. The Garda keep things calm, when they encounter drinkers they pour out the beverages and tell them to move on. No handcuffs. There's a lot of great culture in the Temple Bar, arts, movies, even a museum but unless you like walking around vomit and streams of urine don't go after 10pm on St. Patrick's Day. However, the following morning it's spotless and back to being the Bohemic center of Dublin. And I and those that traveled with me certainly enjoyed The Dragon, The George (two gay bars in Dublin) the No Name Pub above Hogans with a snail logo and unmarked door...each unique, each fun and each filled with kindness.
Yes, kindness. Through all of the journey, so many people not from Ireland can be heard talking about the kindness of the people in the country; The pleasant attitudes, kind greetings, and a genuine interest in being hospitable and friendly. Ireland really is one of the friendliest nations.
And the similarities; your dinner table may be tens of thousands of miles away from theirs, but the conversations going on at those tables are exactly the same be they in the cosmopolitan center of Dublin or the mountains of Connemara, Los Angeles, San Francisco, Boston or Dubuque. It's the economy. It's how are we going to reinvent, reinvigorate, use what we've got better while maximizing results, it's light bills, birthdays, receiverships (the word for foreclosures), it's life. Their life is the same as yours, ours, in so many ways.
One key difference is the Irish have gone through great depression, devastation, famine, revolution, true hardships, and they used their spirit and sense of national pride to go on, to sustain and grow. They are a resilient people, one open to diversity but one that still is fiercely proud. They are involved, most everyone I've met, they know the news, they follow politics and are invested in their country's future.
Investment is what we are missing in our troubled times. Many Americans do not feel invested in their future because they don't believe it's theirs. When 400 people in one country control more money than the lower 150 million of that country, the lower 150 million more often than not feel their future is so tied to the economy that those 400 will dictate whatever the future will be no matter.
To that end in today's economy it may seem obtuse to be writing about spending hard earned dollars (which aren't holding up well to the Euro right now) on vacation. And yes, it's easy to do when the trip is sponsored, easy to say how this or that is a must do. I myself faced a financial decision before coming, because even sponsored trips costs money. But what will I remember when I'm 70 if I'm lucky enough to have living brain cells at that point? That I paid Wells Fargo $1200 to catch something up in March of 2011, or that I went to Ireland, was the first float in the St. Patrick's Parade and got to see my niece and great friend experience so much for the first time? Five years ago I would have said my responsibility was to the bank; these days, the responsibility is to ourselves.
There's more to come, the trip is far from over. Dublin was just awarded the UNESCO (United Nations Educational, Scientific and Cultural Organization) designation for being a top literary city and they are celebrating with Dublin Swell, an arts festival at the new convention center; then it's back stage at the 25th Anniversary Concert at 02 Dublin of the Commitments and more motorcycling outside of Dublin as well. Yes, it's a dream.
And dreams still await every traveler out there if they are willing to go and find them, it's worth saving for, cutting back a little to make sure that there's still some money and time left to actually live and go see the planet we inhabit first hand. If not now, in a year, in two or five or ten. But put it on the list.
The politics of Ireland are so tied to ours. In fact, President Obama is coming in May as part of his official European visit and the country is already abuzz. The economy of Ireland is so tied to ours. For any of you reading that have a fake hip or joint, many of those are made here by any one of 7000 workers at the largest medical supply in Europe. Twenty-two American Presidents have ancestry in Ireland. We are connected in so many ways, and one can truly feel it when they come here to connect with the people.
More to follow from Dublin. Photos by Heather McGrath