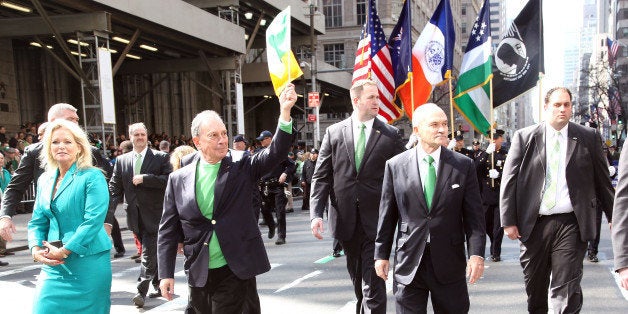 Mark-Viverito's openly gay predecessor, Christine Quinn, who is of Irish descent, refused to march in the parade but still allowed a City Council contingent to participate.
"The St. Patrick's Parade should be a time when all New Yorkers can come together and march openly as who they are — but right now that is not the case for the LGBT community," said Mark-Viverito in a statement. Viverito noted that individual Council members are still allowed to march if they so please.
New York City St. Patrick's Day Parade Inc., which organizes the event, allows LGBT participants to march in the Fifth Avenue procession, but does not allow them to identify openly as gay. LGBT groups have protested the parade for years.
Earlier this month, Mayor Bill de Blasio announced that he would boycott the parade, but that uniformed city workers, including police officers, will still be allowed to march. He'll be the first New York City mayor in 20 years not to participate in the parade.
The Catholic League's Bill Donahue fumed over Mark-Viverito's decision in a screed on the group's site Tuesday. He called Mark-Viverito and de Blasio "intolerant" for boycotting the parade. From his statement:
There is a growing contempt for tolerance and diversity in the homosexual community, and among their supporters, especially in New York. The latest example is the ruling by the New York City Council Speaker banning an official City Council presence, banner, and Sergeant-at-Arms in this year's march. When a government agent prohibits the celebration of St. Patrick's Day, a tradition that has been honored for hundreds of years, it is an obscene exercise in censorship.

The St. Patrick's Day Parade does not permit pro-life activists to march under their own banner, but that hardly makes this Catholic event anti-life; it simply means this is not a day that centers on abortion. Ditto for gays: it is not about them. They are the only ones who are feigning exclusion (gays can march, just so long as they blend in like everyone else).

The protesters obviously loathe diversity: diversity means pluralism, a wholesale rejection of mandated, one-size-fits-all policies. What these activists want is the right to impose their agenda on Irish Catholics, neutering a day set aside to honor St. Patrick.
Irish Prime Minister Enda Kenny has said he will march in the New York City parade on March 17. "The St Patrick's Day parade is a parade about our Irishness and not about sexuality and I would be happy to participate in it," he said.
In 2011, the Irish Foreign Minister condemned the event, and the President of Ireland declined an invitation to be Grand Marshal.
REAL LIFE. REAL NEWS. REAL VOICES.
Help us tell more of the stories that matter from voices that too often remain unheard.
BEFORE YOU GO
PHOTO GALLERY
25 LGBT-Friendly Products & Companies Targeted By Boycotters