For over 250 years, the St. Patrick's Day Parade in New York City has stood as a time-honored tradition led by city officials and religious leaders. It has also been a lightening rod for controversy over organizers' consistent refusal to permit openly gay and lesbian individuals from participating.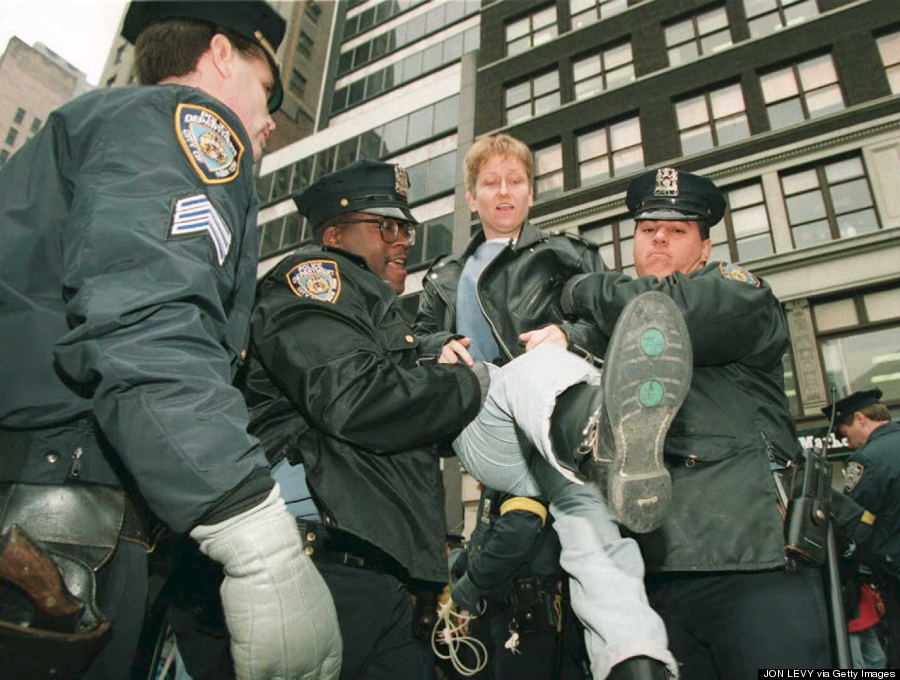 New York City police officers arrest a demonstrator who took part in a protest on Fifth Avenue by the Irish Lesbian and Gay Organization (ILGO) before the start of the 234th annual St. Patrick's Day parade, March 17, 1995. Police arrested 88 people for disorderly conduct, resisting arrest, or both.
For the first time in two decades, a New York City mayor has chosen not to lead the march because of the controversial exclusion. Bill de Blasio's decision is a stark departure from predecessors Rudy Giuliani and Michael Bloomberg, who marched in the parade every year during their respective tenures. New York City Police officers arrest two women for allegedly trying to block the St. Patrick's Day parade route Saturday, March 17, 2001, in New York. The women claimed to be members of the Irish Lesbian and Gay Organization.
While de Blasio isn't the first mayor to condemn the anti-gay restrictions -- Bill Dinkins ignited a firestorm when he marched along the Irish Lesbian and Gay Organization in 1991 -- his censure has been applauded by advocates and New Yorkers alike. Several of the parade's major sponsors including Sam Adams, Heineken, and Guinness have even followed suit by pulling their financial support from the parade.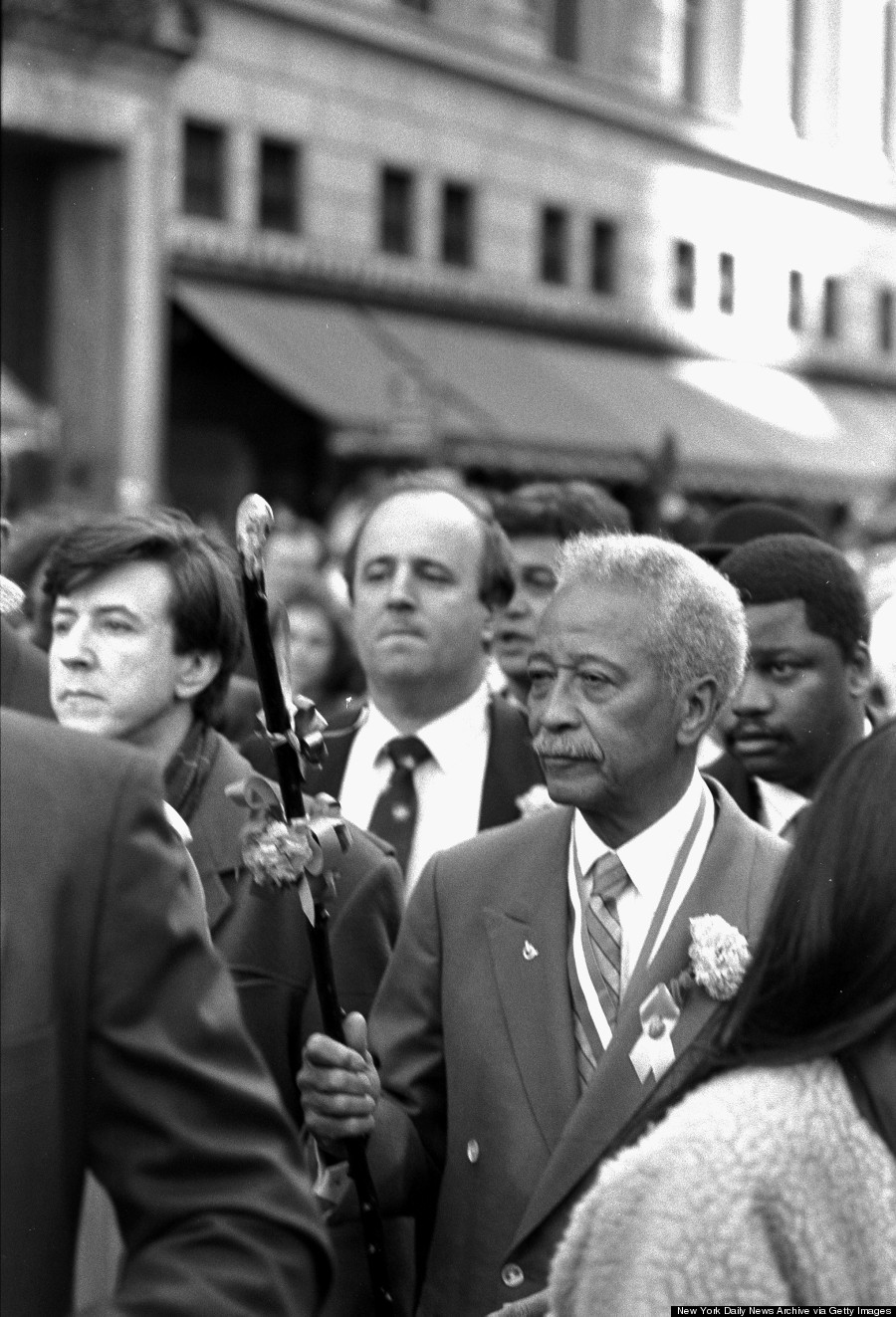 Mayor David Dinkins marches in St. Patrick's Day Parade, March 16, 1991. It wasn't the best parades for the mayor, who was subjected to catcalls from spectators angered by his support of a lesbian and gay contingent of marchers.
The response to De Blasio's decision is a far cry from what happened when Dinkins took the first stand by constructing a compromise that allowed members of the Irish Lesbian and Gay Organization to march as long as they didn't carry their own banner. Dinkins, as The New York Times reported then, was the subject of angry heckling for nearly 40 blocks as he walked alongside the group. Anne Maguire, center, spokesperson for the Irish Lesbian and Gay Organization, speaks to the press on the steps of the New York Public Library along Fifth Ave where she announced the group's plans for the upcoming St. Patrick's Day parade, Wednesday, March 15, 1995.
As long as the parade's organizers -- for years, the Ancient Order of Hibernians, followed by New York City St. Patrick's Day Parade, Inc. -- fail to include gays from fully participating, it's fair to assume de Blasio will continue to participate in festivities that do. Below, de Blasio attends a gay-friendly 2013 parade in Queens prior to being elected: In this Saturday, March 2, 2013 file photo, New York City Public Advocate Bill de Blasio marches in the Queens County St. Patrick's Day Parade in the Rockaway area of the Queens borough of New York.
Time will only tell if four years of mayoral absence, coupled with high profile sponsors withdrawing support, can finally convince the parade to join the right side of history and allow gays at what should be a joyous and inclusive celebration.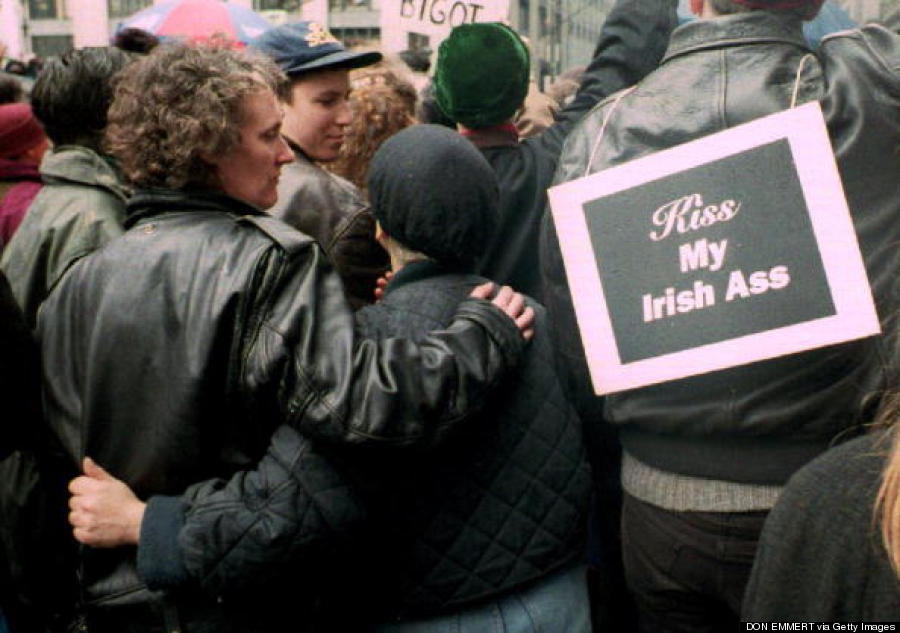 Lesbians and gays march up Fifth Avenue 17 March 1993 in protest of the exclusion on Irish homosexuals from the St. Patrick's Day Parade.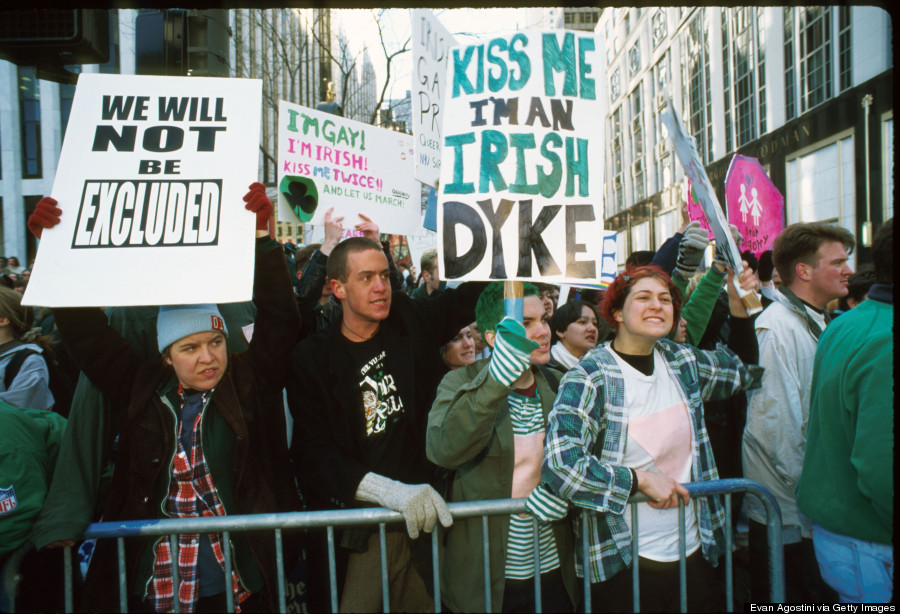 Members of the Irish-American gay community protest on Fifth Avenue against the exclusion of Irish and Irish-American gays people from marching in the annual St. Patrick's Day Parade Friday, March 17, 2006 in New York. Organizers have barred an Irish gay and lesbian group from the parade for 16 straight years.
Popular in the Community