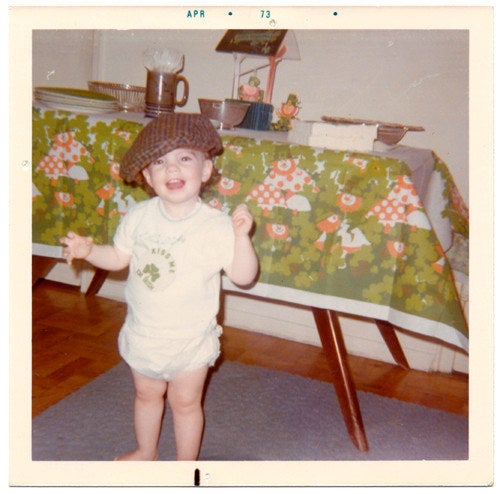 'Tis the season for the wearin' o' the green. St. Patrick's Day is upon us and whatever your roots, March 17th provides permission to wear Kelly green and believe in the magic of shamrocks and leprechauns.
But when those really ARE your roots, the day is a reminder of where you come from, and how important it has become to pass it all down to your children -- in my case, all five of them, including the triplets. Which is why, at our house, St. Patrick's Day is a big deal.
I still have a photo of me, age 18 months, boasting my heritage with a "Kiss Me I'm Irish" onesie and my Dad's Irish knit cap. My Dad still has that woolen cap, but these days it's my kids who battle for the chance to wear it, they seem to recognize that wearing anything of my father's is a privilege and, more and more with each passing year, that being Irish is, too. We are blessed with the gift of gab, a twinkle in our eyes and a spring in our step. We are adept at trilling tunes, tapping toes, and spinning a yarn... sometimes all at once.
Being Irish has always been a big part of my identity. As the picture proves, my Irish pride started at an early age; I was a fair-skinned, freckle-faced O'Connor through and through. I loved being part of a big Irish family -- we lived in the town my Dad grew up in, surrounded by aunts, uncles and cousins. At church, we were always greeted as the "five K's" -- Kevin, Katie, Kerry, Kristin and Kevin. I don't know if my parents (Kevin and Katie) did it deliberately or not but, the five Ks we were and the five Ks we remain. We wore kilts with Irish knit sweaters and had corned beef and cabbage on many a Sunday, not just March 17th. We spent one week each summer on the Irish Riviera (otherwise known as Cape Cod) often with an extended clan including my grandparents (whose roots lie in Tipperary and Cork) and their cronies, the O'Sheas and McKenna's.
I didn't go out of my way to find a nice Irish boy to settle down with but I think it was meant to be; when I finally fell, I fell for a first generation Irish American with roots in County Cork. Time spent with his family involved Irish tea, Irish music, Irish history and Irish literature -- which, for the record, always sounded best when read with his father's brogue.
On our first vacation together, he introduced me to Ireland -- the bustle of Dublin, the beauty of the countryside, the hospitality of the people, and the unpredictability of the weather. I fell in love with it all -- including this man named Desmond Lyons, who seemed especially gallant in the pubs and moonlight of the seaside village of Kinsale.
We married two years later and after adopting a dog we named Finnegan (for Finnegan's Wake, a favorite pub and classic James Joyce tale), started a family of our own. Liam was born in 2004, followed by Ciara in 2006 and then, much to our initial surprise, identical triplets Kevin, Declan and Cormac arrived on the scene in 2008. While our little pack of "Lyons Cubs" can't boast the "five Ks", we know that as we prattle off the names of our children, it sounds like a list of "top Irish baby names." This, of course, is deliberate. These names were carefully chosen and meant to instill Irish pride in the next generation. What's ironic though, is that having recently had the pleasure of taking our clan to Dublin, it appears we've "out-Irished" the Irish!
The friends and family we visited all had perfectly "normal" names with minimal, if any, trace of Irish roots... Bill, Albert, Michael, and Lisa, just to name a few. They wondered aloud how -- and why -- we had to punctuate so permanently our Irish heritage. I suppose, really, that permanence is the answer. In the years that we were so busy with babies, we were busy with burials as well. Des' parents and his brother Conor passed away, taking with them that incredible brogue, contagious twinkles and passion for music and literature. Our little clan of Irish lads and one lovely lassie serve as daily (and nightly!) reminders of how important it is to cherish our past while ensuring a future where our Irish tales will be told and songs will be sung. That's why this St. Patrick's Day, we will be at the parade in New York City, with my parents, the O'Connor's, at our side. And, with just a bit of Irish luck, I'll be wearing a Kiss Me, I'm Irish pin and my dad's woolen cap.