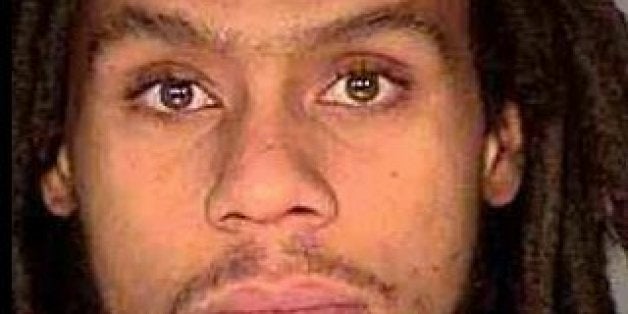 Chris Lollie says he was just sitting in front of a First National Bank in downtown St. Paul, Minnesota, on Jan. 31, waiting to pick up his kids, when an employee from a nearby store approached him and asked him to move. Police were called to the scene, and the 27-year-old began filming the interaction on his cell phone. The situation escalated, and police allegedly used a stun gun on Lollie before arresting him. As his footage began making the rounds online this week, the police defended the arrest, but Lollie says the incident was racially motivated.
The footage begins as he walks with a female officer, explaining to her that he had been sitting outside the bank for 10 minutes before he was asked to leave. He tells the officer he didn't see signs saying he was on private property and didn't think it was fair that he was being asked to move.
"The problem is I'm black," he can be heard telling the officer. "That's the problem. ... I'm not sitting there with a group of people. I'm sitting there by myself. By myself, not causing a problem."
Shortly after, a male officer walks up to them, and the exchange becomes heated. Lollie appears to drops his cell phone as he is presumably restrained by officers.
"Put your hands behind your back or you're going to get tased," a voice can be heard saying as Lollie frantically repeats that he hasn't done anything wrong.
"I'm not doing anything! Stop, please," Lollie yells as a clicking noise, possibly from a stun gun, can be heard in the background. "Can somebody help me? That's my kids, right there! My kids are right there!"
"I don't have any weapons or anything, and then you tase me? For what?" he is heard saying shortly after.
WARNING: Video contains graphic language and may be disturbing.
Lollie was initially charged with trespassing, disorderly conduct and obstructing the legal process. The charges were dropped in July. Police didn't return his cell phone until that time, according to the Minneapolis City Pages, "meaning Lollie wasn't able to upload his footage to YouTube until quite recently."
Thank you for the discussion regarding the video that was has been circulated from a January 31, 2014 arrest.

As is often the case, the video does not show the totality of the circumstances.

Our officers were called by private security guards on a man who was trespassing in a private area. The guards reported that the man had on repeated occasions refused to leave a private "employees only" area in the First National Bank Building.

With no information on who the man was, what he might be doing or why he refused to leave the area, responding Saint Paul police officers tried to talk to him, asking him who he was. He refused to tell them or cooperate.

Our officers are called upon and required to respond to calls for assistance and to investigate the calls. At one point, the officers believed he might either run or fight with them. It was then that officers took steps to take him into custody. He pulled away and resisted officers' lawful orders. They then used the force necessary to safely take him into custody.

The man was charged with trespassing, disorderly conduct and obstruction of the legal process. Those charges were dismissed in July.

We have had a discussion with the man in the video and he was given information on how to file a formal complaint if that was his desire. At this time, no formal complaint has been filed.

We hope this helps to clear up some of the information our communities have been seeking.
That the charges were dismissed is "pretty telling," one Facebook commenter wrote in response to the department's statement.
"Lollie couldn't have been more reserved and polite, given the circumstances. Your officers threw gasoline on the situation and then threw a match. Yet you have the audacity to continue to besmirch this man when the evidence clearly shows he was unfairly targeted and criminally attacked without provocation," writes Facebooker Craig Lawless. "The fact that charges were dropped is pretty telling about the presumptions that led to this completely unnecessary attack on an unarmed and nonthreatening citizen."
Lollie told the City Pages that the department's version of the story is "all false."
Popular in the Community