One of the best ways to earn a person's trust is to lend them a helping hand when they least expect it and need it most.
While Kim Washington hesitated when police officers approached her parked car in a St. Paul, Minnesota, neighborhood earlier this month, she is grateful for their eventual interaction. The 46-year-old had been living in Florida with her boyfriend until recently, when she decided to flee from domestic violence occurring in her home, reported KMSP. Washington packed her three children, two grandchildren and their necessary belongings in her SUV, and returned to Minnesota, her home state, in search of a fresh start.
The residents of the neighborhood where Washington had parked the car began complaining to the police, who received eight calls in three weeks, according to St. Paul Pioneer Press. When officers Mary Alberg and Theresa Spencer approached the family, they realized they needed help.
St. Paul police officers then banded together to buy food and gift cards for the family, and gathered enough funds to put them up in a temporary motel room, according to KMSP. Officer Alberg let Washington do laundry at her house, and shared her daughter's books with the children, Pioneer Press reported.
"I was very leery of them," Washington told KMSP about her initial feelings towards the officers. "Every time I saw them I was like, 'Oh Lord, here they come to harass us.' A lot of them were kind, empathetic and they understood. I appreciate them."
Thanks to the widespread outreach effort of the police force, Tony Scheuerman, a member of St. Andrew's Lutheran Church reportedly heard Washington's story on the news, and reached out to help get the family into the church's emergency shelter. While the shelter does not confirm whether particular families are staying there, Pioneer Press reported, the shelter's executive director Liz Schreier told HuffPost in an email, "We are ecstatic about the outpouring of support for the Washington family. We have been inundated with calls from people wanting to help them."
Washington, who previously worked at a domestic violence shelter, is currently looking for a job, according to Pioneer Press.
"I wasn't a big fan of the police, but them helping allowed us to view them in a different light and say, 'Yes, they really do want to protect and serve,'" Washington told KMSP. "It was really nice."
Before You Go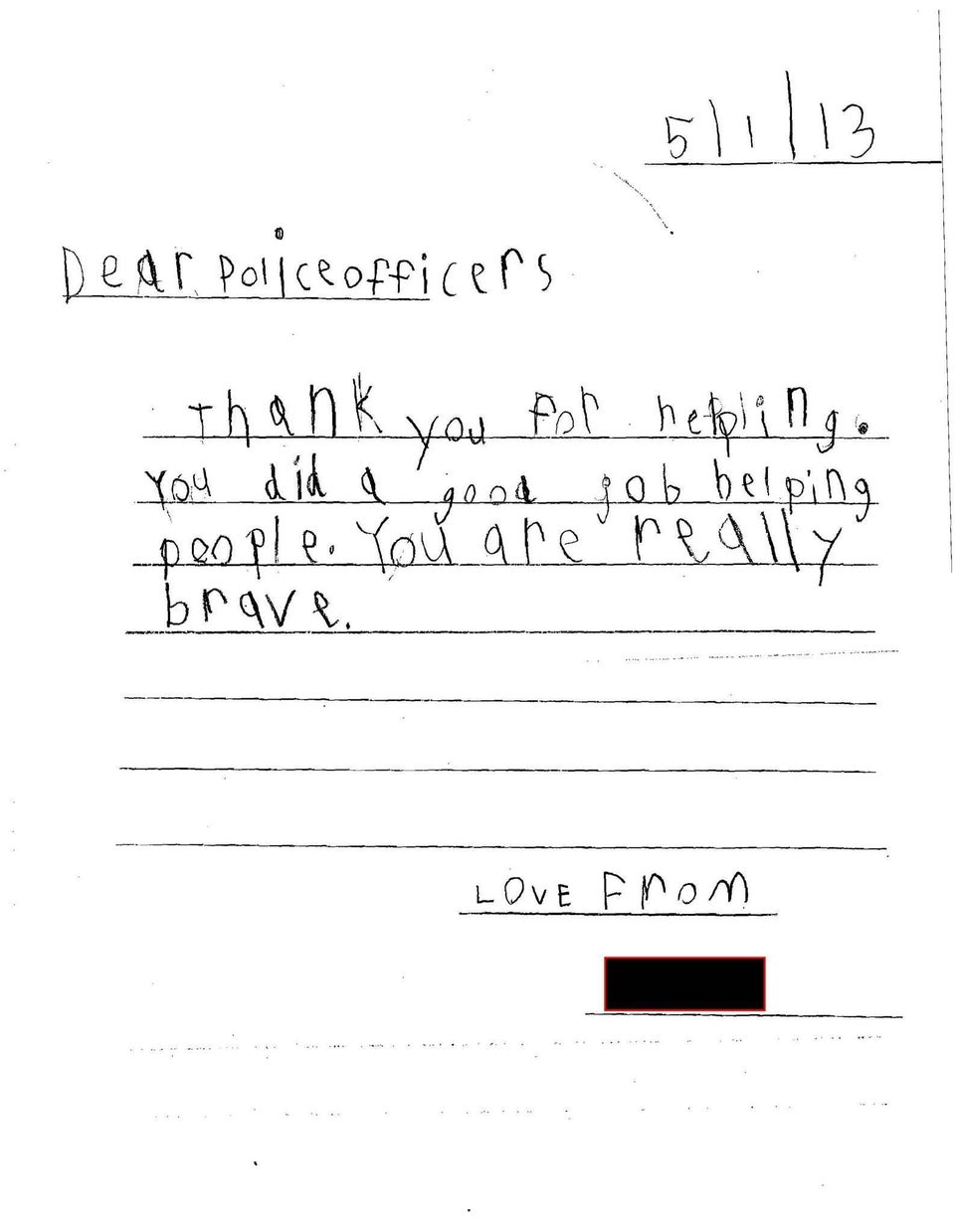 The Most Heartwarming Thank You Notes To The Police
Popular in the Community