ST. PAUL, Minnesota ― Protests against police brutality that shut down I-94 for roughly five hours Saturday night began peacefully but eventually turned violent, ending with more than 100 people arrested and multiple people injured, including 21 officers.
The clashes were among several that took place nationwide Saturday. Protests in cities like Dallas, Chicago, New York and Baton Rouge, Louisiana, followed a week where two black men ― one in suburban St. Paul and another in Baton Rouge ― where killed by police in highly publicized incidents. A sniper opened fire at a Dallas anti-violence protest, injuring multiple people and killing five officers. 
St. Paul police arrested and held 50 people on third-degree riot charges for occupying I-94 near the Dale Street exit on Saturday night and early Sunday morning. Hours later, they arrested 52 more for unlawful assembly after protesters had cleared the expressway and moved the demonstration several blocks toward the governor's residence. They were cited and released. 
(Scroll down to see dramatic photos from the protest.)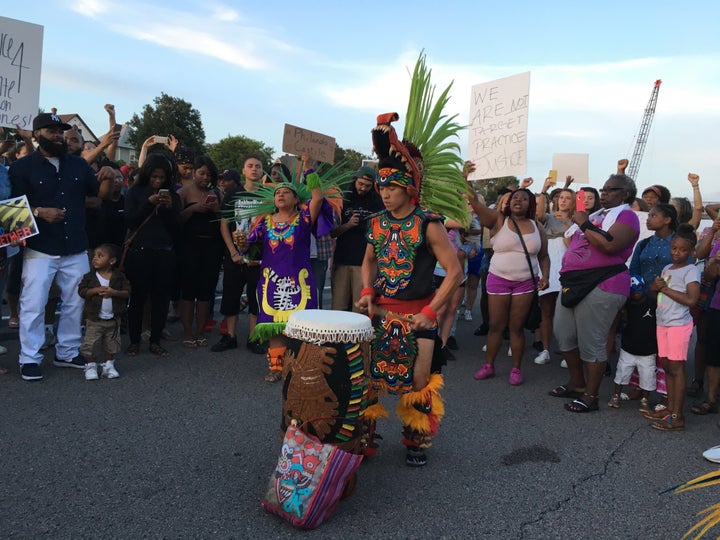 The protest broke through to the interstate shortly before 8 p.m., and largely gathered in the eastbound lane as police set up blockades.
Protesters, which included several children, sang, chanted and called for justice in the death of Philando Castile, who was fatally shot by St. Anthony police during a Wednesday traffic stop in the St. Paul suburb of Falcon Heights.
With the freeway shut down, members of the indigenous Mexica Tribe from the Kalpulli Yaocenoxtli dance group drummed in solidarity with protesters, a pickup truck carrying loudspeakers amplified chants and music from Marvin Gaye and Prince ― and police at one point thanked protesters for turning the music down.
Mary Anne Quiroz, a dancer who was performing with her husband and their two children, offered a "fire dance" to the crowd to keep the energy high. 
"We need to keep feeding the passion, the motion. Especially when we're feeling hopeless and [feeling] despair," Quiroz said. She blew into a large conch shell as the crowd cheered.  
"The shell is like an old-school mobile phone," she added. "It calls people, gets their attention."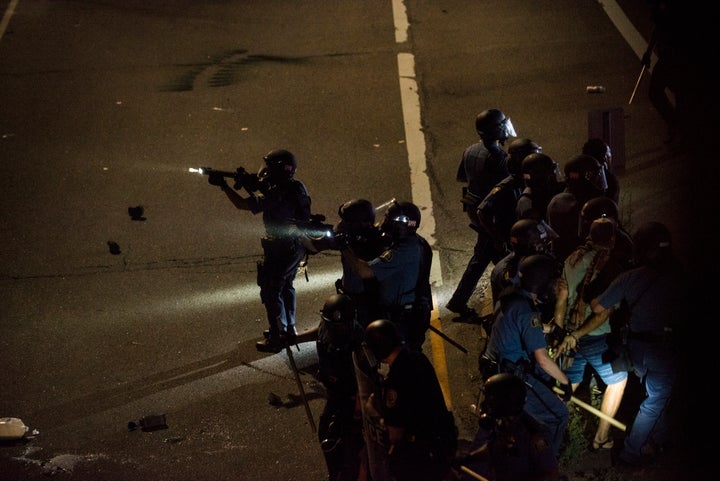 But tensions grew after two hours of warnings from police to disperse or face the use of force.
A small handful of protesters lit firecrackers or threw water bottles, chunks of concrete and construction rebar at police officers. St. Paul police later reported no officers were seriously injured, but said some were hit in the face with bottles and pelted with rocks. 
Several times, protesters quickly swarmed an aggressor acting against police to try to stop them or move them away from the front line.
Yonci Jameson, 17, said "anarchists" have showed up to several anti-police violence protests in the past to purposely escalate tensions. 
"They were throwing s**t ― firecrackers, rocks. I don't know who they were, but they weren't affiliated with Black Lives Matter," Jameson said. "They're here to antagonize the cops and intimidate us ― but it ends up reflecting badly on Black Lives Matter." 
Jameson was among the "two or three" protesters on the front line whom she said was hit with rubber bullets once police began using force to disperse the protest. (Police said only marking rounds were used.)
Officers started by throwing inert smoke bombs and setting off flashbang grenades before resorting to chemical spray and nonlethal rounds. 
Antoine Martinneau, 31, was among the protesters watching from the hillside along the interstate to help people fleeing smoke and chemicals.
He described the police's response as typical of what he's seen with other freeway takeover demonstrations. 
"They're going to keep dispersing people. This is the last exit," he said, as people poured through a hole in the fence separating the road to the on-ramp from the grassy encampment. 
A man identified by his friends as Tez was guided to the sidewalk after emerging from a cloud of smoke. 
"It f**king hurts!" he yelled as protesters called for milk to pour over his eyes. 
St. Paul police denied using tear gas during Saturday's protests. Police spokesman Steve Linders said officers used "incredible restraint" and said the smoke police used was not a "chemical irritant." Asked about the painful reactions from those claiming they were tear-gassed, Linders said: "Smoke doesn't have that effect."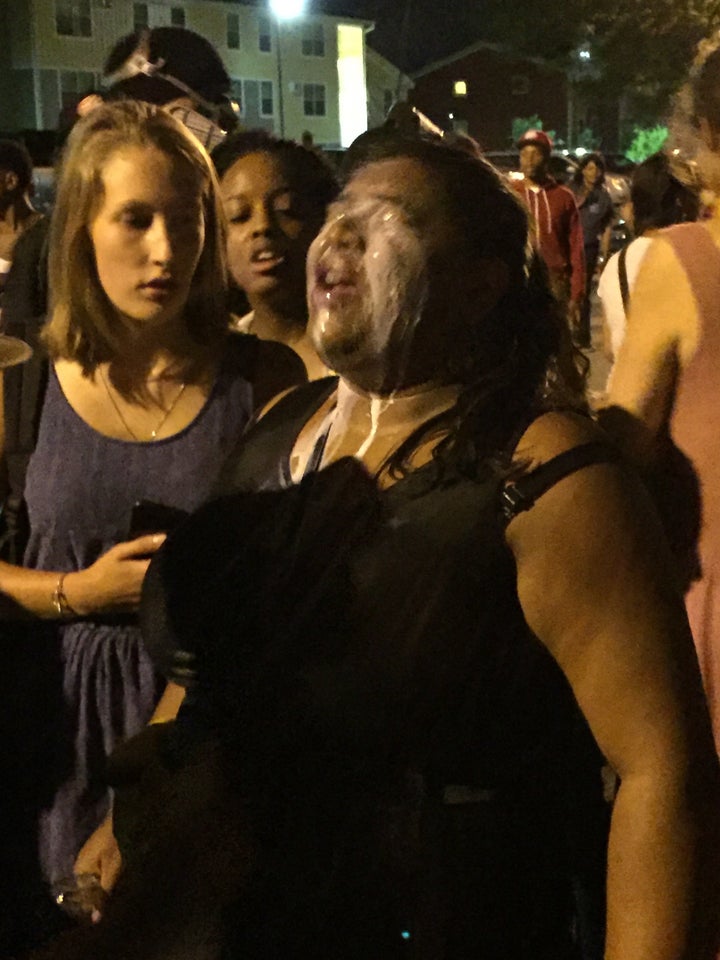 By about 10 p.m., the police's ranks had swelled with the additional presence of Minnesota State Patrol and other units. Police with masks and batons moved to encircle protesters on two sides, forcing them toward the hill. A city bus was pulled onto the freeway to load in those who were arrested. 
As police stepped up crowd-dispersion tactics, protesters cleared the freeway around midnight to begin marching toward the governor's residence.
After protesters cleared the freeway, police remained on the street, flashed strobes, and fired marking rounds and other dispersion methods at the road flanking I-94 to clear lingering protesters — and curious neighbors who had emerged from their apartments that overlook the highway.
Tom Goldstein, a 59-year-old St. Paul resident, was hit with a marking round after he walked over "to be a legal observer."
"Nothing in particular was going on, and [the police] shot at us," Goldstein said. "We weren't even doing anything."
He acknowledged that people on the pedestrian bridge had been throwing rocks and concrete onto officers, but questioned why police were targeting people in the neighborhood watching from their lawns and the parklet. 
"I really didn't expect it to become this violent. I expected arrests ― arrests are fine. It's not right to throw rocks and bottles at police, but then go arrest people," he said. 
"This is not Kent State," he added. "You don't just start firing into a crowd."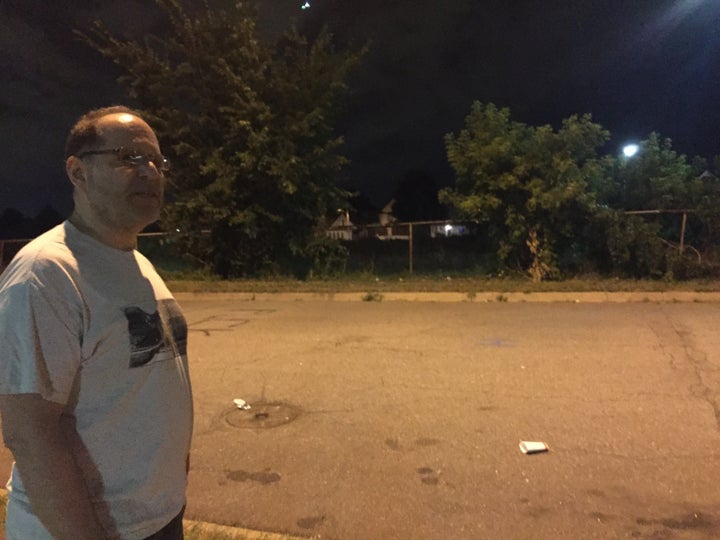 St. Paul Mayor Chris Coleman, who had previously praised the peaceful protests and attended a rally in honor of Castile, on Sunday condemned the violence against police as "shameful." 
"It doesn't honor anyone's memory ... including Philando Castile's," Coleman said. 
Until Saturday, St. Paul Police Chief Todd Axtell's department had previously arrested just one person for vandalism blocks from a protest at the governor's residence.
"This is the first time in my 28 years we have observed this level of violence toward our public servants," Axtell said. "It's really a disgrace."
Goldstein, who described himself as supportive of the police and friends with a lot of cops ― including Axtell ― said he was disappointed with how officers responded Saturday. 
"It's usually not good PR to fire on the people who support you," Goldstein said. "And they're going to dismiss it the next day as just protesters, and not doing anything to repair this relationship in the neighborhood." 
Several neighbors and onlookers who lingered walked up and down the police line. Several young men taunted cops and yelled, "F**k the police!" 
Michael Anderson, 55, a Minneapolis resident, said he's lost count of how many times the city's police "have called me n****r in the past 40 years."
But he admonished the men hurling insults at the cops as acting "ridiculous." 
"He ain't thinking with an adult mind," Anderson said of a young man walking by. 
Nearby, 42-year-old Larry Arman picked up empty bottles and discarded fliers as police stood by.
"Out of all of these guys, it's literally just three of them who f**k it up," Arman said, gesturing to the line of police. "Same thing with some of our people out here." 
Calling all HuffPost superfans!
Sign up for membership to become a founding member and help shape HuffPost's next chapter