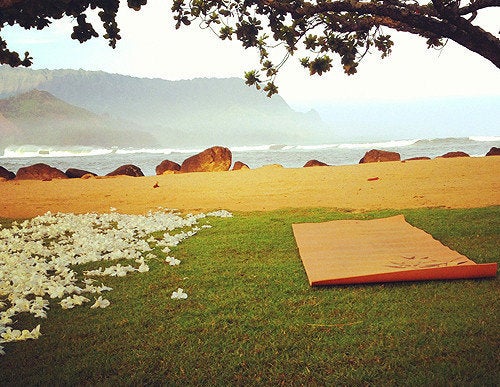 Just when you think it's safe to pack your bikini away, winter kicks short-term memory right in its gelatinous ass, and the beaches of Hawaii, L.A.'s far-western suburb, call.
When she calls, I don't pick up, I pack up.
I love the Garden Island of Kauai, where you can spend the morning basking in the sun on the southern beaches of Poipu, hike the North Shore's scarily steep Nā Pali coast and find the Jurassic Falls in time for a sunset that will make you believe in magic.
Each of Kauai's resorts has a unique flavor -- this trip I stayed at the St. Regis Princeville, largely regarded as Kauai's premier property. But sometimes, even the best dishes need a little seasoning.
The St. Regis is isolated. I glided along the two-mile driveway like a golf ball being driven along their adjacent fairway. I welcomed this separation from my mainland mommy for the next eight days, comforted by the hope that the St. Regis resort would be my rich travel baby daddy and provide everything I could want.
I had a wonderful time on Kauai. The St. Regis wasn't perfect, and having spoken with their wonderful GM, I believe they want to be, so I took a few notes.
Although I love getting lei'd at a resort, when the valet parker roughly slung the rope of local beads around my neck and took my bags, I thought, "Buy a guy a mai tai first."
After the abrupt valet greeting, I entered the property. I love their genteel, sit-at-a-desk style check-in process, rather than the standing-in-line type. Lines open the door for unwelcome news: my room is not ready; I have three months to live, etc.
From every room of the ideally located St. Regis, you witness the bully of a pink sunrise push the night sky up and out of the way, revealing a sparkling Hanalei Bay. You stare right into Puff the Magic Dragon's Eye, red from his perpetual high and the local, iron-rich dirt. The surfers and paddle boarders appear to be tiny ants on a log, conquering impossibly huge crashing waves.
Yoga is offered, sadly not daily, on a small patch of grass near the water. I shavasana'd next to a freshly laid orchid bridal aisle, leftover from one of the hourly weddings. I meditated on which was costlier: getting married at this five-star destination, or the statistically probable divorce.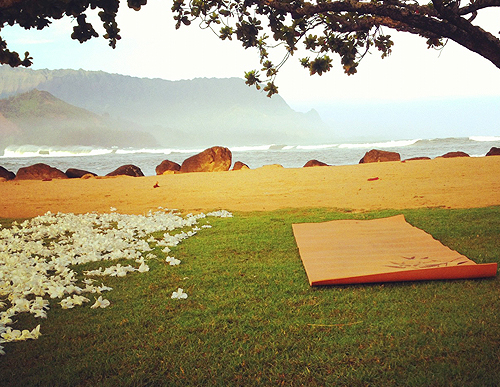 Waiting forever for my car at valet, I swear I heard the Eagles sing, "You can check in any time you want, but you can never leave." I smelled salt air mixed with a ploy to get me to spend all my time and money there. They need to step that whole process up, but they did keep me hydrated with an unending supply of water bottles.
I hope they reverse their eco-practices. I fear a new island being formed by the millions of empty complimentary St. Regis water bottles offered me at every turn. Newspapers, slung in a nylon bag, are unnecessarily hung on every door each morning, without request. In Hawaii, my news is that I am in Hawaii. The huge urns near each elevator are empty of famed Hawaiian tropical flower arrangements, echoing a more prosperous time. I would remove them and place stacks of newspapers in the space to remind those unaware that they are in Hawaii.
Slower business has dictated random hours for the two restaurants at the resort. I first visited the casual terrace where I excitedly tucked into the island's legendary ahi tuna poke. The limp fried wonton poke-ing out of the top was an appetite erection killer. I ordered the lobster omelet -- twice. It was tragically overcooked both times, so I felt worse than usual for busting up a mate-for-life lobster couple. And their caesar salad contained confusing tomatoes. I looked for the hidden camera as I ate them, grateful for the nutrition, but sure I was being punked.
The pricier Kauai Grill held more promise. Their menu was designed by the king of haute cuisine, Jean-Georges Vongerichten. Do not be misled by the interior décor -- it looks like a Denny's. Do be misled by their website that spells Zagat, Zaggat.
The stellar dish of the Grill's dining room is Leon Pellicer, their new maitre d'. He table-hops like Ann-Margret working a Vegas stage. He dragged the new young French chef out to meet me, who trained with Jean-Georges and took over the existing menu. I wanted to see how this new guy rolled, so I tried all of his specials. Inheriting a menu is like inheriting a cat when you already have two; you might love it, but love your own cat more.
You may think the spicily, crunchily yummy and inventive foie gras brûlée is cruel. True torture is the surfer waiters being forced to look longingly out the huge windows to the open, tempting sea. I am sure a few have quit mid-shift, diving off the balcony to hang ten.
First up was his respectful homage to Le Cirque's classic salmon tartare, translated here into tuna poke gently hovering over avocado as smooth as Nat King Cole's voice, under a brilliant shelter of local, hot pink radishes: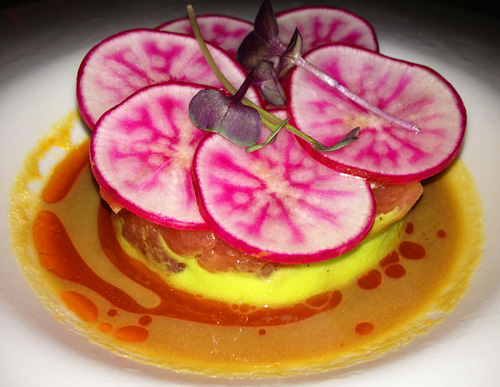 The chef's special was rib-eye steak cut in precise meat squares, stacked like fallen dominoes. Symmetry was never so delicious.
Other dining options include the lobby bar where they offer a free shut-the-eff-up sunset show every night, and some fairly tasty small plates -- the spiced chicken samosas had me at aloha.
Of course, you can eat in your room, but I urge you to only suffer the inconsistent room service vittles if you've been bitten by a shark and can't leave your bed.
All in all, the St Regis is a lovely horizontal ivory tower isolated on the tip of Princeville. I leave Kauai always wanting more. I only wish the St. Regis completed their hospitality profile like the Grill's chef completed his flavor profile.