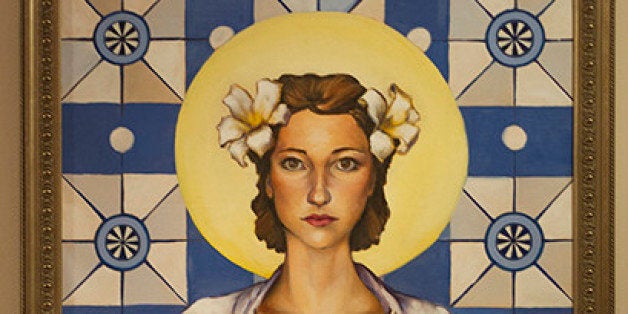 LATROBE, Pa. (RNS) The late Benedictine Brother Nathan Cochran may have lived as a monk. But he was no recluse.
As curator of a Catholic art exhibit, he wanted to showcase examples of religious art as interpreted by contemporary believers.
His fifth nationwide Juried Catholic Arts Exhibition, which hangs through Dec. 7 at a St. Vincent College gallery, does just that.
There are icons, paintings and sculptures in the Old World style, digitally enhanced photographs and contemporary art, including a cubism acrylic painting.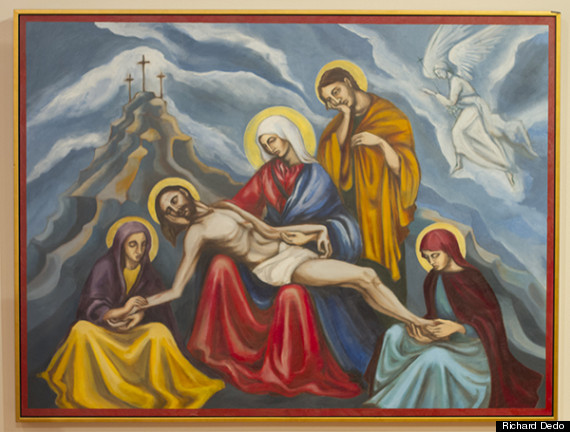 Oil painting, "Pieta," by Eileen Cunis of Campton, N.H. Photo by Richard Dedo

Cochran founded the exhibit in 2001 to lift up contemporary talent and give parishes near the liberal arts college, 35 miles southeast of Pittsburgh, alternatives to "cookie cutter art" from a catalog. He died unexpectedly in July while plans were underway for the show. He was 57.
The exhibit includes original pieces. Most are traditional, as is the first place winner, Neilson Carlin's classic "Temptation in the Wilderness," a portrait of an exhausted Christ.
Yet familiar scenes emerge with contemporary spin. In Eve Palguta's "The Seventh Sorrow," Mary lies crumpled on the ground, one bloody hand clutching at her heart and the other resting near the discarded crown of thorns.
The nailed hand of Jesus nearly touches the hand of the "good thief" in Russell O'Reilly's "Today You Will Be With Me In Paradise." In Jordan Hainsley's digital photo, St. Juan Diego stands against a faint map of Mexico.
Digital photographer Christopher Ruane used 100 images in "Rebuild My Church" (Honorable Mention), a scene of Pope Francis accepting Christ's call to rebuild the church, meant to evoke St. Francis who accepted the call to rebuild the crumbling church of his time. His "The Nativity" takes place on an urban street with a seedy "No Vacancy" hotel in the background.
The college and St. Vincent Archabbey house an impressive 4,000-piece permanent collection begun with pieces from King Ludwig I of Bavaria (1786-1868).
Art historian and BBC personality Sister Wendy Beckett, a juror in a previous exhibit, praised Cochran for encouraging today's artists to "share with us their understanding of what it means to be a Christian" and for carrying forward the vision of sacred stories told through the hands of contemporary artists.
BEFORE YOU GO
PHOTO GALLERY
The 5th Nationwide Juried Catholic Arts Exhibition at The Saint Vincent Gallery