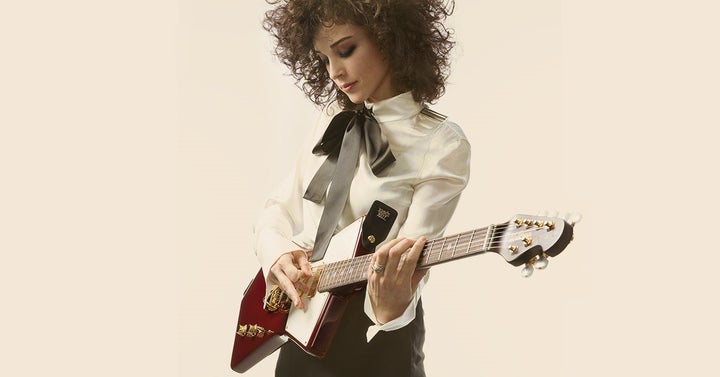 When Annie Clark, aka St. Vincent, announced the release of her guitar design collaboration with Ernie Ball manufacturers on Instagram in mid-2015, she described it as "a tool that would be ergonomic, lightweight, and sleek."
The angular aesthetic of her design is getting an update for 2017, with a new set of colors: Tobacco Burst, Heritage Red, Stealth Black and Polaris White — the latter of which she's nicknamed "the thin white duke," the same moniker given to David Bowie.
"Bowie's like air. People just need Bowie to live," she told The Huffington Post. Discussing her visual aims for the guitar, Clark continued, "I was going for a kind of retro-future aesthetic. I'm very fond of the Memphis school of design, and I'm fond of angularity in design. So I was going for that, rather than round shapes."
The guitar features an African mahogany body, with a hand-rubbed rosewood neck and St. Vincent inlays — the two intersecting circles that represent the "S" in her logo. 
She's seen photos of her Ernie Ball guitar in action. "One of my favorite guitar players — Omar [Rodríguez-López] from The Mars Volta and At the Drive-In — is playing a white one, left-handed. I couldn't say enough good things about his guitar playing. I'm thrilled that he likes it."
The instrument, Clark is clear, is an "equal-opportunity guitar," even if the press latched on to her comment in 2015 that the design left "room for a breast. Or two," hailing it as a boon for female guitarists. And while the design is lightweight and sleek, there's no gender attached to it.
"I was making a joke," she explained. "The guitar is equal-opportunity. It's a really comfortable guitar no matter your body size or shape, but including if you are small, or if you do have breasts — men have breasts."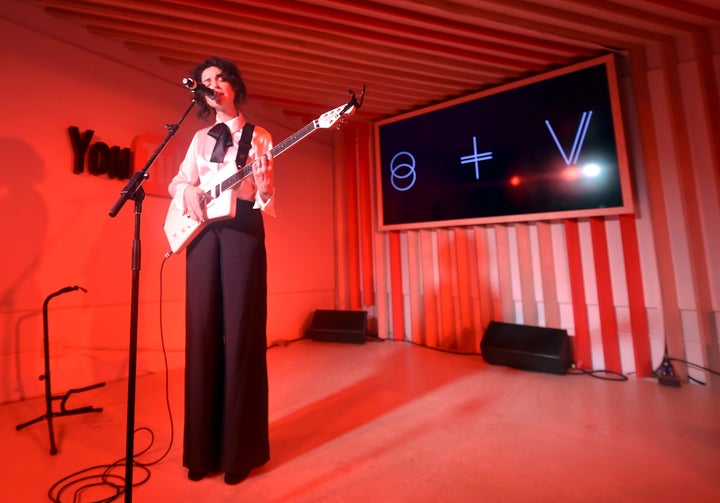 "It's an incredibly versatile guitar and I designed it with my own experience in mind," she later added. She explained that the instrument is meant to be versatile, "both tone-wise and ergonomically," for anyone who picks it up.
She brings up a fair point, on the heels of a press round for her directorial debut in the horror anthology "XX." Clark said she was asked about the experience of being a woman, specifically, in film — a line of questioning she's answered ad infinitum as a musician.
"I've spent a lot of time in my career side-stepping and unpacking the question of what's it like to be a woman in music," Clark said.
Later, she added, "I will say that no one has ever asked a guy in film or [music] what its like to be a guy in [film or] music. I think, personally, I would rather talk about the ins and outs and the specificity of the craft and ideas than spend any more time with this particular question."
In this case, she'd rather talk about her guitar — and the fact that it's accessible to a range of musicians.
"I think the idea is to make a great tool for artists and to make a great tool that is friendly to play whether you're just starting out or whether you've been playing for 30 years or more," Clark said.
And for those just starting out in the music world, Clark has this advice: "I just think it's really important to know all aspects of your craft ... Find out what you can about engineering, and learn about frequencies, and be able to be the engineer or speak to engineers live and in studio. And just make things that you like. Not things that you think other people might like, but things that you like. And things that matter to you."
Calling all HuffPost superfans!
Sign up for membership to become a founding member and help shape HuffPost's next chapter
BEFORE YOU GO