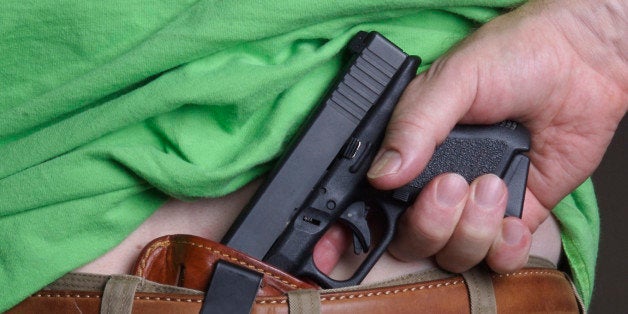 Florida's controversial "Stand Your Ground" law has provoked heated debates, protests, calls for state hearings -- and now a class at Florida Atlantic University.
The new course, taught by Broward County assistant public defender Frank de la Torre, was prompted by George Zimmerman's February 2012 fatal shooting of 17-year-old Trayvon Martin in Sanford and his subsequent trial and acquittal. The case, in which the mixed-race Zimmerman killed the black unarmed teen after a confrontation, also has fueled discussions about race.
The weekly three-hour elective class starts Tuesday night. As of Thursday morning, 56 students had signed up. The class will be capped at 75 students and is expected to fill up after the drop-add period ends next week, FAU spokeswoman Lisa Metcalf said.
Among the topics covered: the history of self-defense laws before and since Stand Your Ground, major cases involving the law, racial issues in the Zimmerman case and the pros and cons and future of the law. De la Torre said the class will include lectures, debates and discussions, guest speakers and video footage to cover the various aspects of the law.
Some students who have signed up are already debating the law and the Zimmerman case.
"I think it's a great law," said Marcela Florenco, 30, a criminal justice major from Boca Raton. "I believe in our criminal justice system, and I believe you should be able to defend your ground."
Others like Shiva Mahabir, 27 of Coral Springs, say Zimmerman misused the law.
"To me it was more of a careless man taking the life of an African-American teen," he said. "I am still shocked he was found not guilty."
Passed in 2005, the "Stand Your Ground" statute allows people to use lethal force without having to retreat if they feel like their life is in jeopardy. While Zimmerman waived his right to use the law in a pre-trial hearing, it was still a major factor in his acquittal of second-degree murder charges, de la Torre said.
FAU officials said they saw a need for the course after the Zimmerman case created so much publicity.
De la Torre said he isn't aware of any other schools offering a similar course, Several major schools --including Florida International University, the University of Miami and the University of Florida -- said they don't have anything similar. At Lynn University in Boca Raton, criminal justice professor Sindee Kerker plans to spend about a week on the topic in a criminal justice class.
FAU officials said they asked de la Torre to teach the class since he's a popular adjunct professor who has trained law enforcement officers and lawyers about the state's Stand Your Ground statute.
"I think it's going to be a great class," de la Torre said. "People want to learn more about the law of self-defense and what's going on in Florida right now. When it comes to the statute, it seems to be something you're for or against. There's not a gray area."
De la Torre has used the Stand Your Ground as a defense lawyer in six cases, half of which he won.
"As a citizen, somebody living in Florida, I don't like the [Stand Your Ground] law," he said. "But as a defense lawyer, I love it."
stravis@tribune.com, 561-243-6637 or 954-425-1421 ___
(c)2013 the Sun Sentinel (Fort Lauderdale, Fla.)
Distributed by MCT Information Services
REAL LIFE. REAL NEWS. REAL VOICES.
Help us tell more of the stories that matter from voices that too often remain unheard.
BEFORE YOU GO
PHOTO GALLERY
Florida's Shocking Stand Your Ground Acquittals