Stacey Abrams won the Democratic nomination for governor of Georgia on Tuesday, delivering a victory for the national liberal groups and elected officials who backed her historic bid.
If elected in November, the 44-year-old Abrams would be Georgia's first woman governor and the nation's first black woman at the helm of a state. She previously served 10 years in the Georgia House, and for much of that time was her party's leader in the chamber.
Her primary win reflects the increasingly diverse makeup of the state's Democratic voters, as well as the party's turn toward a more base-centric strategy.
The landmark nature of her candidacy attracted a surge of national attention and resources that helped her clinch the nomination, according to Kerwin Swint, a Georgia politics expert at Kennesaw State University.
Her nomination "energizes the Democratic Party in Georgia to a large degree," Swint said.
Abrams defeated former state Rep. Stacey Evans, 40, who ran as a champion of the HOPE scholarship ― a greatly-diminished free public college program from which she benefited.
In the general election, Abrams will face either Lt. Gov. Casey Cagle or Secretary of State Brian Kemp. Cagle and Kemp were the top two vote-getters, but neither won an outright majority, so they proceed to a July 24 runoff.
A key premise of Abrams' bid is that in Georgia the Democratic Party no longer needs to cater to moderate white "swing" voters in the state's suburban and rural areas who have increasingly migrated to the GOP since the 1990s.
It's a strategy promoted by Californian Steve Phillips, author of Brown is the New White, which argues that Democrats can win with the help of a "new American majority" ― progressive whites, Latinos, Asian Americans and black voters, especially black women.
Seeing a prime opportunity to vindicate his theory, Phillips, whose wife Susan Sandler is heir to a mortgage banking fortune, has boosted Abrams' bid both with his checkbook and his platform. PowerPAC Georgia, which is associated with Phillips' nonprofit Democracy in Color, spent $1.5 million on Abrams' behalf.
That money supplemented Abrams' own considerable campaign haul of $3 million.
Abrams also benefited from an all-out bombardment of support from major progressive groups, including Democracy for America, the Working Families Party, MoveOn, NARAL Pro-Choice America and EMILY's List.
Sens. Kamala Harris (D-Calif.) and Cory Booker (D-N.J.) campaigned for her on the stump, and both Hillary Clinton and her 2016 presidential primary rival, Sen. Bernie Sanders (I-Vt.), endorsed Abrams' bid.
Abrams also enjoyed the support of nearly every labor union in Georgia, three of its four Democratic U.S. House members and almost every civil rights leader in the state.
She has run on protecting voting rights, expanding Medicaid using Affordable Care Act funds, raising the minimum wage, eliminating cash bail and allocating more needs-based college aid, among other liberal priorities.
But Abrams will need all the help she can get in a state that has not elected a Democrat as governor since 1998. And Republicans do not lack for ammunition to use against her.
For example, they are likely to seize on Abrams having more than $200,000 in personal debt, including $50,000 in back taxes owed to the IRS.
"Georgia is turning purple but it is still a red state and I think she would do very poorly outside metro Atlanta," Swint said.
"It really depends on how big the blue wave is this year," he added. "If it's a tidal wave it could help her chances. If it's a ripple, probably not."
This story has been updated to include information about Abrams' possible general election opponents.
Before You Go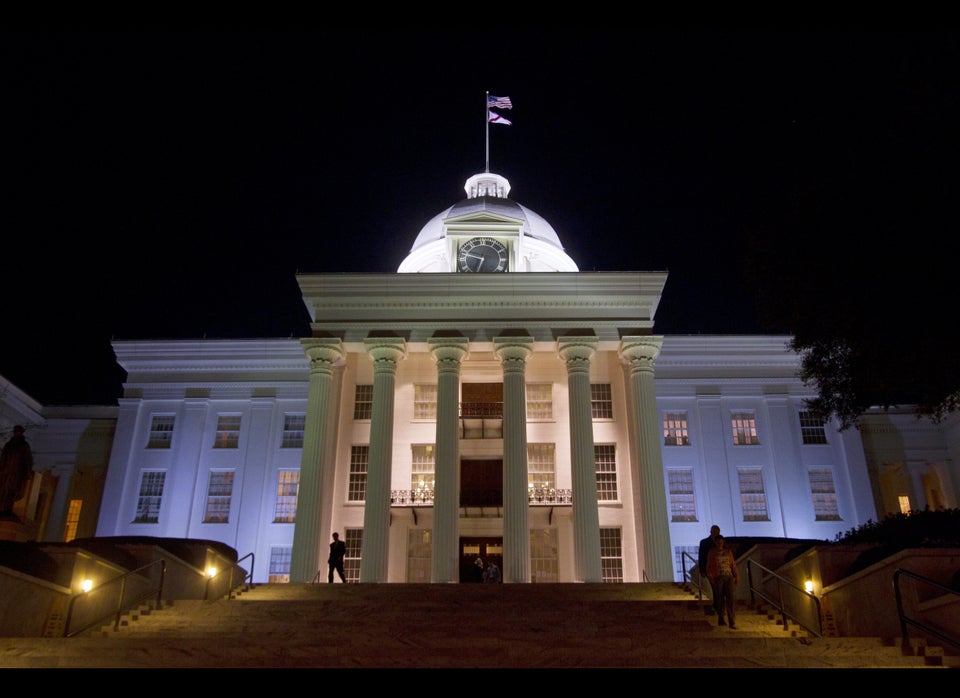 U.S. State Capitol Buildings
Popular in the Community