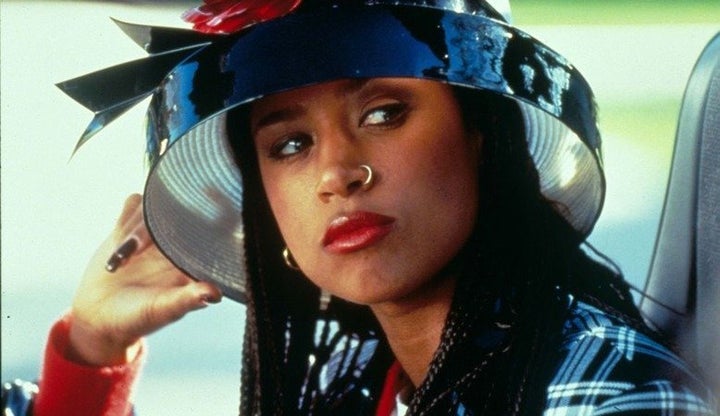 The moment we are first introduced to Dionne in "Clueless" -- she bounces out of her gorgeous mansion rocking braids and a ridiculously huge church-auntie hat -- I instantly fell in love. Later in the movie, when Amber says she can't play games where "balls fly at my nose," and Dionne responds, "Well, there goes your social life," I became obsessed. Witty one-liners, beauty, killer fashion sense, and she was a black girl? Heaven.
This month marks the 20th anniversary of "Clueless," Amy Heckerling's movie adaptation that took Jane Austen's Emma and turned it into the quintessential '90s teen rom-com. The film's fashion, soundtrack, and catchphrases ("As if!") are now iconic, and, for better or worse, forever associated with the young cast of mostly unknowns who brought them to life.
Whenever an anniversary of a movie like this one comes up nostalgia descends, and with it an inevitable question: "Where are they now?" There have been countless reunions and roundups on the stars of "Clueless"-- we know that Alicia Silverstone (Cher) has gone on to do guest stints on shows like "Suburgatory," started a lifestyle blog, and raised eyebrows by feeding her 11-month old son chewed up food back in 2012.
Other cast members, like Paul Rudd (Josh) and the late Brittany Murphy (Tai), went on to Hollywood stardom, or became the leads in cult TV shows, like Donald Faison (Murray) in "Scrubs."
And then, there is Stacey Dash.
Dash played Cher's best friend Dionne in "Clueless." Dionne is, arguably, one of the most iconic black teen characters of all time. With her box braids, beanie, and coordinated plaid mini-skirt, she stood out in the sea of white faces that made up the pantheon of teen movie characters. She was the "best friend," but she wasn't a sidekick. She was a rich girl at a predominantly white school, but her blackness wasn't completely erased. And in her loving but often volatile relationship with boyfriend Murray, she was given complete autonomy -- allowed to be sexual without being a "slut," while still asserting herself with lines like, "Murray, I have asked you repeatedly not to call me 'woman!'"
Since 1995, she reprised the role of Dionne on the "Clueless" television series, and more recently was the star of the short-lived VH1 soap "Single Ladies." But it's not her work on screen, but her work as a pundit that's kept her relatively relevant in the last few years.
Perhaps most heartbreaking in her long list of questionable political stances has been her commentary on women's issues. In February 2015, Dash made a series of comments on Fox News that she later described as a "joke," in a discussion about rape on college campuses.
She said, "I think it's a good thing for the good girls to be told: 'stay home, be safe'. The other bad girls -- bad women -- are the ones who like to be naughty, might go out and play and get hurt and then, you know..."
"I feel like it's an excuse. It's the same thing with race. It's an excuse. Stop making excuses," Dash said. "If there are opportunities, seize them and be prepared for them, and be the best, if that's what it takes. If you have to be extraordinary, then be extraordinary... I will not be a victim."
How does one reconcile Dash and her politics, especially concerning race and women, with the iconic role and movie she's best known for?
Obviously, and logically, Dash and Dionne are decades and worlds apart. Actors are not the characters they play, and they're entitled to do and say whatever they want to in their real lives. And yet. There's something especially difficult to swallow about Dionne/Dash that's different than the shock of Cher Horrowitz growing up to feed her baby like a mama bird.
On any given Halloween you'll find at least one black girl wearing box braids and a plaid skirt in homage to Dionne and, in a sense, to Stacey Dash's amazing portrayal of her. It's unfortunate that Dash's politics seem in opposition to everything "Clueless" and her character stood for, but is it possible for an actor to ruin a film? Can the things someone says and does off screen impact the way you feel about the character they once portrayed?
With every year that goes by, "Clueless" changes as a cultural artifact. It changes in its relationship to those who first watched it back in 1995, and those who may just be discovering it today. Jokes that went over our heads at age 7 suddenly make sense at 17 and trigger nostalgia at 27, while feminist themes of female friendship and empowerment have become more significant. For better or worse, Dash's "Clueless" role and her role as pundit, have added to that ongoing evolution.
At the end of the day, while one may feel a twinge of disappointment every time Dash says something awful in the media relating to race or gender (or even "Clueless" -- she says she never watches the movie to this day), it doesn't take away from the impact her character had on teen movie history. Dionne remains empowered, intelligent and flawless. (Plus, she would never skin a collie to make her backpack.) That, at the very least, has to count for something.
Also on The Huffington Post: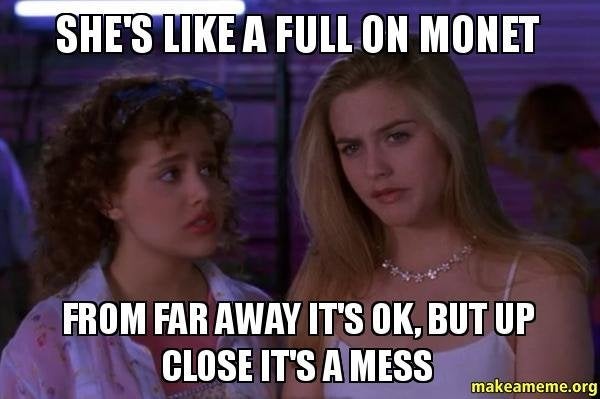 Clueless Gems Of Wisdom
Popular in the Community