For the past two years, photographer, law professor and mom of three Stacey Steinberg has offered free photography sessions to families facing "devastating medical circumstances" like pediatric cancer, birth injuries, and congenital defects.
Steinberg has worked as a domestic violence prosecutor and child welfare attorney in the past and told The Huffington Post that, "Every day, [she] saw children and families hurting, but even in the darkest moments, these parents and children still experienced love." That's why Steinberg was inspired "to help suffering families see that despite the pain, there was still beauty and joy in their lives."
As a law professor at the University of Florida, home to the world renowned UF Health Shands Children's Hospital, Steinberg decided to offer her photography services to the families seeking treatment there. After meeting a patient's mom at the playground and photographing her young son, the photographer received messages from other families at the hospital interested in her work and soon developed a powerful network of parents, pediatricians, and social workers. "The project took on a life of its own," Steinberg said.
The photographer compiled the images she captured into a series she calls "The Shared Hope Project." "These children are in so much pain during the treatment, but they show such resilience and strength," she said, recalling two special patients she photographed together. Nine-year-old Lauren was at the hospital fighting osteosarcoma, which caused her to lose a large portion of her leg. "When I visited her, she was in so much pain from her medications that she couldn't even talk or smile," Steinberg said.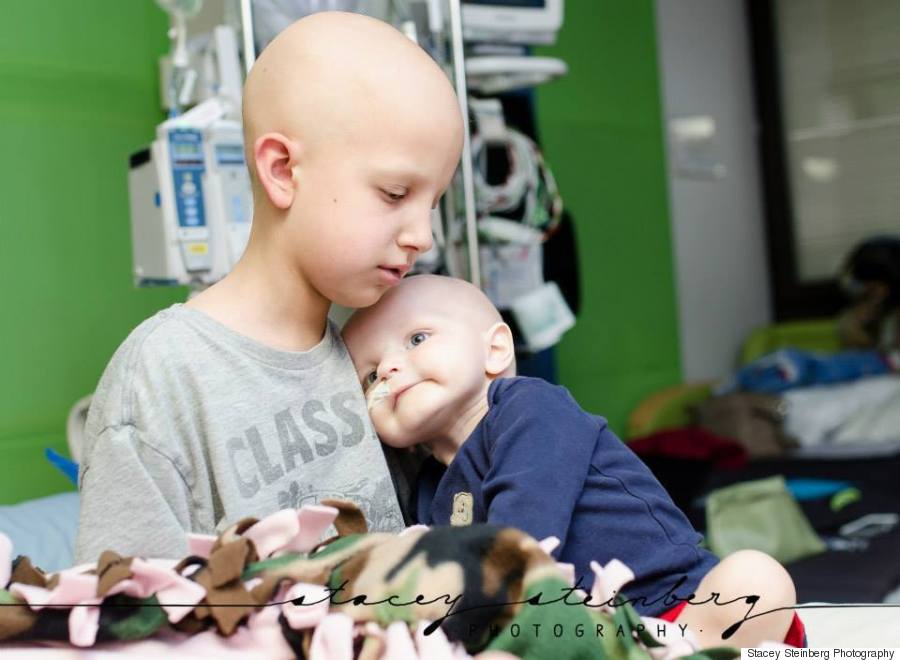 Lauren and her friend Grayson
But Lauren put on an extra brave face when Grayson, her toddler friend from church, stopped by her room. The little boy was being treated for leukemia across the hall. "With every ounce of her being, Lauren sat up and comforted her young friend," the photographer said. "It was like they had a language all their own. Even though she was suffering through awful pain, she found the strength to be there for Grayson."
Steinberg also likes to highlight the many "heroes" working with the children at UF Health Shands Hospital -- like a physical therapist named Whitney who works with UF's pediatric oncology patients. When Whitney isn't at the hospital for work, she's often there with her son Avery, who requires frequent hospitalizations and invasive treatments due to his chronic immune deficiency.
"I want the viewers [of my work] to see that even when our hearts are breaking, even when we are surrounded by suffering, we can choose to see that hope and love are also present," she said.
Steinberg hopes her work inspires others to find joy in helping others. "We all have gifts we can offer our communities," she said, adding, "Photographing these children gives me a chance to marvel at the beauty of hope, healing, life, and love."
Keep scrolling and visit Stacey Steinberg's website and Facebook page to see "The Shared Hope Project."