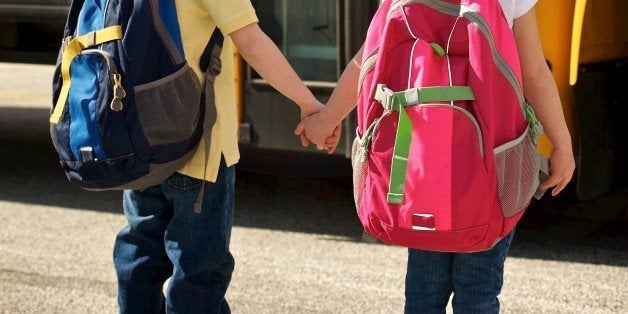 "My son is a bit of a handful, and I'm afraid he might have a repeat of the ongoing struggle we had with his teachers last year...""My eleven-year old is dreading the move to middle school, insisting she wants to stay in grade school forever...," "How can we make sure our kids have a good start at school?"
As a family therapist, these are the questions I'm hearing on an almost daily basis, as parents realize that the lazy days of summer are winding down, and it's time to start thinking about how to help children make the transition back to school as gently and painlessly as possible.
One of the strongest factors in determining a child's success and enjoyment of school is the connection they have with their teacher or teachers. If at all possible, I recommend that parents of timid children do whatever they can to visit school before it begins and stop by to say "Hi" to their new teacher and get a bit oriented to the new classroom.
Share a few things about your child with their new teacher so they can begin to forge a special connection; email can be a way to do this if you can't have an in-person visit. And ask the teacher to tell you a few things about him or herself, looking for interests your child and her new teacher might have in common to begin to build a connection between them. "Look at this! Ms. Johnson loves horses, too!"
This sort of approach can even be used with middle schoolers. As soon as you get the line up of your child's teachers, send a one-line email to them, introducing yourself and sharing something unique about your son or daughter that can equip them with a way to begin developing a positive and friendly relationship with your youngster.
If you have a child who had a tough year last year, and you're hoping for a fresh start? Set up a brief appointment with your child's teacher(s) within the first few weeks of school to get a better sense of their teaching style and expectations. Don't wait for a problem to surface. Speak honestly about where you think problems started developing last year, and ask the teacher to collaborate with you so that together you can help your child avoid behaviors that in retrospect were a sign that things were heading off course.
Children are wired to resist being bossed around outside of connection, and to follow and cooperate with those that they feel attached to and liked by. By being proactive, you can help your child and their teachers build a solid, caring relationship that will help them both enjoy each other throughout the school year.
Do you have a question for the Parent Coach? Send it to askparentcoach@gmail.com and you could be featured in an upcoming blog post.