Today's Huffington Post Gay Voices RaiseAChild.US "Let Love Define Family™" series spotlights the Tatom-Scharer family, who moved from South Carolina to California before beginning their foster-adoption journey with Penny Lane.
"Everyone should invite a foster child into their home at some point in their life just to see through a child's eyes how much a smile or hug can do for them," declared Stacy Tatom-Scharer, 42, of Palmdale.
That statement is even more powerful considering the fact that Stacy and her wife Holly, 35, have had to say goodbye to two of the five children who have been placed in their home.
It's true that, like all methods of building a family, adoption from foster care comes with its own set of risks. Loving and then losing the foster children who have been placed in your home is one of the biggest fears of prospective parents. And yet, when the needs of the children are put first, many foster parents say that the joy of making a difference in a child's life for any amount of time is rewarding in and of itself.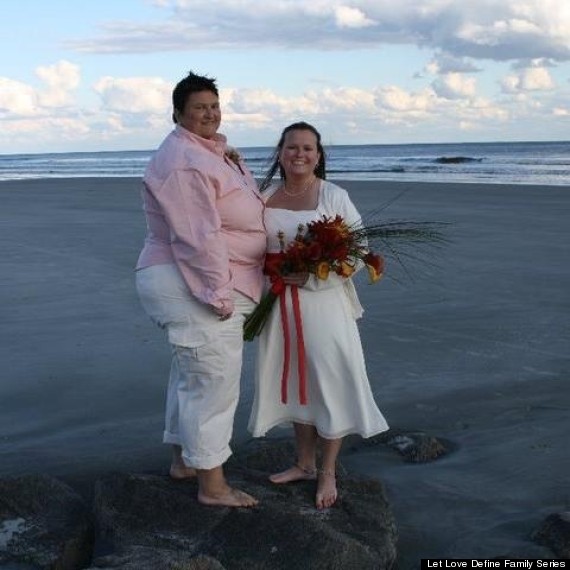 "The best thing about being a parent to me is being able to celebrate life and give love to another human being," said Stacy, "and the joy it brings to my heart to see them smile and the laughter they bring to my soul."
Holly couldn't agree more. "For me, the best thing is to see how much love can do for a human being. Even though it can be challenging, it is very rewarding to be able to take in a fragile child coming from unfortunate circumstances and give them a chance at life."
The first child placed with the Tatom-Scharers was reunified with a biological relative. Another child placed with them was removed from their home when, in an unusual case, the courts sided with the biological family who objected to their sexual orientation.
Despite the grief of losing these two children, the couple still has a full house with one infant, one toddler and one teenager. Stacy and Holly are hoping they will soon be able to finalize the adoption of Anastasia, now two years old. They are also fostering two children at the both ends of the age spectrum: eight-month-old James and 18-year-old Monique.
James, who they may also be able to adopt, arrived at their home when he was only seven days old. Anastasia came at 15 months old with multiple challenges.
Teenager Monique arrived at their home on a temporary basis when the Tatom-Scharers provided respite care for another foster family. After she left, the couple continued to provide support to Monique as mentors in the Los Angeles LGBT Center's federally-funded RISE initiative, which helps foster kids find stable, loving homes. When circumstances required that Monique move from her foster placement nearly a year ago, Stacy and Holly were happy to welcome her back. With their support, Monique worked so hard to improve her grades and catch up in school that she is now on schedule to graduate next May. She will also graduate from the Los Angeles Sheriff's Department Explorer Training Academy in January and begin volunteering at her new post.
"It was hard not knowing if we were going to be able to keep the child that came into our lives or if they would be reunited with a family member," recalled Stacy, who works as a manager at an aerospace distribution company. "Eventually we grew to look at it in a very different way. More than just us wanting to build our family, we knew that these children needed a safe, loving place to call home. Once we were able to look at our path in that manner, it made life a lot more bearable and helped us open our hearts and minds."
Holly and Stacy are grateful for the strong support from their family and friends. Their enthusiasm for building their family through the foster care system has influenced other family members to pursue the same path.
Corinne Lightweaver is the Communications Manager at RaiseAChild.US, a national organization headquartered in Hollywood, California that encourages the LGBT community to build families through fostering and adopting to serve the needs of the 400,000 children in the U.S. foster care system. Since 2011, RaiseAChild.US has run media campaigns and events to educate prospective parents and the public, and has engaged more than 2,500 prospective parents. For information about how you can become a foster or fost/adopt parent, visit www.RaiseAChild.US.
Calling all HuffPost superfans!
Sign up for membership to become a founding member and help shape HuffPost's next chapter