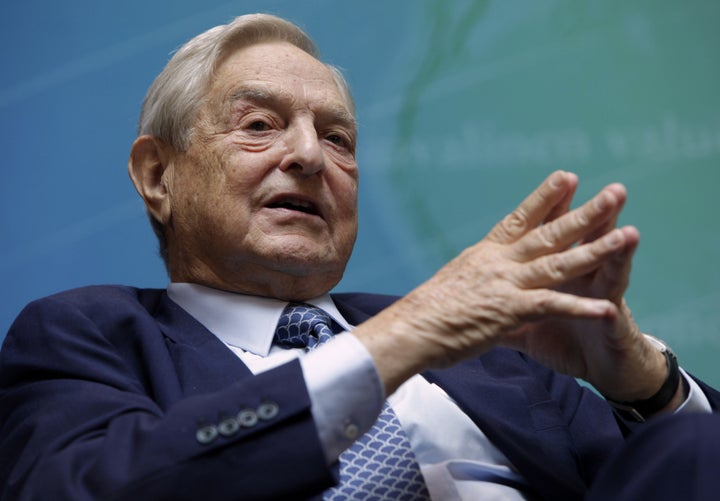 The stated goal of the Open Society Foundations is to foster human rights and civil society around the world. So it's only appropriate that the George Soros-funded grantmaking network is bringing some democracy to its own workplace, in the form of a union contract for its workers.
Staffers at the New York-based foundation last week ratified their first collective bargaining agreement, making salaries and work responsibilities more transparent and giving employees a new measure of job security. Despite the liberal policy leanings of some other private foundations, OSF appears to be the first in the U.S. whose workforce has union representation.
"It was kind of intuitive to form a union, since we support unions," said Chris Thomas, a 28-year-old legal assistant based in New York who was active in the organizing campaign. "There was a huge desire to have some sort of commitment to internal equity."
Plenty of left-leaning, non-profit advocacy groups such as the ACLU and Human Rights Watch are union shops, but the world of big-time private philanthropy is pretty much union-free, like the vast majority of the private sector in general. It remains to be seen whether workers at other powerful grant machines like the Ford Foundation follow in the footsteps of OSF and seek a union.
In response, the foundation's management did not wage the sort of anti-union campaign favored by many U.S. employers. It took around a year and a half for an agreement on the terms of a collective bargaining agreement, which is not out of the ordinary for a first contract.
There likely would have been a scandal had management balked at the unionization, considering the institution's progressive agenda and the liberal reputation of its billionaire founder. Funded by Soros' fortune made as a hedge fund manager, OSF is known for pouring money into human rights campaigns abroad, and into immigration, criminal justice and other reform efforts at home. The organization had a 2017 budget of nearly a billion dollars.
"Unions and non-profits and private foundations have an opportunity that they shouldn't shy away from."
OSF's president, Patrick Gaspard, doesn't seem too worried about that. Before joining the foundation last year, Gaspard spent much of his career in the labor movement, serving as a union organizer in New York and later as vice president and political director at the powerful Service Employees International Union, which now represents roughly two million workers.
In an email, Gaspard said OSF "has broken ground with this agreement" and was "proud to have led the way among foundations" by having a union contract.
"Round the world we stand with people working to access their rights," Gaspard said. "This agreement is in keeping with our philosophy. In essence, to practice what we preach. I'm convinced that with this agreement we've emerged a strong, more unified organization."
With their contract, OSF set minimum hiring salaries and across-the-board wage increases for the three years covered by the accord. They also locked in compensatory time off for extra work done, assured that promotions come with raises, and made clear who's eligible for employer-paid cell phones, among other economic matters.
But Kevin Hirano, a fundraiser based in Baltimore, said even more important than compensation was achieving more transparency and fairness. The contract requires the foundation to clarify employees' job responsibilities, while also setting up a labor-management committee and a grievance procedure, all of which Hirano said adds up to a larger seat at the table for employees.
"It took some convincing that we weren't here to gouge anyone. We're all here to make this organization better and make the world better," he said. "I think unions and non-profits and private foundations have an opportunity that they shouldn't shy away from."
As for institutional "nimbleness," employees did want to restrict some of that ― namely, the ability of the foundation to fire people for no good reason. Workers without contracts are generally at the employer's mercy. OSF employees wanted to make sure that no one could be fired without first being put on notice about their job performance and given a chance to improve.
Thomas said the overall idea fueling the unionization was to commit the organization internally to values it claimed to uphold outside.
"It was taking a lot of the things we aspire to, and to have the inside be more reflective of that," he said. "And that's hard. It can be difficult to live up to your own standards."
Support HuffPost
The Stakes Have Never Been Higher
Popular in the Community