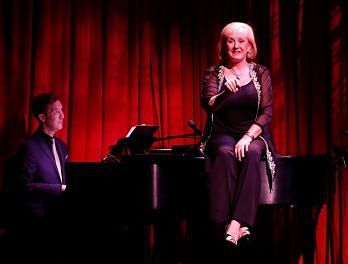 It is a rare performer who can produce sharp, piercing satire and deliver heartbreaking songs with élan. Happily, such versatility is Dillie Keane's calling card.
Leader of the acclaimed troupe Fascinating Aida, Keane is seducing audiences in her solo show Hello, Dillie!, now at 59E59 Theaters.
Part of the Brits Off Broadway fest, she delivers her funny, wry, rueful reflections in a series of songs -- some hilarious, such as "Shattered Illusions" and "This Ain't the Hokey Pokey."
Other numbers navigate regret with laser-like precision, like the woeful "Little Shadows," an insightful take on a childless couple: "Little Shadows, hidden grief / Silent as a withered leaf / Little faces never kissed / Much imagined, sorely missed."
The beauty of the show is twofold: Keane has real charisma on stage, and audiences easily warm to her accessibility and charm. But what makes this run so memorable is her ability to transform elements of her own life into universal truths.
Many cabaret performers polish themselves to perfection, but they remain at a distance.
Here, Hello, Dillie! explores relationships, infidelity and the complexities of love with candor; this is music as memoir. ("So it's one more campaign boys/ For this old soldier in the field of love/ Now my standard and pennant I proudly reveal/ At the alter of Eros I've chosen to kneel.")
One moment you're wiping away tears, the next you're doubled over with laughter.
A less-is-more talent, she only needs to raise an eyebrow, add a lilt or even a growl to her voice to supply comic gold. And as Fascinating Aida fans know, Keane has sustained that consistency throughout her career. (She's ably assisted on piano by Michael Roulston and co-writer Adele Anderson.)
Indeed, Patti Lupone and Bette Midler have sung her songs; she has been nominated for Olivier and Drama Desk Awards. Satire is her specialty.
Hello, Dillie! is different. It's personal -- an intimate appraisal of the human condition: the tragic to the sublime. New songs blend seamlessly with old favorites. Hope, fear and loss -- Keane faces them with grit and grace.
For those who demand a sophisticated understanding of the heart, coupled with a healthy dollop of world-weary cynicism, Keane's latest act is just the ticket.
Hello, Dillie! goes down a treat. You won't want to say goodbye.
Calling all HuffPost superfans!
Sign up for membership to become a founding member and help shape HuffPost's next chapter