Shakespeare was right: "The course of true love never did run smooth." But in the Public Theater's version of A Midsummer Night's Dream at the Delacorte in Central Park, its difficulties are staged to comic perfection.
Arguably, it is the Bard's most accessible and enchanting play. Especially since most of the action happens at night in a glade, under the watchful eyes of Oberon, the fairy king (Richard Poe), and the mischievous Puck (Kristine Nielsen).
After all, how often would actor/weaver Nick Bottom (a wonderful Danny Burstein), transformed into a donkey, be courted by Titania, the fairy queen (Phylicia Rashad)? Talk about breaking boundaries.
Class distinctions aside, the confusing and magical elements of the tale reinforce the tribulations of young love. Hermia (Shalita Grant) and Lysander (Kyle Beltran) hope to wed, but her father prefers Demetrius (Alex Hernandez). He, of course, is the object of desire for Helena (a standout Annaleigh Ashford).
But what happens when love potions twist allegiances? Or a group of Athenian actors (the mechanicals) rehearse a play with all the hilarious miscues of bad community theater?
Fantasy and reality blur. Comedy chaos reigns. Yet Shakespeare's focus on the tribulations of love and marriage has a darker side. It chronicles the pettiness and cruelty of disinterested partners, as well as the power dynamics that presume female subordination within patriarchal institutions.
Under Lear deBessonet's superb direction, the mood is kept light and hilarity reigns. Modern expressions and deliveries heighten the entertainment, as does the physical comedy, especially from Ashford, who can elicit laughter from a facial expression or intonation.
The cast is uniformly excellent; Jeff Hiller mines the comic elements of Thisbe to great effect. Clint Ramos' costume design is often eye-popping, while Tyler Micoleau's lighting sets the right mood.
"Lord, what fools these mortals be!" Puck may wonder at the folly of humanity, but Shakespeare wisely turned it into art. The Public's Midsummer is crackling with humor. Credit first-rate acting and electric staging for a glorious night under the stars.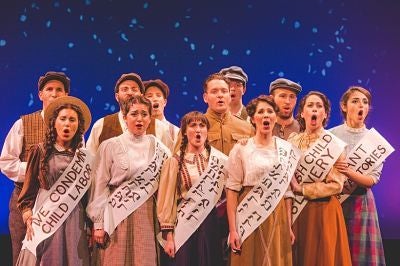 Another musical, farther downtown at the Museum of Jewish Heritage, is also worthy of attention. The National Yiddish Theatre Folksbiene's remarkable Amerike, The Golden Land is so popular, it's extending its runs.
The lively, hugely moving work is an economical, but poignant 90 minutes. It focuses on the migration of Russian and Eastern European Jews to America, specifically New York. Their journey was arduous, and admission was not assured.
Once here, they faced anti-Semitism, sweatshops and crowded tenements. No one welcomed the immigrants or "greenhorns." They were sources of cheap labor, toiling in hideous conditions without decent pay, health care or representation.
The musical, a series of legendary Yiddish songs, neatly navigates the Jews' journey from arrival, at the turn of the 20th century, through the Depression to a post-Holocaust America. En route, family, work, unions, Yiddish theater and the once-popular WEVD radio station get their due.
The klezmer-infused score (with English supertitles) addresses political, economic and religious realities. From "Lozt Arayn" (Let Them In) to "Ballad of the Triangle Fire" to "Uptown, Downtown," with words by the famous Boris Thomashefsky, the Jewish migration from the Lower East Side to the boroughs is as heartfelt as it is historic.
Written by Moishe Rosenfield and Zalmen Mlotek, this essential revival is lean and smartly paced. While it has a nostalgic element, it is never maudlin. This is reality tinged with hope. The ensemble is super-talented, all terrific singers, dancers and actors. The leading players, Glenn Seven Allen, Alexandra Frohlinger, Jessica Rose Futran, Daniel Kahn, Dani Marcus, Stephanie Lynne Mason, David Perlman and Christopher Tefft, create a memorable night in the theater.
Yael Lubetzky's lighting, Izzy Fields costumers, Jason Lee Courson's set/projection design and a great seven-piece orchestra ably assist the cast. Together, they recreate a pre-war America that pulls no punches.
Indeed, the overarching message — the need to allow immigrants to America — is relevant in any age, per the lyric: "So long live America and may the golden land, always be a haven to those who need a hand." There must be a sanctuary where those who hunger for freedom can find refuge.
Given the current political climate, a little musical education would not go amiss. America, The Golden Land should be required viewing for the White House.
Calling all HuffPost superfans!
Sign up for membership to become a founding member and help shape HuffPost's next chapter
This post was published on the now-closed HuffPost Contributor platform. Contributors control their own work and posted freely to our site. If you need to flag this entry as abusive,
send us an email
.