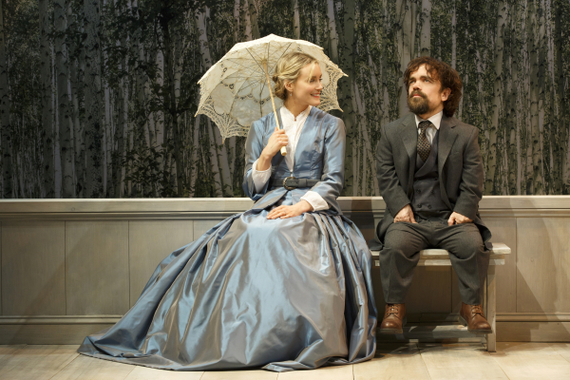 Chekhov, like Flaubert, was a fan of Ivan Turgenev, a 19th-century Russian writer whose short stories about the feudal system first put him on the literary map. He was keen on the psychological life of his characters, especially evident in the often-performed A Month In The Country, now off-Broadway at CSC.
The play, set in the 1840s, addresses jealousy, youth and the vagaries of love. "The heart of another is a dark forest," muses Rakitin (Peter Dinklage), the best friend of Natalya and her husband Arkady (Anthony Edwards), a rich landowner.
Yet Rakitin is besotted with Natalya. Both members of a decaying upper class, they fixate on their own emotions. In particular, Natalya (a nuanced Taylor Schilling), is a beautiful but bored wife. That is, until she develops a passion for Aleksey (Mike Faist), her son's 21-year-old tutor, who is spending a month in the country with the family.
However, Natalya fears her teenage ward Vera (a wonderful Megan West) is also taken with the him -- and as Turgenev makes clear, the repercussions of desire are unforeseen and often destructive.
Indeed, the play dissects the infinite variety in love: Dr. Shpigelsky (Thomas Jay Ryan) proposes a mature connection with Lizaveta (Annabella Sciorra), while the servants Matvei (James Joseph O'Neil) and the much-younger Katya (Elizabeth Ramos), more primal in their desire, appear the happiest.
Such studies in class distinctions were Turgenev's strong suit.
The machinations and assumptions about love affairs and rivalries are played out against a backdrop of a Russia in the embryonic stages of transition. The translation by John Christopher Jones relies on modern vernacular to make it more accessible, while Mark Wendland's clean, minimalist set design is in stark contrast to the messy emotional turmoil on stage, allowing the audience to concentrate on the story.
Director Erica Schmidt keeps the pace brisk and elicits good performances from her cast. Actors often speak directly to the audience, making the production more intimate. Of special note are the scenes between West and Faist, who embody all the openness and anxiety of youth.
The heartache of love, whether unrequited or misconstrued, takes residence in A Month in the Country.
REAL LIFE. REAL NEWS. REAL VOICES.
Help us tell more of the stories that matter from voices that too often remain unheard.