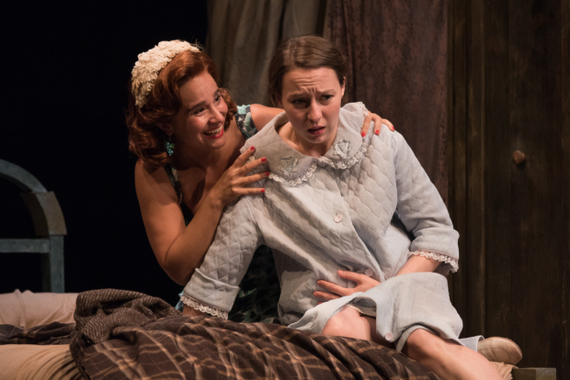 "It's not the darkness outside I'm frightened of, it's the darkness inside I don't like." So says Jo, a 17-year-old from a grimy North England city. She lives with her alcoholic mother Helen, whose good-time-girl ways with men pay enough for a nasty one-room flat.

A Taste of Honey, Shelagh Delaney's 1958 play about a teen who gets pregnant by a black sailor and lodges with a gay man was an immediate hit, loved by critics and audiences alike for its kitchen-sink realism.

Instead of another upper-class drawing room effort, Delaney provided an intimate look at a troubled mother-daughter relationship. In the original production's program, Delaney was described as "the antithesis of London's 'angry young men.' She knows what she is angry about."

That specificity makes for quiet, compelling theater -- all the more remarkable because Delaney was 18.
Now revived off-Broadway at the Pearl Theater, the story of lonely Jo (Rebekah Brockman) and her flighty, man-hungry mother Helen (Rachel Botchan) is a sad portrait of working-class life. Despite her slatternly ways, Helen, eager to run off with her latest partner (Bradford Cover), has hidden maternal instincts. She's fearful Jo will repeat her mistakes.
Yet it's Geoff ( John Evans Reese), her gay friend, who gently gives Jo the attention she's been denied and secretly desires. Delaney up-ends social expectation, while creating a portrait of two women desperate to be heard.

The production is long overdue, though Botchan is initially too perky, before settling nicely into the role. But Brockman is pitch-perfect as Jo, capturing her anger, vulnerability and spirit. And her friendship with Geoff, thanks to Reese's calibrated performance, is seriously touching.

"I'm not just talented, I'm genius," Jo tells her mother, when her artwork is discovered. Delaney had a genius for mixing a miserable set-up with humor, which keeps A Taste of Honey, aided by an onstage jazz trio, an intimate, moving show.
A second revival, Fiorello!, now at the CSC Theater, was written in 1959 to celebrate New York's greatest mayor. Scrappy half-Jewish Fiorello LaGuardia, who ran the city from 1934 to 1945, took on Tammany Hall, defeated corruption, defied the Mob and was a noted reformist.
He was also a war hero and anti-fascist. Or as an early tune has it, LaGuardia is "on the side of the angels."
But rather than celebrate his noted achievements, the musical focuses on his early years as a lawyer, when he fought injustice and devoted himself 24/7 to his clients. It's a shame there isn't a footnote at the end to honor his later achievements.
Despite some good performances and charming moments, Fiorello! suffers from a dated book by Jerome Weidman and George Abbott, while the songs, by Jerry Bock and Sheldon Harnick, the team that created Fiddler on the Roof, seem repetitive.
Backed by two keyboards and a violin, the score, with a few exceptions, doesn't pop. And the production is too peppy, given the darker elements of the story.
Austin Scott Lombardi does his best as Fiorello, and he has his moments. But the musical feels like a summer-stock production by college students just eager to put on a show.
Photo: A Taste of Honey/Russ Rowland
REAL LIFE. REAL NEWS. REAL VOICES.
Help us tell more of the stories that matter from voices that too often remain unheard.