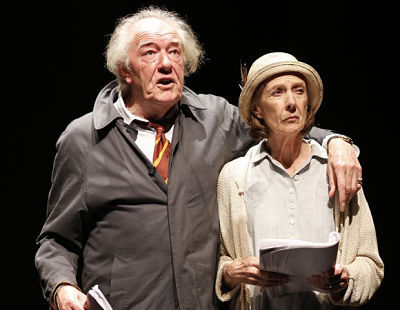 There is something strangely appealing about a character that shrieks: "Have you no respect for misery?"
Such a demand is vintage Samuel Beckett -- and at 59E59Theater, director Trevor Nunn is staging one of his most accessible works, the 1957 radio play All That Fall, to hypnotic effect.
Credit the superb performance of Eileen Atkins as a frumpy, tired, embittered Mrs. Rooney, who commands the stage simply by uttering a sarcastic aside.
She's en route to the Dublin train station to collect her blind, somewhat malevolent husband (an excellent Michael Gambon). Yet long before the two meet, Mrs. Rooney will emerge from the primordial ooze -- first seen resisting an offer of dung -- to lament her sorry lot.
That Beckett can eek out humor from a litany of woes encapsulates his worldview: Life is harsh; every now and again, a glimmer of hope appears amid the adversity. For Mrs. Rooney, it's her rural Irish neighbors, though some, like Mrs. Fit (Catherine Cusack), have a peculiar aura of prim religiosity.
By the time the elderly couple reunites, there is more than a hint of menace -- a child dies. "Do you ever think about killing a child?" Mr. Rooney asks wistfully, as they narrowly escape bullying kids. Indeed, just the journey to and from their home is problematic. "It is suicide to be abroad. But what is it to be at home? A lingering dissolution," cracks Mrs. Rooney who, despite her burdens, shares an odd affinity with her husband.
Broken, ill and clinging to each other, symbols of the perpetually unwell, Beckett's odd couple plumb the depths to discover an iota of happiness -- the ability to connect. Watching these two theatrical titans is mesmerizing.
The atmosphere of After That Fall may be Beckettian bleak, but the joy of misery unbound carries its own rewards.
REAL LIFE. REAL NEWS. REAL VOICES.
Help us tell more of the stories that matter from voices that too often remain unheard.